This is an archived article and the information in the article may be outdated. Please look at the time stamp on the story to see when it was last updated.
A tricky forecast for tonight as we are dealing with many things that will contribute to what may fall in central Indiana.
We've been tracking the system that will impact Indiana tonight since it was over the northern Pacific Ocean.  Moisture has started falling in Illinois and Missouri this afternoon. The area is under a Winter Weather Advisory until 1 p.m. Monday.
While the radar is indicating moisture falling over Indiana, nothing has yet reached the ground.  The air remains very dry after our long run of cold air.  As the precipitation falls through the air, it evaporates as it gets closer to the ground.  Until the atmospheric column if saturated, we will remain dry.
Evaporating precipitation adds some more complexity to the forecast.  Go up in the sky about 1,500 feet to 5,000 feet and you will find air that is above freezing by a degree or two.  Dry air extends from the surface to about 4,000 feet.  As the precipitation falls in to the dry air, it evaporates.  A process called evaporation cooling takes place and drops the temperature of the nearby air particles.  This will allow air in the 1,500 feet to 5,000 feet layer to cool.  So initially, once the atmospheric column saturates, precipitation should fall as snow.
Eventually, the air layer will warm to above freezing melting the snow, the precipitation will fall as rain.  Temperatures a few feet above the ground will remain a degree or two above freezing overnight but that doesn't solve the problem of precipitation type.
Temperatures climbed above freezing today which helps somewhat.  Specifically, the air temperature climbed to 34° in Indianapolis this afternoon.   However, surface temperatures on most outdoor items remain below freezing.
I took a laser thermometer outside and took some measurements:
Parking lot = 24°-25°
Parked Cars = 27°-28°
Sidewalk = 24°
Ground = 25°
Trees = 26°-27°
Snow = 21.8°
Why is this important?  While the air temperature is above freezing (32°F), when precipitation falls as rain tonight, it will likely be freezing rain regardless of the air temperature.  Freezing rain equals ice.
It does appear we could have two to three hours of rain falling in the Indianapolis area.  This will allow for some ice accumulation for Monday morning.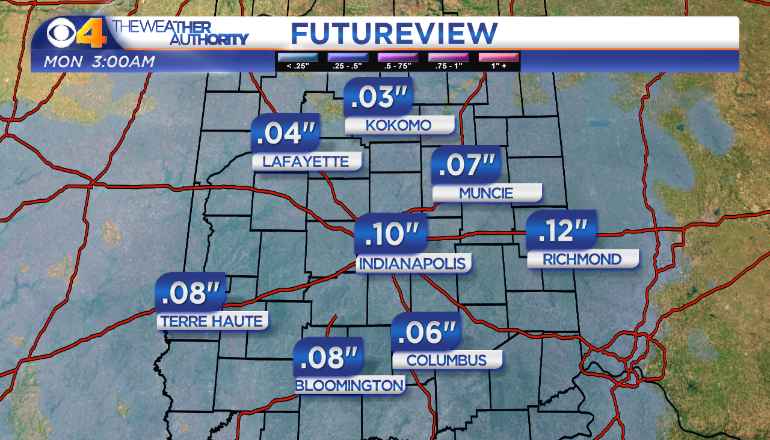 Keep in mind, even 0.01″ of ice accumulation can cause major problems, especially when trying to walk outside or drive.  Expect the Monday morning commute to be slick.
One thing I don't know, is how much all the of salt on major roads will impact ice accumulation.  Salt, along with other chemicals, have been on area roads for several days.  So this may limit the amount of ice in some areas.
For northern areas of central Indiana, snow will be the prodiment precipiation type.  Eventually, we will see rain changing over to snow in Indianapolis and areas further south early Monday before tapering off after sunrise.  At this point, it looks like we could see areas of 1″ to 2″ of snow accumulation for areas north of I-70.  South of I-70, should have less than 1″.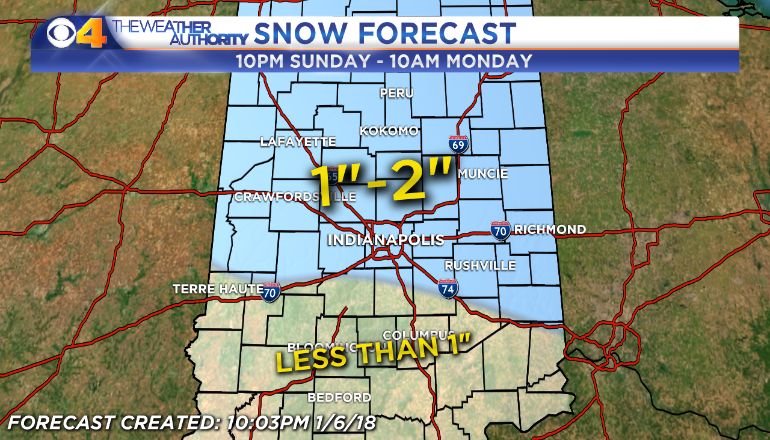 So we are likely going to have a thin layer of ice under 1″ to 2″ of snow by Monday morning.
TIMING IT OUT
Precipitation should start to fall in central Indiana after 8pm and should begin falling in Indianapolis after 9pm.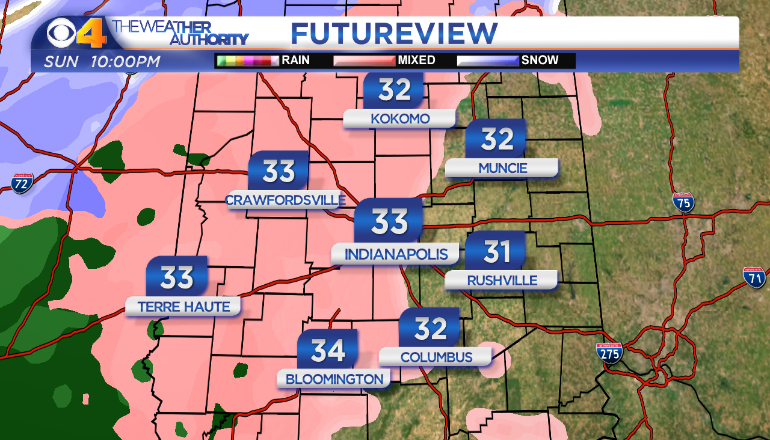 As mentioned above, it will likely start as a quick burst of snow before changing over to freezing rain.
As we go through the night, freezing rain will change over to a little sleet and then snow.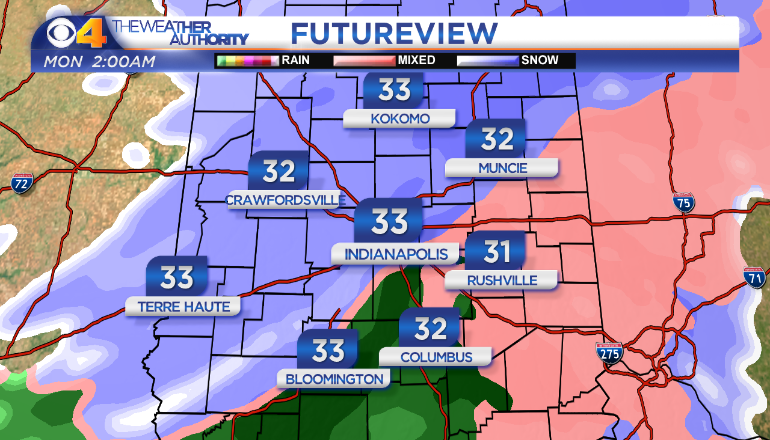 As the moisture departs, it will end as snow.  Accumulating precipitation should be out of the area by 9am Monday.