This is an archived article and the information in the article may be outdated. Please look at the time stamp on the story to see when it was last updated.
Brace yourself for a windy, colder weekend. A strong area of low pressure will create wind gusts up to 45 miles per hour on Saturday. Ahead of a cold front associated with the low we'll see a few showers Saturday afternoon. Behind the front much colder air will settle in for Sunday morning and a hard freeze is likely. A hard freeze occurs when the temperature falls to 28 degrees or lower for at least four consecutive hours.  Sunny skies will push highs into the 50s Sunday afternoon and we'll have dry conditions for the Women's Basketball Final Four matchups on Sunday evening.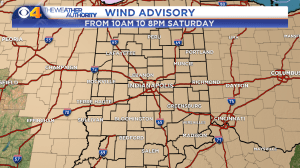 We have a Wind Advisory in effect from 10am until 8pm Saturday.
We have a Freeze Watch in effect from 3am to 9am Sunday.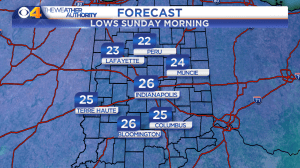 Low temperatures will fall into the 20s Sunday morning.
We'll have a cool, dry evening for the Final Four games at the Fieldhouse.
Scattered showers are likely on Monday.
We will have cooler air for Tuesday.
T-storms are likely on Wednesday.
Showers will end early on Thursday.