This is an archived article and the information in the article may be outdated. Please look at the time stamp on the story to see when it was last updated.
It is going to be a CHILLY and BREEZY Friday. It will actually feel more like Fall than Summer with temperatures camping out in the 60s for the majority of the afternoon. We saw our high temperature overnight, and now temperatures will remain pretty steady this afternoon with a partly-mostly cloudy sky and winds from the NW at 10-20mph. There is a 10% chance for an isolated shower well north of Indy by the late afternoon/early evening hours but most will stay dry.
For those going out to Symphony on the Prairie tonight it will be cool and Fall-like. Expect temperatures in the 60s with brisk conditions, but it will be DRY.
Saturday will definitely be the PICK day this weekend as it will be DRY and sunny along with comfortable temperatures.  We'll introduce a chance for spotty thunderstorms on Sunday afternoon. The best chance will be south of I-70, but we can rule out a passing shower or storm elsewhere too. Overall, expect a lot more dry time than wet on Sunday.
It'll be a great opening weekend at the Indiana State Fair! Temperatures will be Fall-like, but it will be dry on Friday. Saturday will be very pleasant and there is only a 30% chance for a late day shower or storm on Sunday.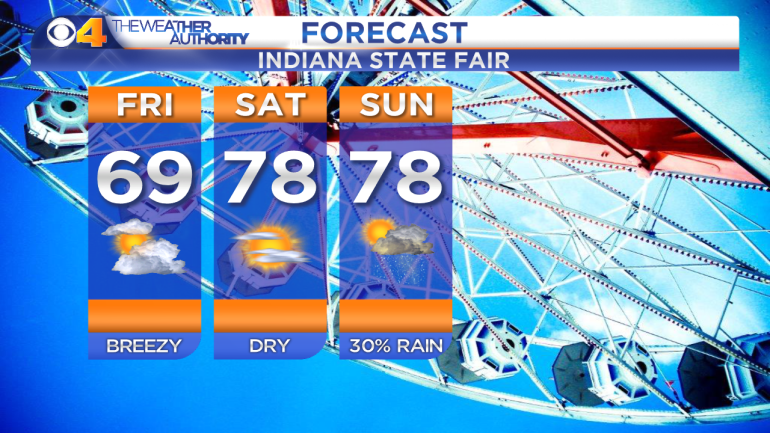 Looking ahead to next week, temperatures will remain below average through the first half of the week.