This is an archived article and the information in the article may be outdated. Please look at the time stamp on the story to see when it was last updated.
Nate reached tropical storm strength this morning. The center of Tropical Storm Nate is located inland over northeastern Nicaragua. The center is expected to approach the coast of the Yucatan Peninsula late Friday.
Authorities in Costa Rica have raised that country's death toll blamed on flooding fed by Tropical Storm Nate to seven and say 15 others are missing. Costa Rica's Judicial Investigation Organism updated the toll from an earlier two on Thursday. President Luis Guillermo Solis said earlier that more than 5,000 residents were being housed in shelters due to flooding.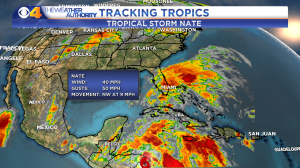 Nate is moving toward the northwest near 9 mph. A turn toward the north-northwest at a faster forward speed is expected this afternoon or tonight, with that motion continuing through Friday night. Maximum sustained winds are near 40 mph with higher gusts. Tropical-storm-force winds extend outward up to 50 miles mainly over water to the east of the center. Little change in strength is expected today while the center is over land. Strengthening is likely once the center moves over the northwestern Caribbean Sea tonight and Friday.
On this forecast track, the center of Nate should move across northeastern Nicaragua and eastern Honduras this afternoon and then over the northwestern Caribbean Sea tonight and Friday. The system will be carefully monitored for possible US landfall along the central Gulf Coast this weekend.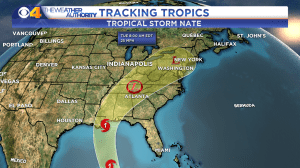 The remnants of Nate could bring heavy rain to the southeastern US next week.