This is an archived article and the information in the article may be outdated. Please look at the time stamp on the story to see when it was last updated.
Harvey's havoc continues to soak Texas and Louisiana, four days after the storm rammed into Texas as a Category 4 hurricane, the first category 4 hurricane to make U.S. landfall since Hurricane Charley in 2004.
Up to 40 inches of rain have fallen at several locations across southern Texas in the past five days. To put that in perspective, Indianapolis averages 42.44″ of rain for the entire year. The 49.2″ of rain recorded at Mary's Creek breaks the previous record total rainfall from a tropical cyclone, which was Amelia in 1978 of 48 inches from Medina, Texas.
Tuesday the center of the storm moved back over the Gulf of Mexico which will allow the storm to gain strength before it makes landfall again Wednesday morning. 2-4″ of rain is expected to fall across southern Texas and southern Louisiana Wednesday before the system moves north.
We may see some rain from Harvey here in Central Indiana this weekend. The heaviest rain will fall over the southern part of the state.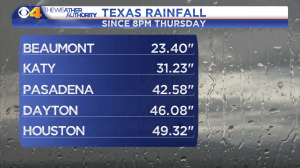 Harvey has brought record rains to Texas.
The storm will start to move north on Wednesday.
Tropical systems have historically brought heavy rain to Midwest.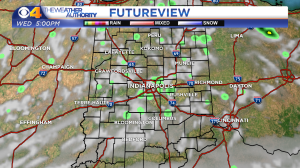 Expect a mainly dry Wednesday.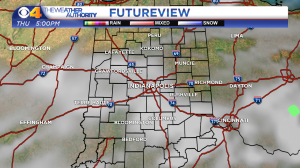 Expect a mainly dry Thursday.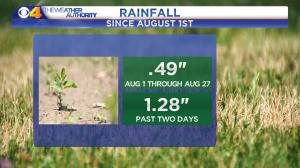 Much-needed rain has finally arrived.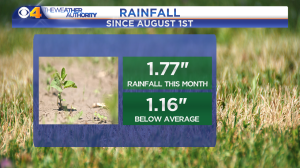 We still have a rainfall deficit for the month.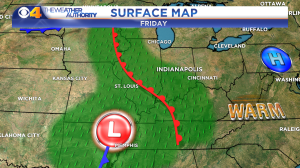 Rain from Harvey will reach southern Indiana Friday afternoon.
Rain from Harvey will give us a wet start tot the holiday weekend.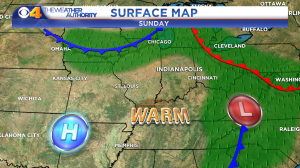 Expect a dry Sunday.