This is an archived article and the information in the article may be outdated. Please look at the time stamp on the story to see when it was last updated.
Be careful this Wednesday morning! Light snow showers and patch freezing drizzle overnight have created very slick conditions across central Indiana. There have been several crashes and slide-offs reported due to black ice on the roads! The visibility may drop at times this morning due to the lingering snow showers.
Temperatures are also bitter and have dropped into the mid-20s. Westerly winds between 10 and 15 MPH are making it feel even colder outside. Wind chills have dropped into the teens in Indianapolis and surrounding counties!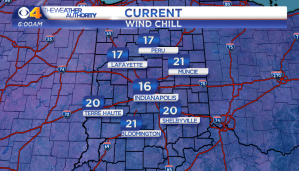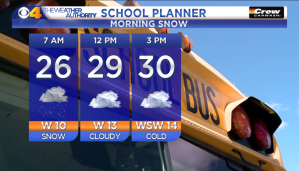 Snow showers will continue to fall over the state during the morning hours with conditions improving by the afternoon. Cloud cover will decrease during the second half of the day and we could even see peeks of sunshine by the evening commute! Highs will struggle to rise into the mid-30s today.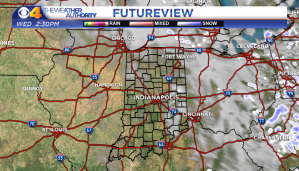 Skies will turn partly cloudy overnight as lows drop into the mid-20s. The quiet weather is going to be short-lived because another wave of snowfall will arrive Thursday afternoon!
A cold front will track over the Indiana on Thursday, which will bring our next wave of snow. Minor snow accumulation is possible. Forecast models are keeping snow totals under 1" in the Indianapolis area.
Drier and colder air returns Friday and into the first half of the weekend. We will have to closely watch a system for Sunday because it could bring another round of snow to the state! The Weather Authority will continue to monitor.