This is an archived article and the information in the article may be outdated. Please look at the time stamp on the story to see when it was last updated.
A warm front is lifting through Indiana Tuesday.  South of the front, it is warm and humid as moisture advects in from the south.
A cold front will pass through the state Wednesday evening.  Before the front passes, there will be a chance for rain, a couple times, Wednesday.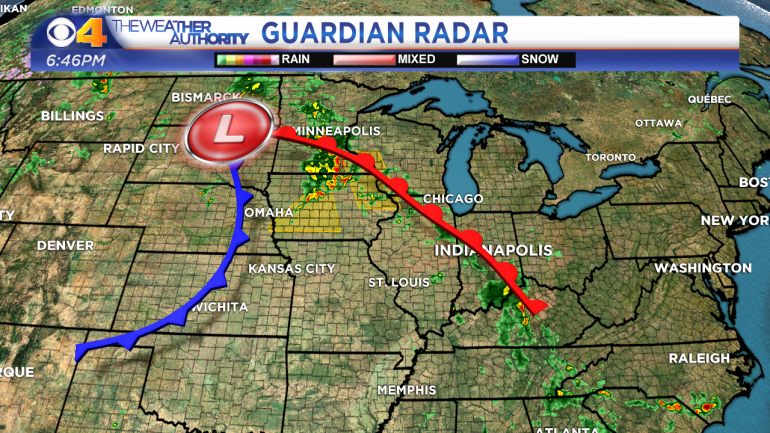 This first chance will come during the morning hours.  A few showers and thunderstorms may be leftovers from storms that flare up overnight to our west.  They will be decaying through the early morning.  The longer rain, and the associated clouds, linger the less of a threat for severe storms Wednesday afternoon.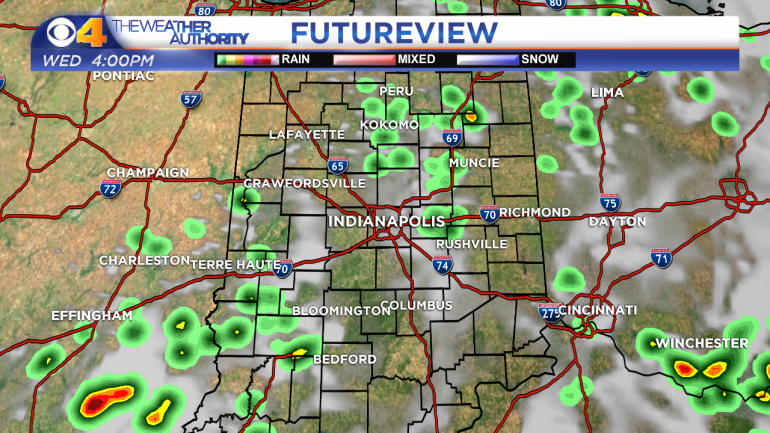 Computer models suggest through will be a couple dry hours - late morning through early afternoon - in central Indiana.  This will allow the atmosphere to recharge.  If we get some breaks in the clouds, that will help the atmosphere become more unstable.
By mid-afternoon, isolated showers and thunderstorms should begin to develop.  This best time for this should be between 3pm-4pm.  A few of these thunderstorms may be able to organize enough to become strong and/or severe.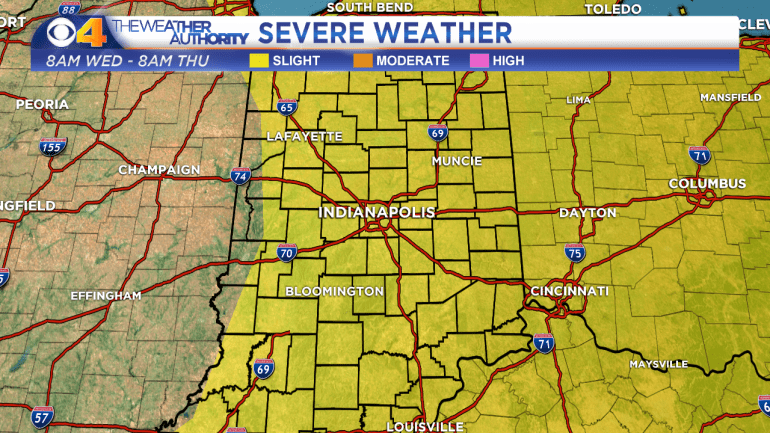 The Storm Prediction Center has placed most of central Indiana in a "Slight Risk" for severe thunderstorms from 8am Wednesday through 8am Thursday.  The best time for severe storms in central Indiana will be between 2pm - 7pm.
The main threat from storms that become strong to severe will be damaging winds.  There will also be a minor threat for hail with thunderstorms that develop.  While we could see a few severe thunderstorms, I am not expecting widespread severe weather.
After the cold front clears the state Wednesday night humidity should drop slightly.  Also, slightly "cooler" air should slide in to the state.  Temperatures should be closer to normal Thursday.  Friday should be another nice day with temperatures in the upper 70°s to around 80°.
Heat returns to the state for the second half of the weekend and the beginning of the next work week.  We could see the warmest temperatures of 2016 (so far) Monday!  Stay tuned...