This is an archived article and the information in the article may be outdated. Please look at the time stamp on the story to see when it was last updated.
The heat is on! Over 20 states are under a Heat Advisory or an Excessive Heat Warning.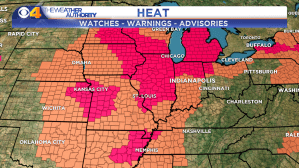 That includes Central Indiana. The Heat Advisory lasts until  8 PM Saturday. Excessive Heat Warnings also encompasses our far northern counties until 8 PM Sunday. Make no mistake, ALL of us will be very hot and humid for the next several days.
We stay warm and muggy tonight as lows drop to the lower 70's.
We'll quickly bounce right back up to the lower 90's by tomorrow afternoon.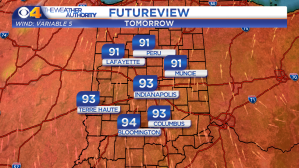 However, the Heat Index will likely be near or several degrees above 100°. And we don't have much relief in sight. Temperatures stay feeling in the mid to upper 90's for the next several days.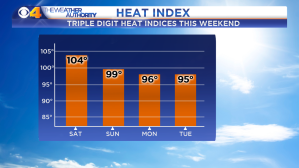 We've already had eleven 90° days this year. The average is only 19 for a year. We have 90° highs in the forecast every day this week. So, we're on track to quickly surpass that average. Our next best chance of rain come Sunday night into Monday. Isolated showers are possible during the evening on Independence Day. We will continue to monitor that system as we get closer to the holiday.