This is an archived article and the information in the article may be outdated. Please look at the time stamp on the story to see when it was last updated.
Allen Iverson said it right. "We're talkin' about practice." The Indiana statewide Tornado Drill is scheduled for Tuesday, March 21 at 10:15am and again at 7:35pm.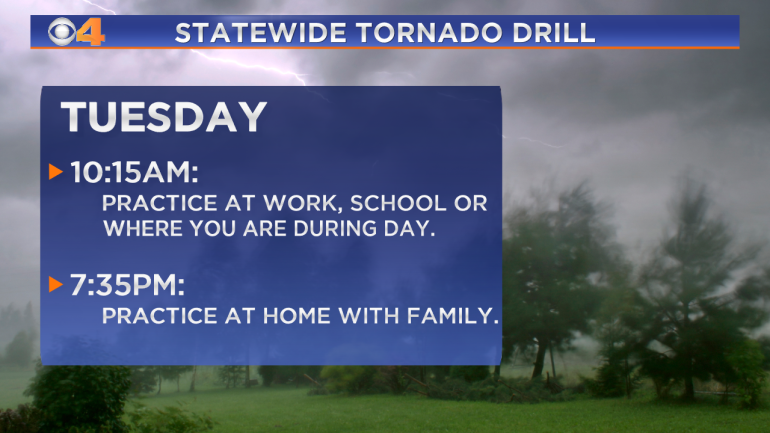 It is a good time to go over with your family – and yourself – what you should do and where you should go in the event a Tornado Warning is issued.
During the drills, the National Weather Service will send a tone alerted warning message over NOAA Weather Radios.
The earlier test is primarily for the benefit of school participation and the majority of the workforce who are at their place of employment at that time. The later test will allow families the opportunity to practice their own personal safety measures within their home.
The Marion County Emergency Management Agency will also be setting off the outdoor warning sirens.
"It can be clear one minute and the next there are rotating winds and rotating clouds.You just have to be prepared for that in Indiana," said Dennis Peters of Marion County Emergency Management.
The purpose of these tests is to allow each county to test the warning sirens in a simulated emergency situation and to provide the opportunity for businesses and schools to test their procedures for severe weather incidents.
NWS Indiana averages 20-21 tornadoes a year. Indiana had 35 tornadoes in 2016 alone. Tornadoes occur year round but are most likely from April to June.
The tornado sirens can be set off by law enforcement if they spot funnel clouds in the area or for other large-scale emergencies in the county. Not all counties use tornado sirens, so your best bet is to get a sever weather radio.
Because warning sirens are for outdoor warnings only, authorities are encouraging the public to prepare a severe weather kit that includes a NOAA Weather Radio.
I think it is especially important to think about where you would go at various locations. The obvious locales are school, home and work. What about the mall? What about at your kid's soccer practice? What about if you are in a parking lot?  Check out this website to learn more about where you should go in the event a Tornado Warning is issued.
"An ounce of prevention is worth a pound of cure" is very true when it comes to severe weather preparedness. Plus, taking a few minutes to talk about it now can make the situation MUCH less stressful when you need to act.