This is an archived article and the information in the article may be outdated. Please look at the time stamp on the story to see when it was last updated.
Central Indiana may see several hours of light freezing rain starting early Sunday morning and continuing through mid-morning.
A frontal boundary exists south of the Ohio River. An area of surface low pressure will go from near Jackson, MS to Lexington, KY this evening through Sunday morning. That will spread moisture north over central Indiana.
Mid and upper-level energy will be passing from Missouri to northern Indiana during the same time period. This will help lift the moisture, eventually allowing it to start falling as rain, sleet and snow.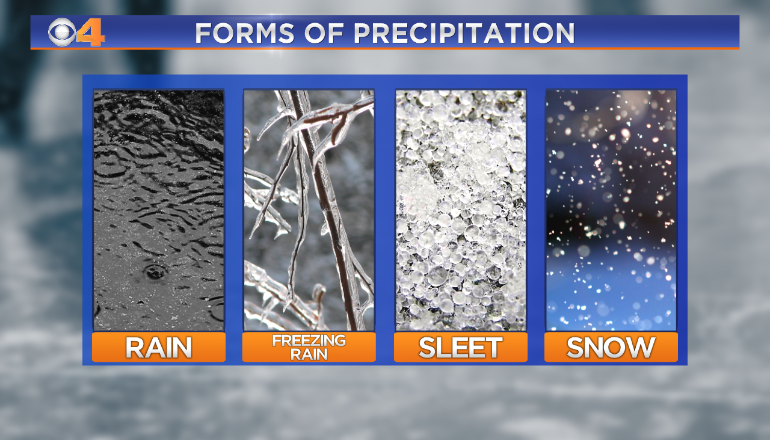 The determining factor for precipitation type will be temperatures from the surface to around 9,000 feet above the ground.
Temperatures at the surface are pretty easy to figure out. It will be below freezing overnight and throughout the day Sunday. High-resolution computer models suggest there will be a layer of warm air – temperatures a couple degrees above freezing – between 1,500ft and 8,500ft above the ground over places like Indianapolis, Muncie, Noblesville, Greenwood and areas further south towards Bloomington and Columbus. As the precipitation falls through the warm layer, it will melt from snow to rain. As it continues to fall towards the surface, where temperatures are below freezing, it should then freeze on contact with the ground and other surfaces, providing a thin layer of ice.
For areas further north, like Lafayette, Kokomo and Peru, the layer of warm air is not as deep. For instance, over Lafayette, high-resolution data suggests temperatures go above freezing between 3,000ft and 7,500ft. This is where we will likely see the precipitation falling mainly as sleet, wither perhaps a little freezing rain mixed in at times, and ending as snow.
Precipitation should start to move in to central Indiana after midnight and spread eastward through the pre-dawn hours Sunday.
As the precipitation moves off to the east, colder air will begin to build upwards through the atmospheric column, eventually allowing for freezing rain to change to snow before the chance for precipitation is over.
The probability of precipitation falling in Indianapolis increases after 2 a.m. Sunday. I am bracketing the hours between 6 a.m. and 10 a.m. for the highest probability of freezing rain.
At this time I am not expecting much in the way of accumulating snow. A couple tenths of an inch is possible in an area north of a line from Terre Haute to Indianapolis to New Castle to south of a line from Veedersburg to Tipton to Hartford City. North of that area, up to an inch of snow may accumulate.
As for freezing rain (ice), a few hundredths of an inch is possible, especially over central and southern sections of the CBS4 viewing area. Here's one of our high-resolution computer models ice accretion projection through 1 p.m. Sunday.
A 30-computer model average suggests 0.06″ of precipitation will fall in Indianapolis which would accumulate to 0.02″ to 0.05″ of ice. While that doesn't sound like much, even a hundredth of an inch of ice can make roads, sidewalks and parking lots very slick.
The National Weather Service has issued a Winter Weather Advisory for all of central Indiana.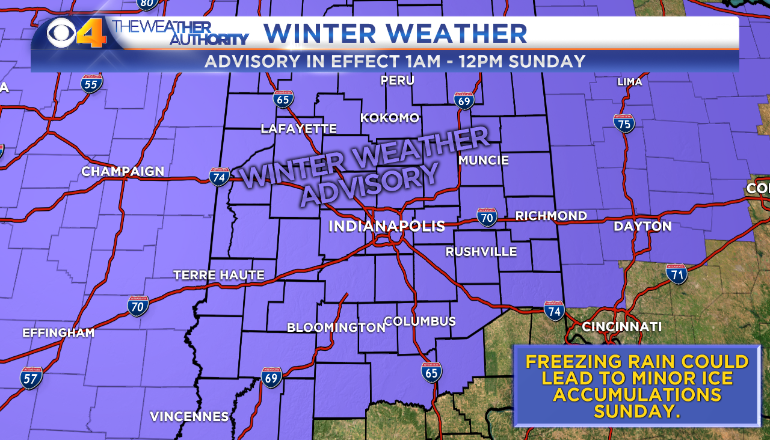 The advisories start and end at various times around central but all of them begin around 1 a.m. and end around noon.