This is an archived article and the information in the article may be outdated. Please look at the time stamp on the story to see when it was last updated.
10:30PM UPDATE: A couple bands of moderate to heavy snow developed over Tippecanoe and Clinton counties bringing in higher snow totals.  Highest snow totals can be expected in those areas.  I continue to think there may be a narrow band of 4″+ north of I-70.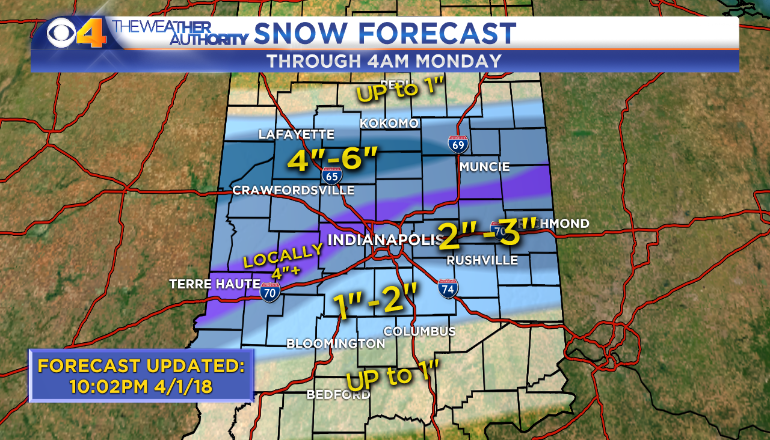 6:45PM UPDATE: I wish I could say it was a really cruel April Fool's joke but it isn't.  Snow is beginning to fall around central Indiana as of 6:30pm.  Heaviest snows to start the event have been falling along State Road 32 from Veedersburg to Noblesville.
The snow will continue to spread east, not just for north-central Indiana, but for most of the CBS4 viewing area.
It looks like we could end up with a widespread 1″ to 2″ of snow generally north of a line from Bloomington to Greensburg and south of a line from Crawfordsville to Muncie.
Inside of that band and area of 2″ to 3″ of snow that includes Avon, Crawfordsville, Greencastle, Greenfield, Greenwood, Indianapolis, New Castle and Rushville.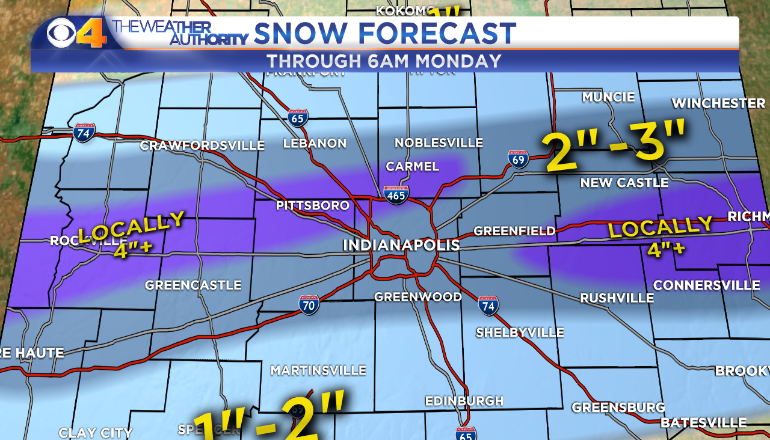 Data is also suggesting there could be a period of moderate to heavy snow between 7:00pm and 10:00pm this evening, especially in narrow bands from north of Terre Haute to Carmel, and another band from near Greenfield to Richmond.  If this indeed happens, this could leave those areas with higher snow amounts.
Most of the snow will accumulate on grassy and elevated surfaces.  There remains some question as to how much could accumulate on area roads.  At last check, interstate temperatures remain in the 40°s.  If that remains the case, expect roads to be mainly wet.
Snow will quickly begin to taper after midnight with most of the snow out of central Indiana by 2:00am Monday.
RECORD SNOWFALL
This will likely go down as the snowiest Easter in Indianapolis recorded history (back to 1872).  Measurable snow has only been recorded on four Easters in the last 146 years.  The current record holders are Easter 1972 and 1964 when 0.3″ of snow fell.
0.3″ – 1972
0.3″ – 1964
0.2″ – 1917
0.1″ – 1975
The record snow for April 1st is a little higher – 2.0″ in 1924.  Indianapolis will come close, if not breaking, the record this year.  For this date Indianapolis has had measurable snow 8 days since 1872.