This is an archived article and the information in the article may be outdated. Please look at the time stamp on the story to see when it was last updated.
Rain will move in after 2am Wednesday. One heavy band of showers is likely for the morning rush hour. The rain will taper off around midday and redevelop for the afternoon. The  rain will end Wednesday evening but we'll stay cloudy for Thanksgiving Day. We'll have another chance for rain on Friday before sunshine and warmer temperatures move in for the weekend. Across the nation accumulating snow is likely Wednesday across the Rockies and the upper Great Lakes.
Low temperatures will stay above freezing overnight.
Rain arrives by sunrise.
Rain tapers off by mid-morning.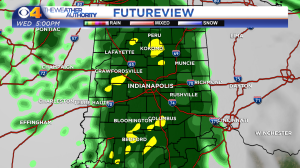 More rain is likely for the evening rush hour.
Rain tapers off Wednesday night.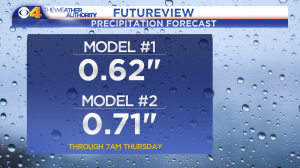 Up to a half-inch of rain is likely Wednesday.
We have had some extreme weather on Thanksgiving Day, but this year just clouds.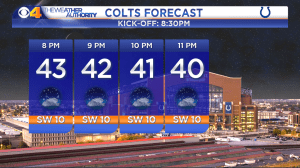 The roof and window will be closed for the Colts game.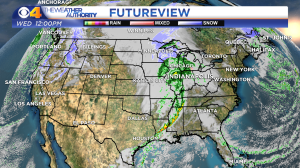 Wednesday's Travel Forecast
Thursday's Travel Forecast
Friday's Travel Forecast