This is an archived article and the information in the article may be outdated. Please look at the time stamp on the story to see when it was last updated.
Cloudy skies have been the rule throughout the weekend and the clouds will stick around for the first couple days of the work week.  Along with the clouds, rain moves back in to the forecast starting late tonight and continuing through Tuesday.
An area of low pressure is located over Arkansas.  It is forecast to sloooooowly move east over the couple of days.
Until the low gets out of here, it will keep drawing up moisture from the south, bringing rain to central and southern Indiana.
A few light showers will be possible later this evening for areas near Bedford, Bloomfield and Bloomington.
Rain will be possible along the State Road 46 corridor for the Monday morning commute.  The shield of rain will continue drifting north through the morning, reaching the Indianapolis metro by late morning/early afternoon.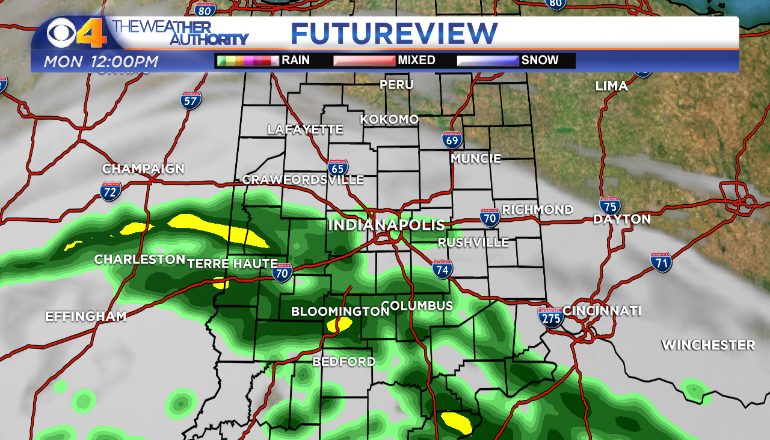 Data suggests more widespread, light rain will be falling on central Indiana for the Monday evening commute.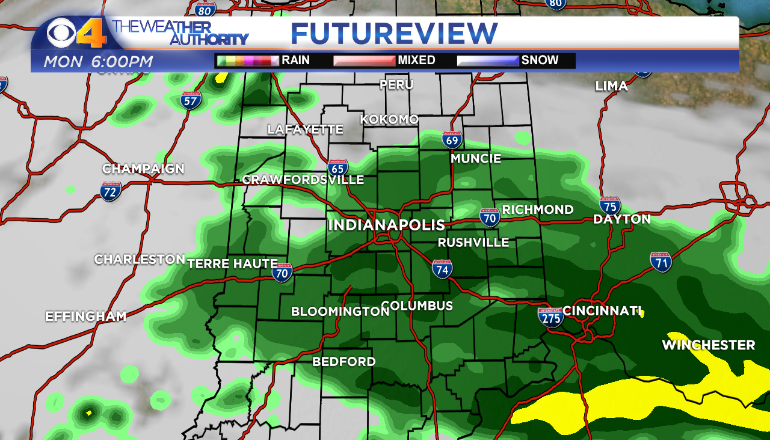 Areas in the northern part of the state will be the last to see rain falling.  This also means there could be a few breaks in the clouds which will lead to warmer temperatures.  High temperatures will be in the middle 60°s in Kokomo, Lafayette and Peru.  In Indianapolis, I'm forecasting a high temperature of 60° but we may struggle to get that warm.  Down state, places like Bloomington and Columbus, where the rain starts earlier in the day, temperatures will only top out in the middle to upper 50°s.
Note in the images above, you don't see much in the way of heavy rain depicted by the computer models.  This looks like it will be a mainly light rain falling Monday and Tuesday.
FIRST 80° DAY
The normal first date of 80° in Indianapolis is April 21.  Thus far the city has not reached it this year.  The highest temperature for 2018 has been 79°.  We are overdue!
WARMER TEMPERATURES COMING
Long range computer model data suggests we've got warmer weather headed our way.  Currently, I am forecasting mostly sunny skies for next weekend.  Along with more sunshine, temperatures look to top out in the middle 60°s Saturday and middle 70°s on Sunday.  Stay tuned!