This is an archived article and the information in the article may be outdated. Please look at the time stamp on the story to see when it was last updated.
Rain will begin to move in to central Indiana through the overnight.  Latest high-resolution computer model data suggests rain could begin to arrive in the Indianapolis metro area between 2am and 4am Monday.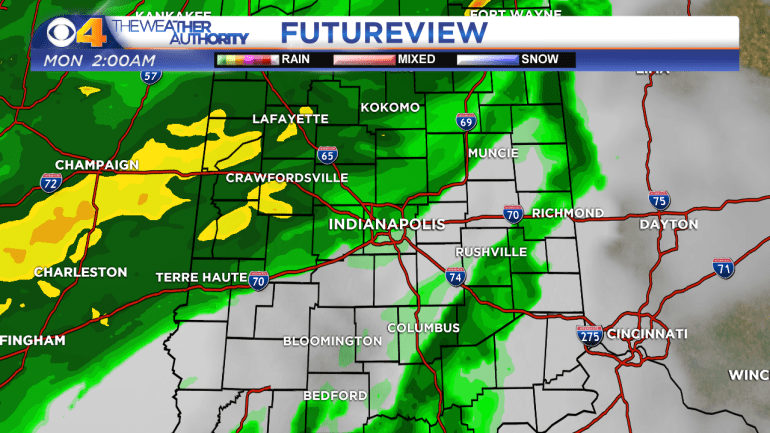 There is a good chance rain will be falling during the morning commute.  Temperatures will remain in the 40°s overnight so there is no concern of any of the rain changing to sleet and/or snow.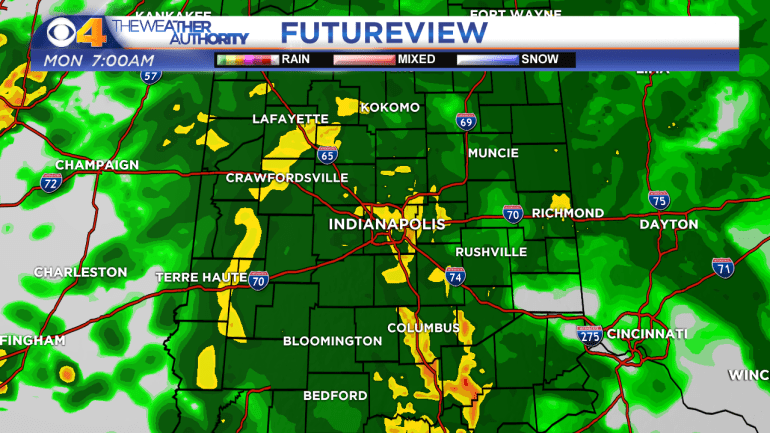 Scattered showers will remain possible throughout the day Monday.  Temperatures will top out near 50°.
HEAVY RAIN ADVERTISED
Long-range computer models continue to suggest the potential for heavy rain/precipitation falling in the Mississippi River and Ohio River valleys over the next seven to ten days.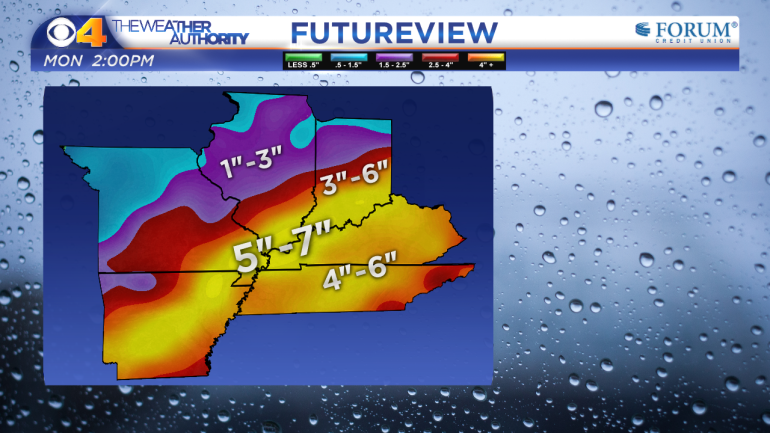 It looks as though a front will stall out across Illinois, Indiana and Ohio later in the week and in to next weekend.  This will act as a focusing mechanism for rain to develop.  Moisture from the Gulf of Mexico will be available to be transported on strong southerly winds in the mid-levels of the atmosphere.
Here's a look at what two of our global computer models suggest for Indianapolis through 7am Monday, December 28.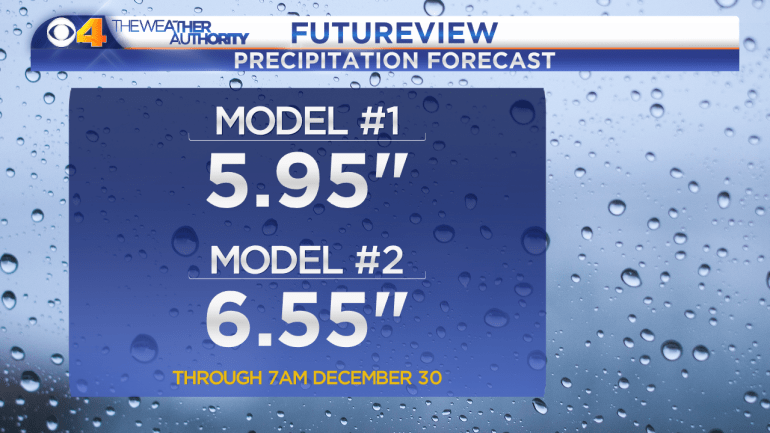 To begin with, at this time data suggests this will fall as all rain.  There aren't any signs of cold air moving in to change this to snow.
To put this in prospective, Indianapolis normally sees 0.95″ of precipitation December 21 through December 28.  This means that a two computer model average suggests 657% the normal precipitation could fall in Indianapolis.
Over the last couple of months computer models have struggled with precipitation forecasts, especially in the long range.  They have continued to suggest higher precipitation amounts but quickly back-off the amounts once we get within 24-36 hours of the event starting.  At this point I wouldn't bet on this high of a total, however it is something we will have to monitor over the next several days.
ASK SANTA FOR AN UMBRELLA
As of today, it appears moisture will move up from the south the evening of Christmas Eve.  By Christmas morning, the moisture will begin to move in to southern Indiana, eventually making its way to central Indiana.  Because of this I have included a chance for rain for central Indiana Christmas day.