This is an archived article and the information in the article may be outdated. Please look at the time stamp on the story to see when it was last updated.
After a week of highs in the 80s get ready for a change. Clouds, rain and cooler air will move in just in time for the weekend. Scattered strong t-storms are likely Saturday afternoon. The rain will keep us cool and break our streak of 80 degree days. Skies will clear Sunday.
Friday was another warm day.
We have had eight consecutive days with highs in the 80s.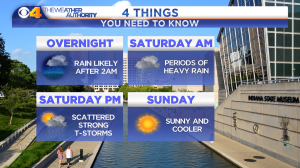 We'll have a soggy Saturday and a dry Sunday.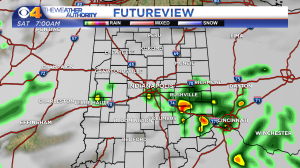 Rain will develop by morning.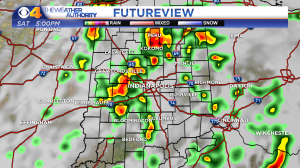 Heavy rain is likely Saturday afternoon.
Clouds and rain are likely early Sunday.
Up to an inch of rain is likely this weekend.
Scattered t-storms are likely Monday afternoon.
The rain will end early on Tuesday.
Another stretch for dry warm weather begins Wednesday.