This is an archived article and the information in the article may be outdated. Please look at the time stamp on the story to see when it was last updated.
Snow showers will be possible this evening and through the overnight in central Indiana.  They will be moving from west to east-southeast.  Snow showers will turn to snow flurries in time for the Thursday morning commute.  I am not expecting much in the way of accumulation from overnight snow.
Temperatures will remain cool throughout Thursday.  Temperatures will be running 10° to 15° below normal as lows drop to the lower 20°s and afternoon high temperatures top out in the low 30°s.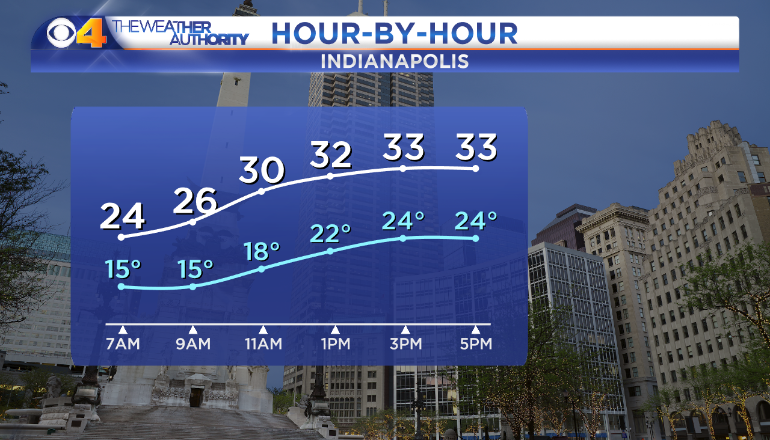 Winds will remain gusty Thursday, gusting to 25 mph at times.  This combined with the air temperature will produce wind chill values from the teens – in the morning – to the low 20°s in the afternoon.
STREAK ENDS
Wednesday goes in to the records as a below normal day for Indianapolis.  This ends a streak of 18 consecutive days above normal, starting February 18.
February 18 through March 6 this year ranks as the 6th warmest for the time period in Indianapolis since 1872.
WATCHING FRIDAY NIGHT
Computer models are hinting at the chance for snow to develop Friday evening in southern Illinois and western Kentucky.  There remains some question as to how far north snow could reach late Friday in to early Saturday morning.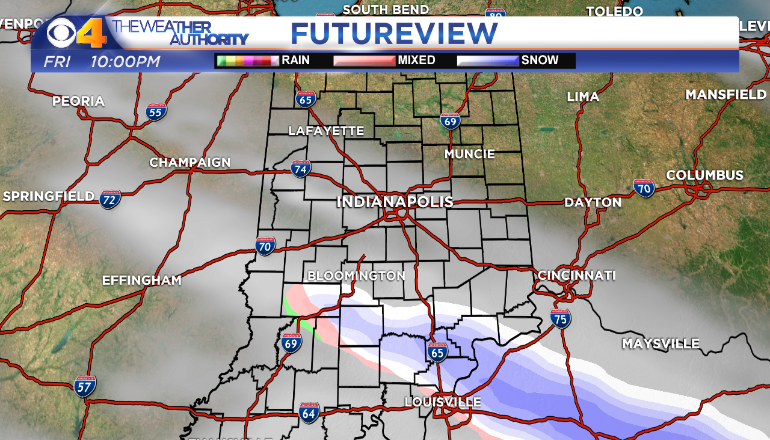 One computer model (shown above) brings snow up to the Hwy 46 corridor between Bloomington and Columbus.  It is something we will keep an eye on over the next 36-48 hours.
WINTER CONTINUES
We've got several chances for snow in central Indiana and temperatures look to stay below normal throughout the course of the next seven days.
We're keeping an eye on a weather system currently projected to just brush southern Indiana Sunday.  This storm may have some teeth to it.  If it were to move further north, that could bring more snow to central Indiana.  Stay tuned!