This is an archived article and the information in the article may be outdated. Please look at the time stamp on the story to see when it was last updated.
Winter coats, snow boots and snow shovels will be replaced with rain coats for the start of the work-week.
Rain will begin to arrive in to central Indiana overnight, likely after midnight Monday morning.  In fact, don't be surprised to be awoken to a few rumbles of thunder before sunrise Monday.
The probability of rain falling in Indianapolis peaks between 3am and 10am.  While the probability drops through the afternoon and evening, the threat for a few light showers will remain.
ABUNDANCE OF WATER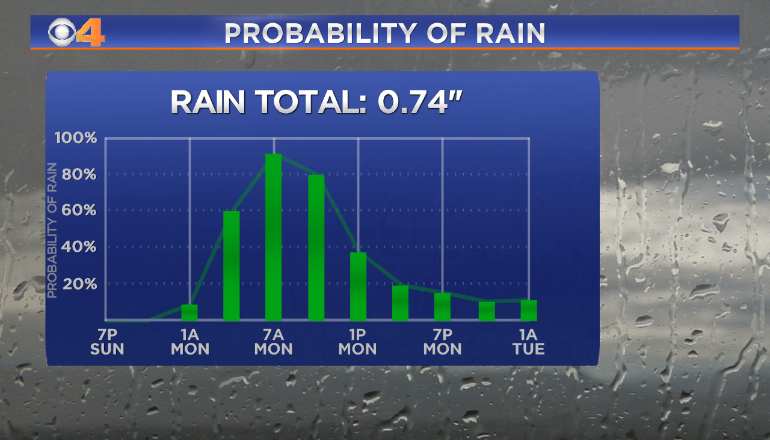 A better chance for widespread rain will exist for areas north of Indianapolis throughout the afternoon and evening.
Rain totals will tick-up most days this week.  Highest amounts should fall Monday and Wednesday.  A 29-computer model average suggests 2.72″ of rain falling in Indianapolis through 7am Thursday (range from 2.28″ to 3.10″).  That is 850% the normal precipitation (0.32″) for February 19-22.
There are no concerns with any of this moisture falling as snow or any other frozen forms of precipitation because temperatures are going to be well above normal.  High temperatures will be in the 60°s Monday, upper 60°s/lower 70°s Tuesday and 40°s to 60°s Wednesday.
FLASH FLOODING THREAT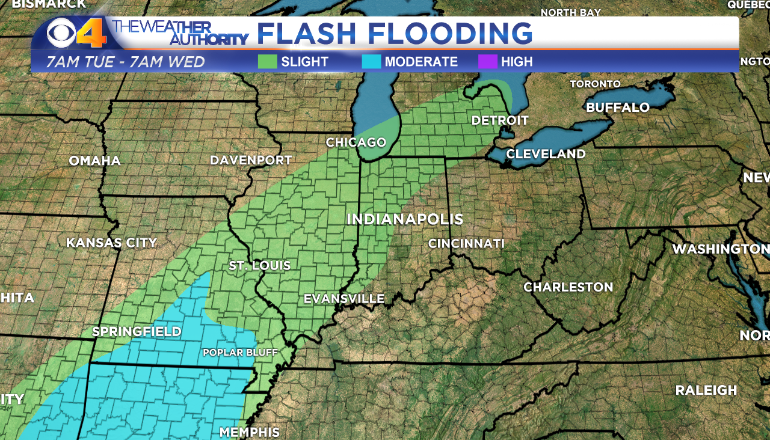 Due to the possible abundance of rain falling, the Weather Prediction Center has placed parts of central Indiana in a "Slight Risk" for flash flooding between 7am Tuesday and 7am Wednesday.  A "Moderate Risk" extends from southern Missouri to Texas.
The Weather Prediction Center is similar to the Storm Prediction Center, however SPC focuses in on severe weather threats.
They are also projecting rainfall amounts 2″ to 5″ across Indiana.  If this pans out, expect water levels in rivers and streams to swell over the next one to two weeks.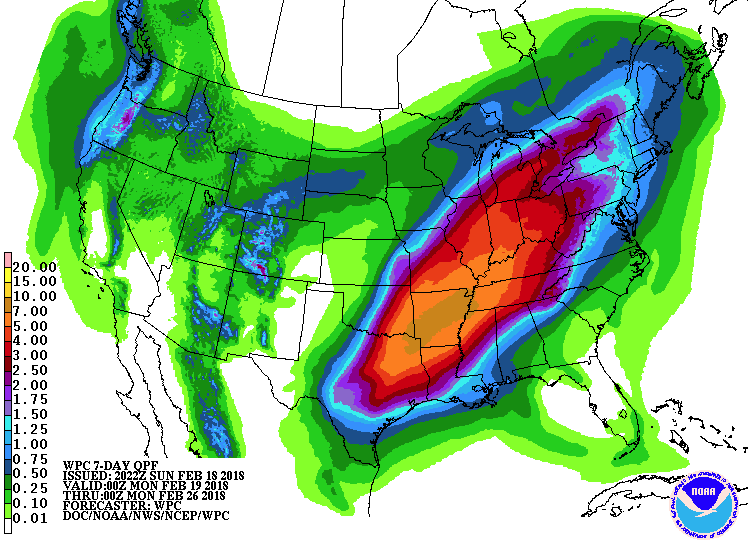 Beyond Thursday morning computer models remain bullish on rainfall.  Data from various computer models suggest 3″ to 7″ inches of rain over the next 10-days.
Two computer models we rely on heavily are displayed above.  Amounts shown reflect numbers that are 450% the normal precipitation through the same time period.  And similar to this week, temperatures look to remain above normal through the period, meaning we are talking rain not snow.  Stay tuned!