This is an archived article and the information in the article may be outdated. Please look at the time stamp on the story to see when it was last updated.
If you're like me, you're loving this January thaw. It's about time we saw average temperatures!
This morning, the headline is the fog. It's tough to see out the windshield region wide, with visibility down to a half-mile even in the metro. The good news is that central Indiana is starting out dry. Several police departments are still warning drivers that slick spots and black ice may still exist.
What a start to the year. Shall we review?
2018 opened as the third all-time coldest year on record, the coldest we've seen in 90 years (since 1928)
Our average temperature so far for the month is 9.1.° That is 18.9° below our January norm!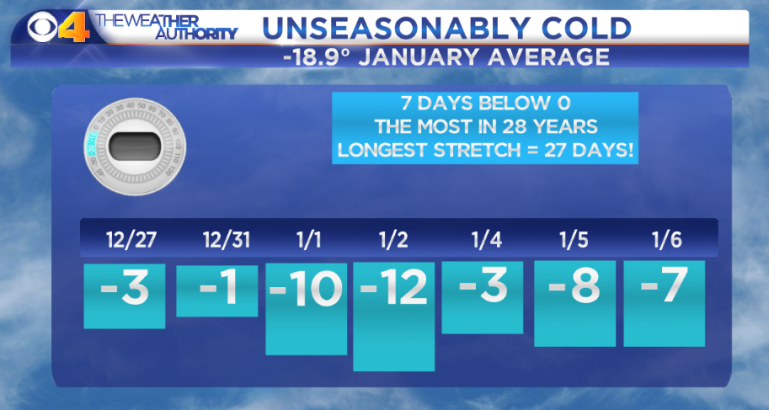 Saturday got to 33°; Monday hit 35°
Saturday ended our 335-hour stretch of below freezing temperatures. That's 13 frigid days, by the way! So far this season, we've recorded seven days of below-0 temperatures (the longest stretch we've seen in 27 years). Once our Monday high hit, it was the warmest we've seen since Dec. 23! Finally! We should be in the mid-30s this time of year, despite January usually being the coldest, snowiest month of the year.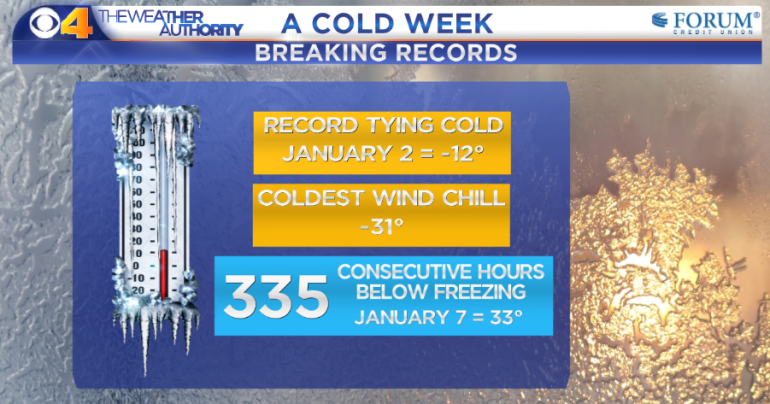 We got through that messy Monday morning, so that's good news!
Freezing rain, regular rain, snow…we saw it all to kick off our work week. The National Weather Service recorded .10"-.25" of rain across Indianapolis and just a trace of snow in the metro. Brownsburg picked up the most snow around central Indiana with .25" of snow. Bedford got more rain than anything else, tipping the rain gauge at .5" of water.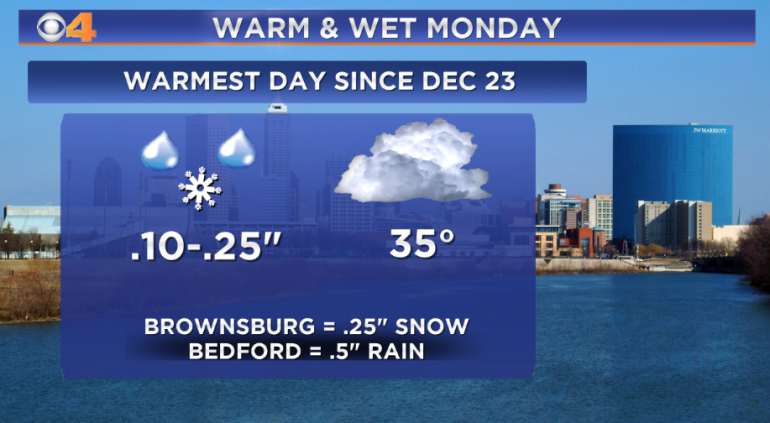 What now?
Temperatures will climb into the mid to upper 30s for Tuesday. Once we hit 39° this afternoon, we'll stay above freezing through Friday. It's a warm week ahead with temperatures nearing 60° later in the week. We have a couple different systems, though, that will bring wet weather into our forecast. We're calling for rain Tuesday night into Wednesday morning, Thursday night into Friday morning and then it will all turn to snow. This weekend could be quite messy, at least to start, before we turn back to those frigid temps in the single digits and teens. Enjoy the mild conditions while you can!