This is an archived article and the information in the article may be outdated. Please look at the time stamp on the story to see when it was last updated.
Finally a couple of days for central Indiana to try and dry out.  It will take several days for water to work its way through the river system but we've got some time.  The next chance for rain in central Indiana isn't until Wednesday.
This February has been a wet month.  Eighteen days this month (69%) the Indianapolis airport has recorded precipitation.  While snow has been at a premium – only 1.4″ this month – rainfall has been plentiful, especially in the last week.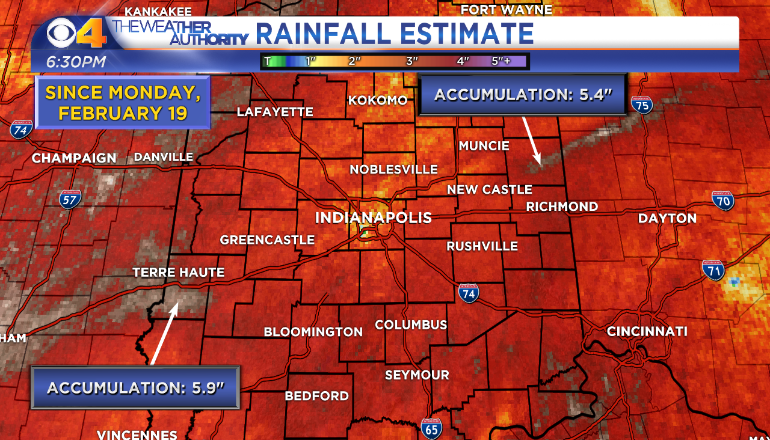 Take a look at the above map.  This shows how much rain radar estimates has fallen since Monday, February 19.  For all of central Indiana it estimates 3″ of rain has fallen.  It pinpoints a few locales with higher amounts.  Specifically in Vigo, Randolph and Warren counties.
I've gone back and added up daily rainfall reports from various observation locations across central Indiana.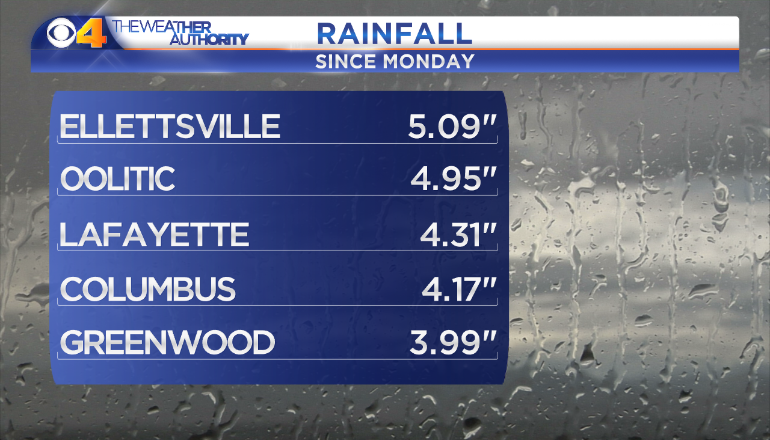 The highest amount I have found in the CBS4 viewing area is in Ellettsville, in Monroe County, where they have measured 5.09″ of rain.
Note the locations of the high-end amounts.  It isn't just located over a certain part of the area.  It reaches south, central and north.  In other words, everyone has received a fair amount of rain.
Specifically in Indianapolis, the city has officially received 3.38″ of rain since the 19th.  To put it in perspective, Indianapolis has received almost 1.5 times the normal amount of rain for the entire month of February in just the last six days.
The rain from the past week has also taken Indianapolis from a deficit in precipitation for the year to now having a surplus.
Year to date, Indianapolis has received 6.63″ of rain.  The normal amount through February 25 is 4.71″.  That puts the city at 140% the normal precipitation for the year.
TIED A RECORD
Indianapolis received 1.70″ of rain Saturday, February 24.  That ties the record for the date set in 2016.
1. 1.70″ (2016, 2018)
3. 1.05″ (1956)
4. 0.74″ (2007)
5. 0.72″ (1883)
6. 0.69″ (1888)
7. 0.64″ (1974)
8. 0.61″ (1984)
9. 0.58″ (1965)
10. 0.52″ (1890)