This is an archived article and the information in the article may be outdated. Please look at the time stamp on the story to see when it was last updated.
A very comfortable day in central Indiana Sunday.  More sunshine brought warmer temperatures – in the 70°s.  Partly cloudy skies overnight will allow temperatures to drop to the lower 60°s by Monday morning.
A cold front located in Canada will slide through the area late Monday afternoon/evening.  Along the front, scattered showers, and a few thunderstorms, will be possible, mainly late afternoon through early evening.  The best chance for rain will be over northern/northeastern portions of the CBS4 viewing area.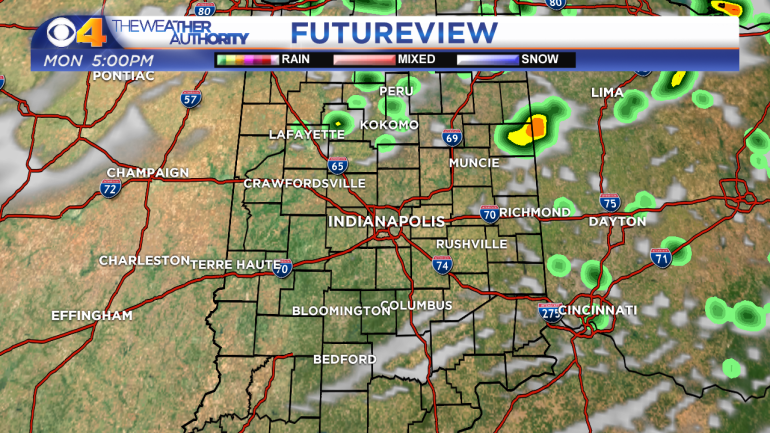 We should see a warm-up ahead of the cold front, temperatures topping out in the upper 70°s to lower 80°s Monday afternoon.
Behind the front, winds at the surface will turn out of the west-northwest and become northwesterly in the upper-levels of the atmosphere.  This will allow cooler, drier air to move in to central Indiana.  Temperatures may struggle to get out of the 60°s Tuesday.  Also notable, dew points will take a dive meaning we should feel much lower humidity through mid-week.
BIG HEAT TAKING AIM ON MIDWEST
Scorching heat was in the western United States Sunday afternoon.  At 6pm ET, temperatures were in the 90°s in Seattle, Washington and Boise, Idaho.  The temperature was approaching 110° in Las Vegas.  Yet, in Los Angeles the temperature was only 63°.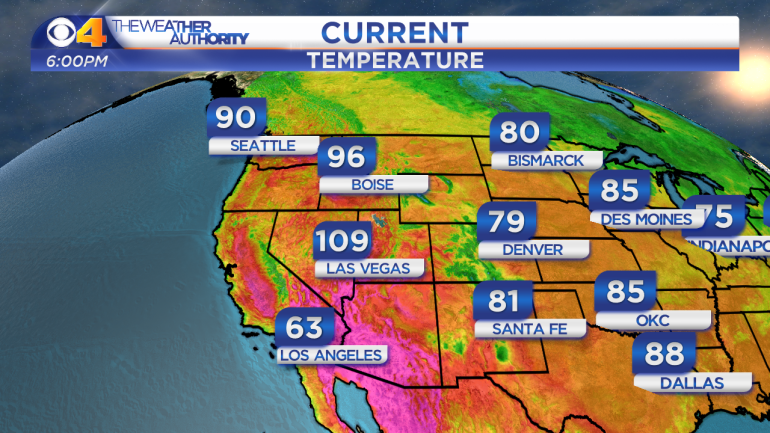 The upper-level ridge over the western third of the United States will start to move east as we start the work week.
As the ridge moves over the central United States, heat will begin to build through the central and northern Plains states.
Long range computer models suggest the ridge will move over the Midwest Friday, Saturday and Sunday.
At this time, it appears we may make a run at the first 90°+ day of the year in Indianapolis Saturday.  We may also hit 90°+ again Sunday.
The last time Indianapolis reached 90°+ was nearly nine months ago.  September 8, 2015 hit 91°.  Stay tuned!