This is an archived article and the information in the article may be outdated. Please look at the time stamp on the story to see when it was last updated.
We've had a little bit of everything – rain, sleet and snow have been passing over central Indiana Friday.  There was even a few flashes of lightning in northeast Marion County shortly after 2 p.m.
The combination of precipitation types will continue through early evening before changing over to big snowflakes.  Temperatures will begin to drop through the atmospheric column allowing snowflakes to maintain to the ground.  Computer models indicate we could see the changeover happening between 8pm and 9pm.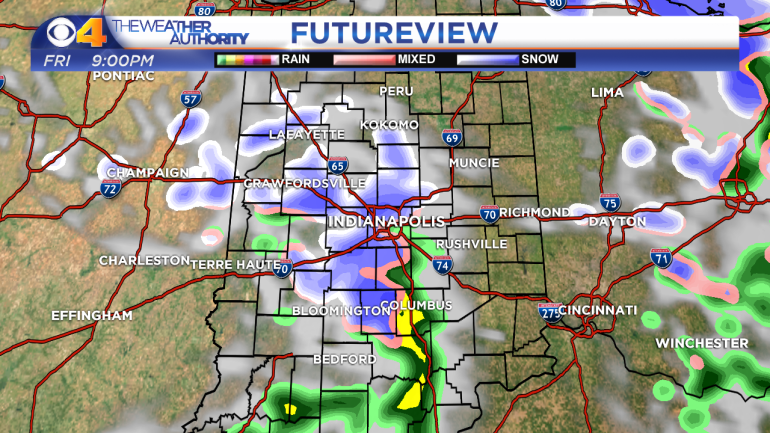 Precipitation should taper by midnight.  However, as a cold front dives south across the state during the early morning, snow showers may develop ahead and along the front.
All totaled, many could see a dusting of snow when you wake-up Saturday morning, mainly on grassy and elevated surfaces.  I wouldn't be surprised if we hear of a few spots picking up a quarter inch of snow.
FREEZE WARNING
A Freeze Warning will again be in effect early Saturday morning, between 2am and 11am, as temperatures are expected to drop in to the 20°s and lower 30°s.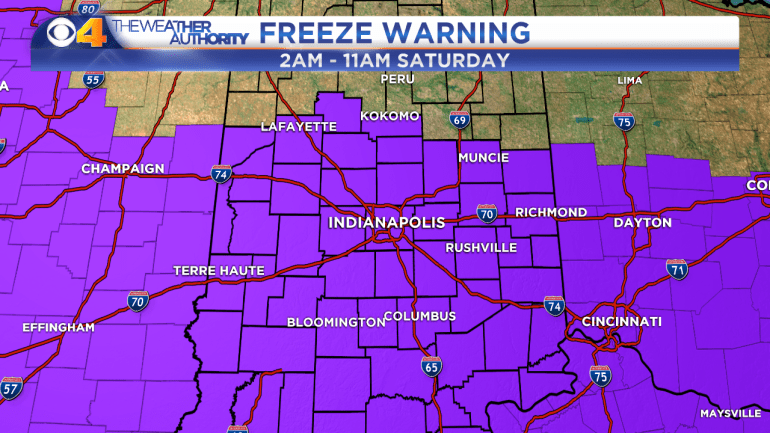 TEMPERATURES REBOUND
Temperatures will rebound Sunday, climbing in to the upper 50°s to lower 60°s on strong southwesterly winds.  Rain will begin to move in by late afternoon and will pick-up in intensity overnight in to Monday morning.