This is an archived article and the information in the article may be outdated. Please look at the time stamp on the story to see when it was last updated.
Big changes are coming to central Indiana as a developing storm is passing through the Rocky Mountains.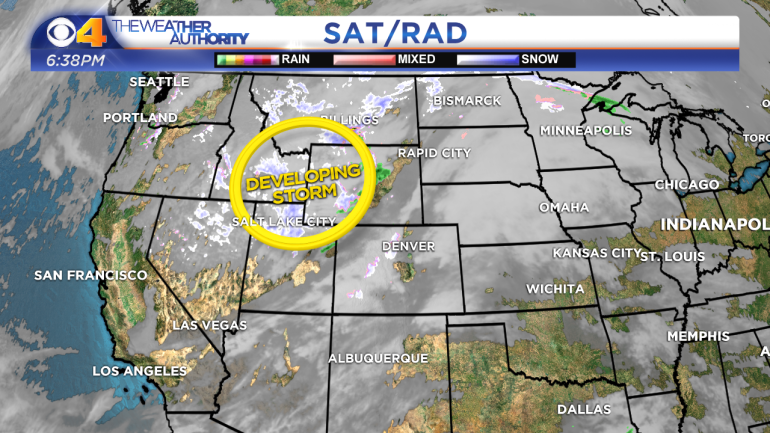 The storm will come out of the Rockies and an area of low pressure will develop in the lower levels of the atmosphere – bringing MUCH warmer weather to start the week.  An associated cold front will pass through the state Tuesday allowing Arctic air to infiltrate central Indiana mid-to-late week.
Temperatures will run 18° to 24° above normal Monday with high temperatures in the lower to middle 60°s.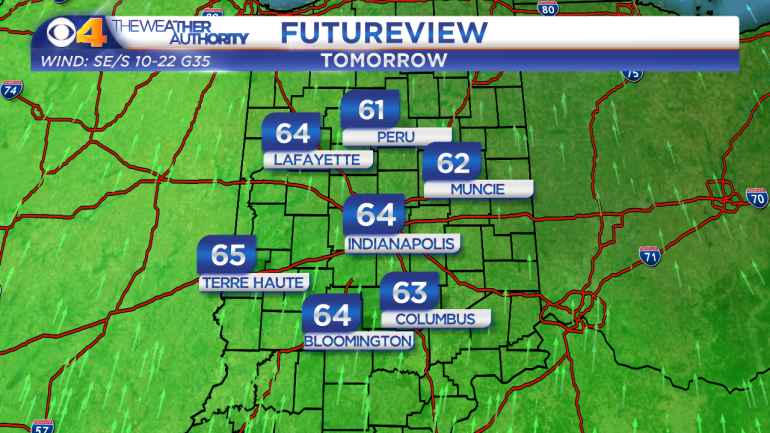 Winds will gust up to 30-35 mph at times through mid-afternoon.  After 4pm, strong winds (50-75 mph) several thousand feet above the ground will begin to move closer to the ground.  By 8pm if you go up 2,000ft winds will be hauling at 60-65 mph.  Some of this wind could mix down to the surface.  In other words, after 4pm winds may gust 40-45 mph at times.
A few spotty showers will be possible by late afternoon ahead of the approaching cold front.
As the cold front gets closer to the state, a line of rain and an occasional thunderstorm will move in to the state late Monday night in to early Sunday morning.
You can see in the animation above, computer models push the rain out of central Indiana prior to Monday morning's rush hour.  I think that will be the case (rain ending before the morning commute).
We will likely start Tuesday in the upper 50°s to near 60°, but once the front passes temperatures will drop quickly.  By afternoon, expect temperatures to be in the upper 30°s.  Temperatures should be in the low 30°s by Tuesday evening.
QUESTIONS REMAIN
There remains some question as to the strength of the cold air coming in to the state mid to late week.  Computer models suggest highs in the upper 20°s a couple days and morning lows in the teens.  The question comes from the lack of snow cover over the upper Midwest, and for that matter, the continental United States.  Last week I wrote a story about how bare ground may impact just how cold the air could be.
Computer models have been trying trying to bring a couple clippers through Indiana late week and next weekend.  There has been little consistency regarding the timing of the clippers.  As of the timing of my writing this, Friday night in to Saturday morning will need to be watched for the potential for snow (more than flurries).  Stay tuned!