This is an archived article and the information in the article may be outdated. Please look at the time stamp on the story to see when it was last updated.
It was another hot and humid day across central Indiana today as highs soared into the lower 90s for the fifth day in a row. The heat index in Indianapolis did rise to 99° early in the afternoon and 101° around 5 PM in Lafayette.
Temperatures are beginning to fall as scattered rainfall tracks over the state this evening. The non-severe thunderstorms are producing heavy downpours and lightning. The activity is weakening as it travels NNE over the Indianapolis area. The rain chances will begin to wind down during late this evening with skies turning partly cloudy overnight. It will remain warm and humid with lows in the mid-70s.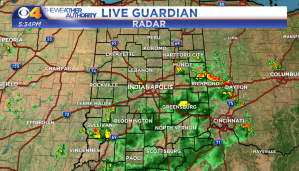 Independence Day will be hot and sticky once again with highs in the 90s and heat index values exceeding 100° in the afternoon. As a result, a Heat Advisory has been issued for central Indiana from noon through 8 PM Wednesday.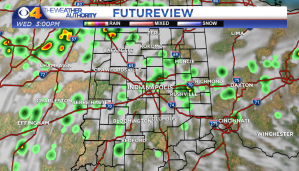 We should have a dry start to the holiday, but isolated showers and thunderstorms may fire up during the heat of the day. Futureview has most of the rainfall moving out of the area by the time fireworks shows begin tomorrow evening.