This is an archived article and the information in the article may be outdated. Please look at the time stamp on the story to see when it was last updated.
Clouds have increased across central Indiana ahead of a chance for a few showers and thunderstorms over next 55 hours.
Computer models suggest rain could begin to develop over central Indiana shortly before sunrise Sunday.  Throughout the day there will be a chance for scattered showers and thunderstorms.
Short-range computer models suggest the highest probability of rain will be during the mid-late afternoon — peaking around 55% at 5pm.  While there is a chance for rain, there should be several dry hours around central Indiana Sunday.
Due to additional cloud cover and the possibility of rain, temperatures should be a few degrees cooler than Saturday.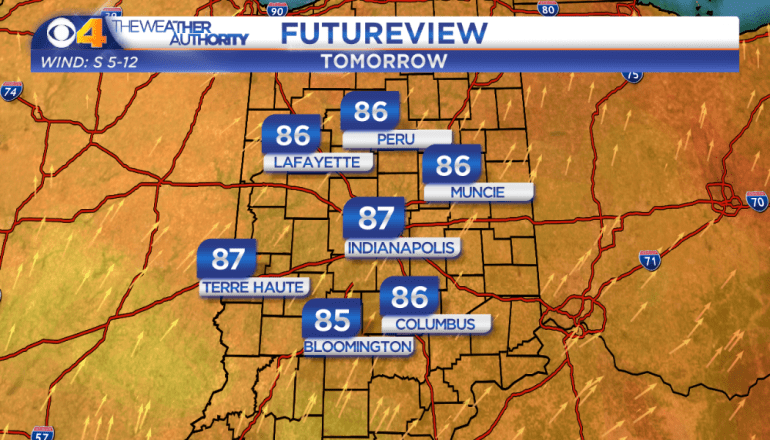 High temperatures should top out in the middle to upper 80°s.  If more sunshine prevails, a few locales could touch 90°.
As we first mentioned last weekend, the heat index should only be a couple degrees higher than the air temperature.  Meaning, while it will be warm, we are not talking about triple digits heat indices.  It should top out 89°-93° Sunday afternoon.
2ND WARMEST DAY OF 2018
Indianapolis reached 94° Saturday afternoon.  That ties for the 2nd warmest temperature this year.  The warmest was 95° on May 25.
This is the 21st day the capital city has reached 90° this summer.  The annual normal is 19 days.  This now ties for the 10th most 90° days through July 14 since 1871.
MID-WEEK BREAK FROM HUMIDITY
Medium range computer models are suggesting a cold front will pass through Indiana Tuesday.  Behind the front, brisk winds will turn out of the northwest/north bringing in drier air.  Dew point temperatures – the measure of the moisture in the air – will go from the 70°s Monday to the middle 50°s Wednesday.  That will be nice air around the Hoosier state Wednesday and Thursday.