This is an archived article and the information in the article may be outdated. Please look at the time stamp on the story to see when it was last updated.
Eleven days and counting to the start of the 100th running of the Indianapolis 500.  As we get closer to the race, THE question starts to come in to the weather center.  "Is it going to rain race day?"
First, lets take a look back at when it has rained.  In the previous 104 race days, there was measurable precipitation 35 days or 33.6 % of race days.  You might be asking how there can be 104 race days when the 2016 Indy 500 will be the 100th, that is due to Indianapolis Motor Speedway officials having to postpone the race to following days due to weather.
The wettest Indy 500  was in 2004 when 3.80″ of rain fell.  That race had several postponements due to several rounds of rain and eventually severe thunderstorms, eventually causing the race to after 450-miles.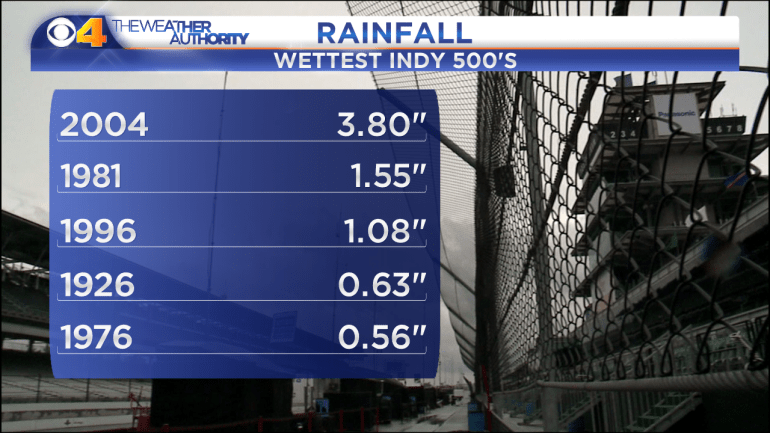 Looking back at the previous 99 years, race day averages 0.14″ of precipitation.
LONG RANGE COMPUTER MODEL DATA
The race is still eleven days away, so there remains uncertainty to specifics of what race day will hold.  However, we can look ahead and see what computer models suggest at this distant view.
Computer models using ensemble forecasting techniques gives us a chance to look at a wide range of possibilities.  Ensemble forecasting is a numerical weather prediction method that is used to attempt a wide sampling of possible future outcomes.  In other words, the initial weather conditions put in to the model are tweaked slightly to see various solutions solved by the computer.
I looked over this morning's ensembles from two computer models (ECMWF and GEFS).  The computer models were relatively close in their projection of precipitation falling on race day.
The ECMWF allows us to look at data from 8pm Saturday, May 28 through 2pm Sunday, May 29 (race day) and 2pm through 8pm Sunday, May 29.  Eleven out of the 50 members (20%) of the ensemble suggest rain falling 8pm Saturday through 2pm Sunday.  Thirteen of the 50 members (26%) suggest rain falling 2pm through 8pm Sunday.  Overall, 23% of the members suggest rain falling 8pm Saturday through 8pm Sunday.
The GEFS allows us to look at the probability of 0.10″ or more of rain falling 8pm Saturday, May 28 through 8pm Sunday, May 29.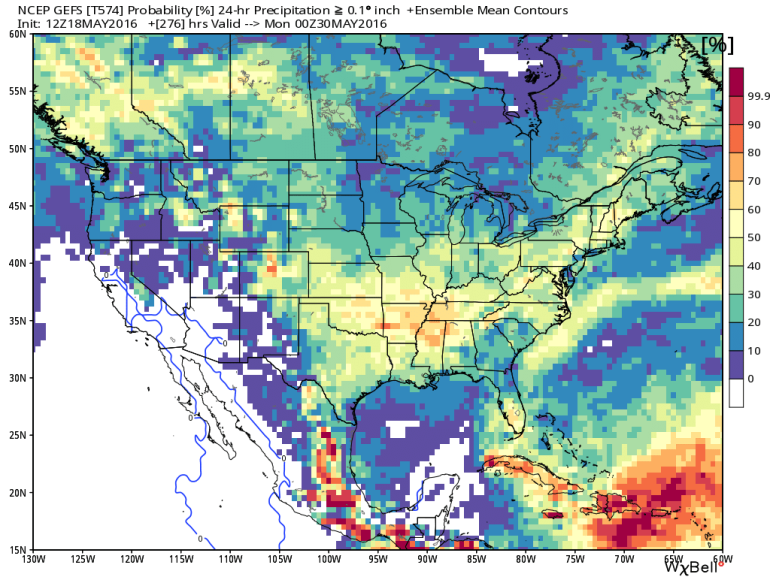 Looking at the above map, data suggests anywhere from approximately 27% to 33% probability of rain falling in central Indiana 8pm Saturday through 8pm Sunday.
So what does all this mean?  As mentioned earlier, data is relatively close when comparing the computer model data with historical data.  At this point, data suggests 25%-33% chance of rain on race day.  That also means there is a 75%-66% chance of no rain.
Keep in mind, the computer model projections can – and likely will – change many times between now and next weekend.  For the latest forecast, keep checking back on CBS4Indy.com/weather and on-air during CBS4 News.  Chief Meteorologist Chris Wright, Lindsay Riley and myself will continue to monitor the forecast for the 100th Indianapolis 500.