This is an archived article and the information in the article may be outdated. Please look at the time stamp on the story to see when it was last updated.
A cold front will sweep through the state Sunday evening, bring cooler, less humid air for Monday.
Before the front passes, showers and thunderstorms will be possible.  With all the moisture in the air, any thunderstorm will be capable of producing heavy downpours in a short period of time.
Temperatures will drop to the 60°s by Monday morning.  This will be the first time the temperature has dropped below 70° in Indianapolis since last Wednesday.  With mostly sunny skies, temperatures will rebound to the lower/middle 80°s – close to our normal high temperature.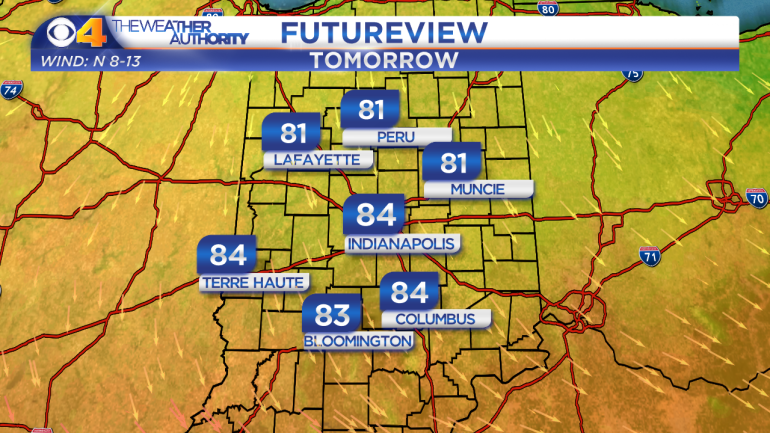 The key to Monday will be lower humidity.  Dew points – the measure of the moisture in the air – will fall from the lower 70°s today to lower 60°s Monday and Tuesday, making it feel not nearly as "muggly" as it has over the last week.
Summer isn't over yet.  Temperatures are expected to rebound back to the upper 80°s Wednesday.  Our next chance for rain will come Thursday evening as a cold front approaches the state.  Right now it looks like rain will come to an end Friday morning and temperatures should remain below normal through the weekend.