This is an archived article and the information in the article may be outdated. Please look at the time stamp on the story to see when it was last updated.
Here comes the heat! A Heat Advisory is already in place for most of Central Indiana. This goes in effect 2 PM Friday afternoon and lasts through Saturday evening.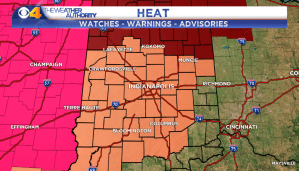 It stays warm and humid tonight as temperatures drop to the upper 70's by 11 PM.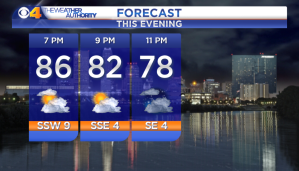 The heat rises into the 90's by tomorrow afternoon.
However, the heat index will sore into the triple digits during the afternoons this weekend. So, if you're going to be spending time outdoors, plan on plenty of breaks and stay hydrated.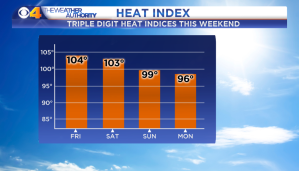 Pack the water bottles if you're heading out to Symphony on the Prairie tomorrow night. Temperatures still near 90° once the concert gets started.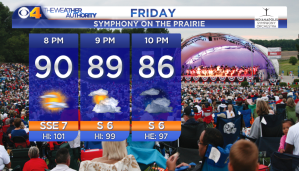 There isn't a lot of relief in the extended forecast. The dew points will drop slightly after the weekend, but actual temperatures will still be in the 90's with the heat index feeling several degrees warmer.