This is an archived article and the information in the article may be outdated. Please look at the time stamp on the story to see when it was last updated.
A cool start to the weekend is expected for central Indiana.  Temperatures may struggle to get above 50° for some locales Saturday afternoon.
An area of low pressure will pass south of central Indiana Saturday.  North of the low, clouds will be widespread, winds will remain out of the northeast and rain will be spread north.
At this time, it appears the best chance for rain will be along Hwy 46 and south in south-central Indiana.  However, I am going to keep a chance for rain as far north as the I-70 corridor Saturday.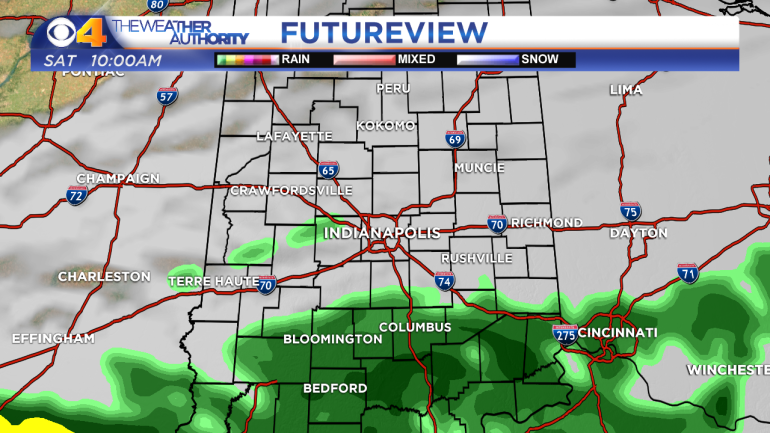 Cloud cover, rain and a northeast wind should hold temperatures in check.  Temperatures should top out in the lower 50°s in the southern half of the CBS4 viewing area.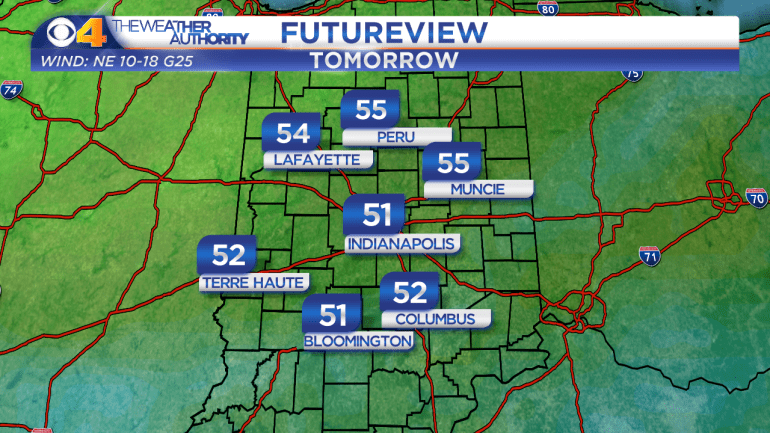 It should be a few degrees warmer over the northern half of the state where the sun should break through the clouds at times Saturday afternoon.
One caveat to the temperature forecast.  If rain stays south of Indianapolis, temperatures could very easily reach the mid-50°s.
ONE OF THE WARMEST
2017 currently ranks the second warmest year (through April 20) in Indianapolis over the previous 145-years of weather records.
Notice it is not just recent years that rank in the Top 10 warmest.  1878 and 1880 rank third and fourth warmest.  Six of the top ten warmest years occurred prior to 1980.
ACTIVE PATTERN END OF WEEK
Long range computer models suggest the pattern will be a little more active later next week.  A couple fronts are projected to pass through the area which will allow showers and thunderstorms to develop.  It also looks like a couple days will either reach, or flirt with, the 80°s.
Strong to severe thunderstorms may develop in central Indiana next Friday ahead of a cold front.  We'll continue to monitor over the coming week.