This is an archived article and the information in the article may be outdated. Please look at the time stamp on the story to see when it was last updated.
After seeing mild weather through the weekend, we are now tracking a winter-like weather pattern heading into the work week! Temperatures this Monday are going to be much cooler compared to the weekend. On Sunday, Indianapolis had a high temperature at 58 degrees and temperatures today will be nearly 20 degrees colder.  Northwesterly winds up to 20 MPH will create a wind chill throughout the day.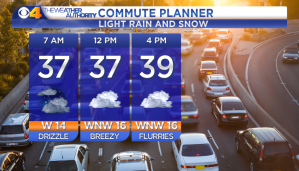 Areas of light rain and patchy drizzle will be possible through the morning commute. Colder air aloft is going to build into central Indiana today, which will result in a light rain/snow mix and flurries into the afternoon. Little to no snow accumulation is expected.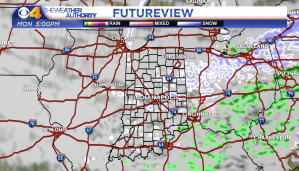 Skies will become mostly cloudy overnight with a chance for a few lake effect flurries. Lows will drop back into the upper 20s and lower 30s. Scattered flurries will travel over the state on Tuesday as highs reach near 34 degrees in Indianapolis.
Light snow chances will linger in the forecast through Thursday night with steady high temperatures in the mid-30s. Drier conditions arrive for the weekend, but the clear sky will result in bitterly cold lows Friday and Saturday mornings! Expect lows in the teens at the start of the weekend.