This is an archived article and the information in the article may be outdated. Please look at the time stamp on the story to see when it was last updated.
A cold front has entered Indiana Wednesday night.  This isn't just any front.  This is the front we've been talking about for a week.  This is the one that is going to put an end to mid/late summer temperatures in the Hoosier state.
Winds will be the first thing you notice behind the front.  They will shift from the south to the west.  The cooler air is lagging behind the front.  As of 10pm, temperatures are in the 40°s as close as eastern Illinois.
Jackets will be needed Thursday morning.  We will have temperatures in the mid-40°s to around 50° at 7am.
Sunshine will likely return during the afternoon.  That should allow temperatures to warm in to the upper 50°s.  However, winds will be out of the west/northwest gusting to 23mph.  The wind will add a little chill to the air.
HURRICANE MICHAEL
Hurricane Michael is down to a category 1 hurricane as of 10pm Wednesday.  The storm is expected to continue weakening through Thursday.  However, once it moves back over the Atlantic Ocean it is forecast to strengthen, with 60mph winds.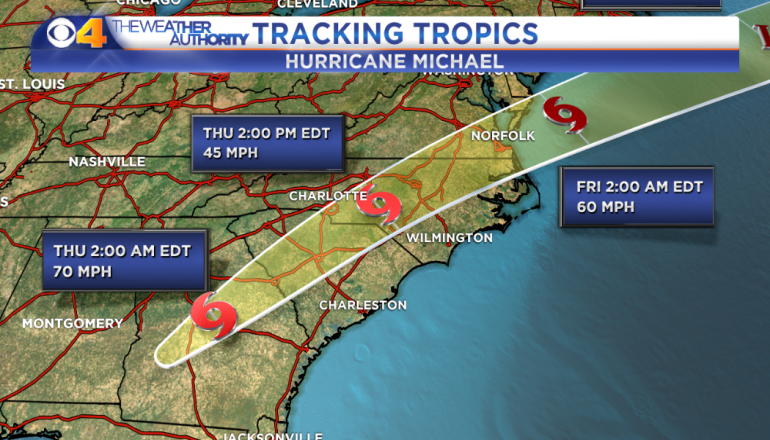 Winds from Michael over the next 36 hours will be nothing like they were when the the storm made landfall.  Take a look at some of these peak wind gusts from Wednesday.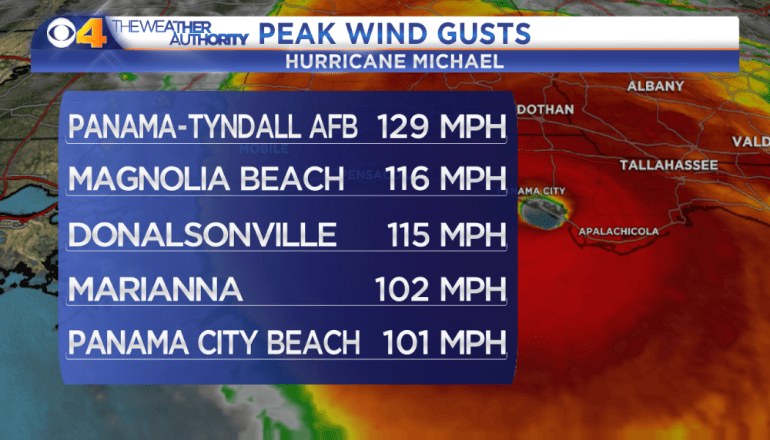 Hurricane Michael will go in to the weather record books as the third most intense U.S. landfalls.  Intensity is determined by atmospheric pressure.
FALL HERE TO STAY
I don't see any significant warm-ups returning to central Indiana through the rest of October.  I suspect with several cool mornings over the coming days, we will start to see a lot of fall colors appearing in the trees.