This is an archived article and the information in the article may be outdated. Please look at the time stamp on the story to see when it was last updated.
A cold front is beginning to move in to northwest Indiana Thursday evening.  The front will slowly move east through the overnight.
The front will be located through the middle of the state by late Friday morning.  As temperatures warm, and humidity increases, the front may produce just enough lift to produce an isolated shower and thunderstorm late Friday afternoon and early evening.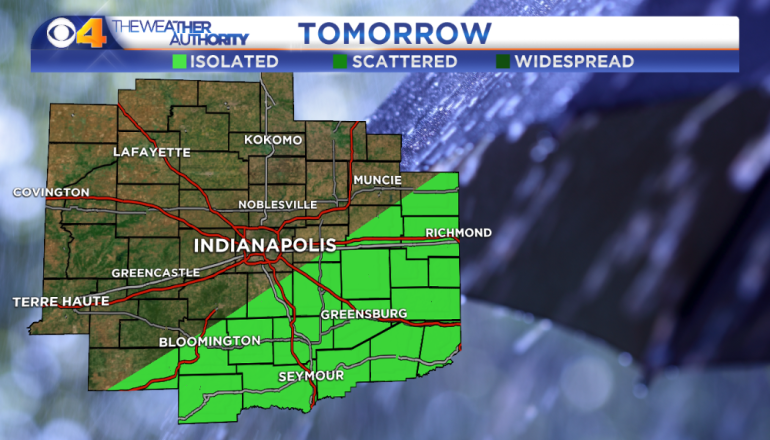 The best chance for an isolated shower/thunderstorm will be over the southeastern third of the CBS4 viewing area.
Temperatures Friday should be near normal, if not slightly above.  Temperatures will start in the 60°s and quickly climb in to the mid-80°s by afternoon.
Dew point temperatures - the measure of the moisture in the are - are expected to increase in to the upper 60°s to near 70° Friday.  This is going to make it feel more uncomfortable than it has in the last couple of days.
Along with the dew point/humidity rising, temperatures are expected to jump over the next several days.  This should take the heat index - feel like temperature - in to the lower 90°s Saturday and Sunday.  The worst of the heat and humidity should be Monday as the heat index climbs to the upper 90°s to near 100° ahead of a cold front.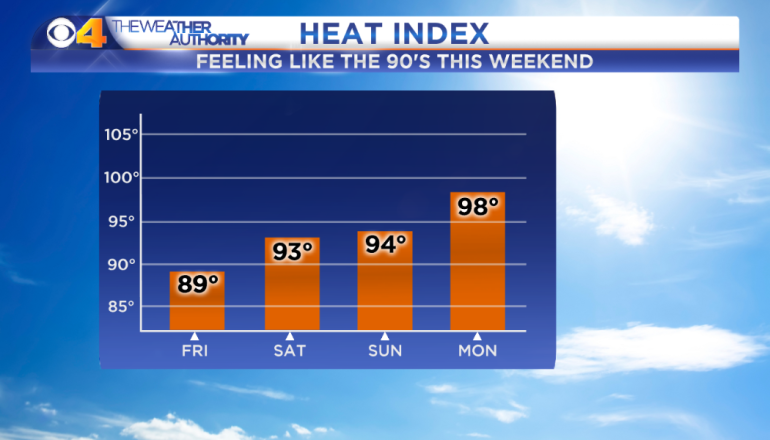 The aforementioned cold front will bring a chance for thunderstorms to central Indiana Monday evening through Tuesday.  That is also the time period of our next decent shot for rain over the next seven to eight days.