This is an archived article and the information in the article may be outdated. Please look at the time stamp on the story to see when it was last updated.
12:10AM UPDATE:  Another round of very minor tweaks to the forecast.  Trying to nail down where the heavy band of snow could fall in southern Indiana.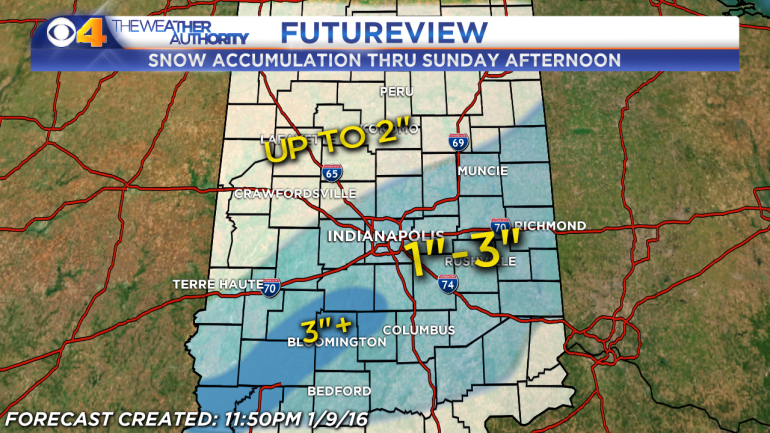 11:00PM UPDATE:  New data is in and I've made a few minor tweaks to the snow forecast for central Indiana.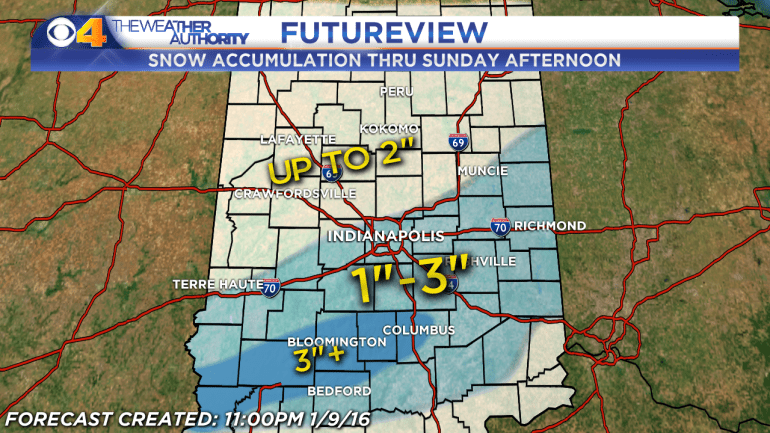 Currently thinking a narrow band of 4″+ snow could develop in south-central Indiana.
9:00PM UPDATE:  The National Weather Service  has extended the Winter Weather Advisory to include most of central Indiana.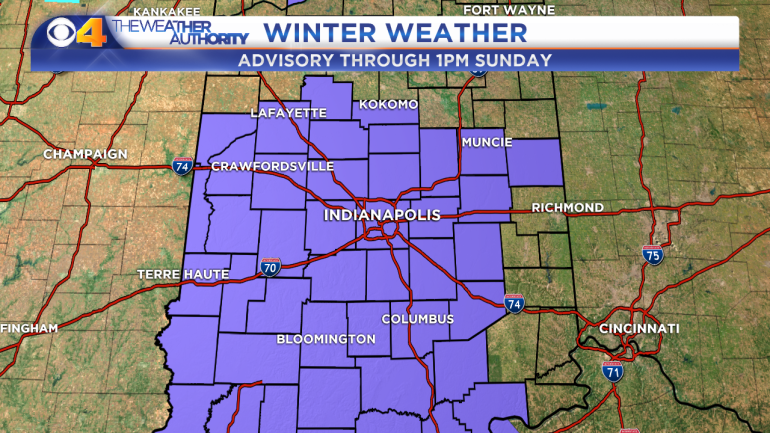 The National Weather Service in Chicago has removed Benton, Cass and White counties from the advisory.
6:55PM UPDATE:  We have had to make a few changes to the snow forecast.  All along we have said to keep checking back as it may change and that is the case.
Instead of the weather system coming through as one piece, it has split.  One piece going north through Chicago.  The second piece is located near Memphis.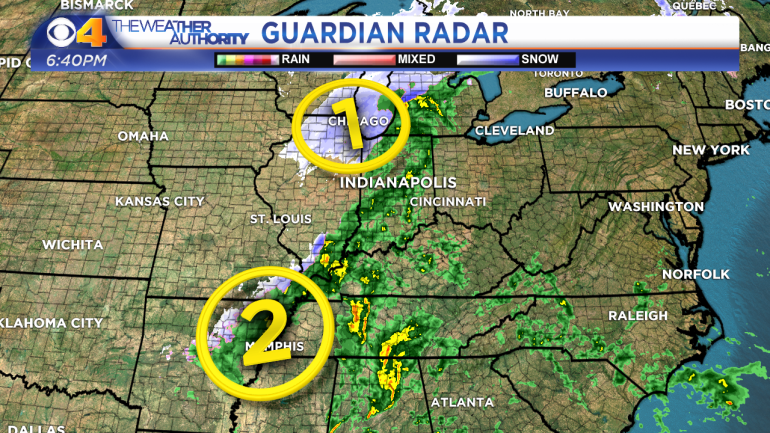 It is the second piece that will impact central Indiana early Sunday morning.
An area of low pressure is located near Memphis.  The low is expected to track north-northeast over the next several hours, eventually arriving near Louisville, Kentucky.  Then the low should begin to turn more northeast.  Northwest of the track has the potential for highest snow totals.  In fact, it appears the highest totals will be south/southeast of Indianapolis.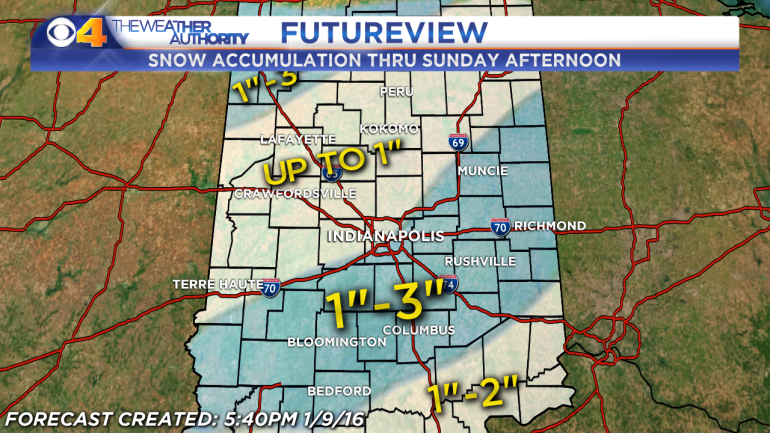 At the current time, I still think Indianapolis could end up with 1″ to 2″ of snow.  Higher amounts will be possible in Bedford, Bloomington and Columbus.  It does appear there could be a narrow band of heavy snow developing somewhere within the 1″ to 3″ band with someone seeing 4″+ of snow.  At this time it is impossible to know where that narrow band develops.  We likely won't know where it will be until banding appears on the radar.
Keep in mind, this is still a very fluid situation.  We will have updates on-air and online later tonight when our next package of computer model data comes in.
TIMING IT OUT
Rain will continue in central Indiana through late tonight.  Cold air will begin to spill in from the west/northwest closer to midnight.  As it does so, rain will begin to change over to snow.
Latest high-resolution data suggests parts of southwest Indiana could see the changeover first.   Right now it looks like the changeover could occur in Indianapolis between 2am and 4am.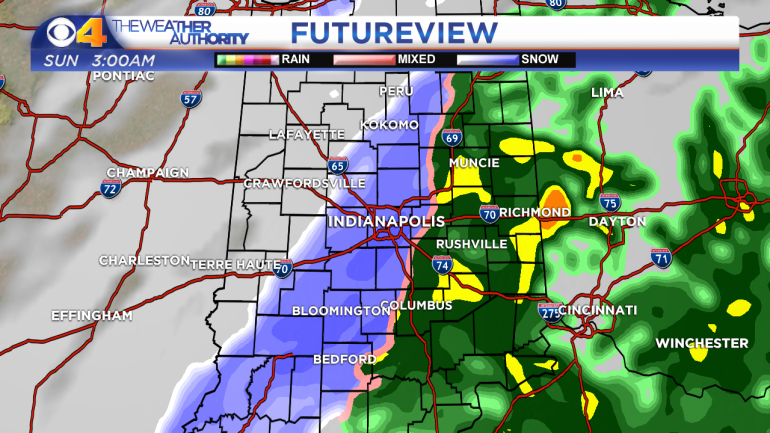 The cold air will keep sweeping east, changing rain over to snow.  The rain/snow line should reach the Indiana/Ohio state line by 6am Sunday.
Snow should end in Indianapolis 9am Sunday.
ARCTIC AIR ARRIVES
Amazing temperature spread as of 6pm.  The temperature in Indianapolis is 49°.  Northwest, it is 18° in Moline, Illinois.
Arctic air will sweep in behind the cold front Sunday morning.  Temperatures are expected to drop throughout the day.  Temperatures should be in the 30°s and lower 40°s around 1am.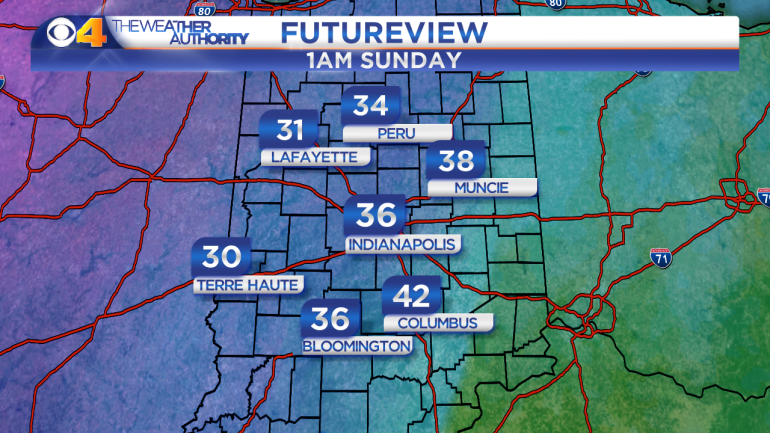 They will drop to the teens by 5pm.  Wind strong northwest turning westerly winds wind chill values will drop to near 0° to 10° by late afternoon.
Cold air sticks around for much of the upcoming week.  Along with cold air, several clippers will bring chances for snow.