This is an archived article and the information in the article may be outdated. Please look at the time stamp on the story to see when it was last updated.
A quick moving weather system will pass over the Ohio River Valley to start the work-week and it has the potential to bring snowflakes to central Indiana.
The atmospheric column suggests that any moisture falling will be in the form of snow. At this time, it appears the Monday morning commute should not be impacted by any precipitation as computer models project moisture beginning to fall mid-morning through Monday evening. And as you can see from the image above, not everyone will see snow showers.
HOW MUCH WILL WE GET?
Computer models are bearish in respect to how much snow could fall. The air is cold enough to support a 12:1 to 16:1 snow-to-liquid ratio, but with precipitation lacking, little snow should accumulate on the ground around central Indiana.
Here's a look at various computer model precipitation projections for Indianapolis. A 32-computer model average suggests there will be 0.01″ liquid to work with. That suggests less than 0.2″ of snow for the capital city through late Monday night.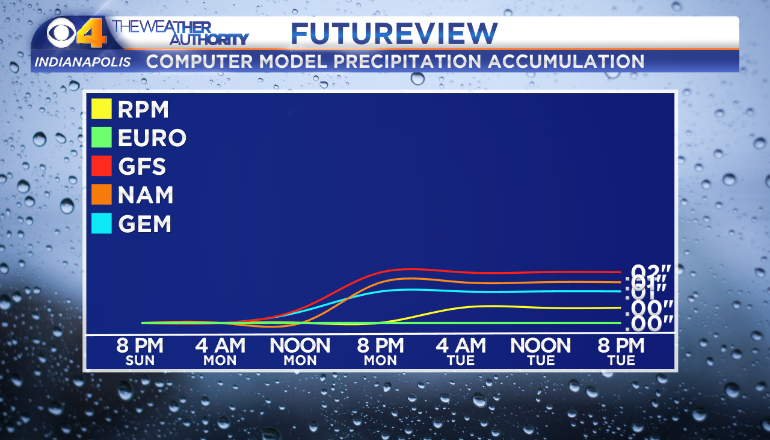 Here's a look at the 32-computer average for other cities around central Indiana. Again, depending on the location, I think we are looking at a 12:1 to 16:1 snow to liquid ratio.
Bloomington: 0.01″
Columbus: 0.02″
Kokomo: 0.02″
Lafayette: 0.01″
Muncie: 0.04″
Peru: 0.03″
Shelbyville: 0.02″
Terre Haute: 0.00″
There could be up to a half inch of snow by late Monday night northeast of Indianapolis, closer to an area including Anderson, Kokomo, Muncie, New Castle, Richmond and Winchester.