This is an archived article and the information in the article may be outdated. Please look at the time stamp on the story to see when it was last updated.
Central Indiana is under a Winter Weather Advisory until noon Sunday morning. We'll have rain this afternoon with temperatures in the mid-30s. You'll have a window through 5pm where streets will be wet. This evening temperatures will fall below freezing rain will change to freezing rain, sleet and snow.
We'll see a half-inch accumulation of snow overnight combined with a tenth of an inch of ice.  Snow showers will continue Sunday. Expect a much colder Sunday with highs in the teens.  Sunday night as skies clear temperatures drop below zero.
A Winter Weather Advisory continues through Sunday morning.
1pm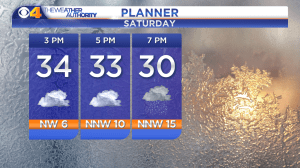 Temperatures will stay above freezing this afternoon.
7pm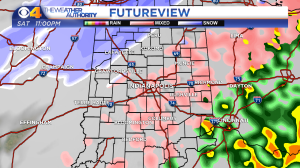 11pm
3am
Rain changes to freezing rain, sleet and snow this evening.
Snow showers will continue through Sunday.