This is an archived article and the information in the article may be outdated. Please look at the time stamp on the story to see when it was last updated.
Many communities across the state will be producing professional fireworks displays. We have a list of celebrations and displays at cbs4Indy.com/fireworks. If you choose to light them on your own please be careful.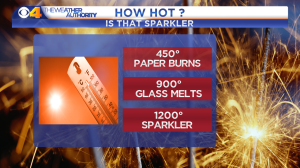 Sparklers are extremely hot.
Doctors say they see a significant spike in the amount of ER visits around the Fourth of July.