This is an archived article and the information in the article may be outdated. Please look at the time stamp on the story to see when it was last updated.
Enjoy the cooler temperatures this weekend and early next week as the season's warmest air takes aim on the Hoosier state.
A few spotty showers will be possible for the rest of the evening, but the main story overnight will once again be comfortable temperatures.  Expect temperatures to drop down in to the lower/middle 60°s by early Sunday morning.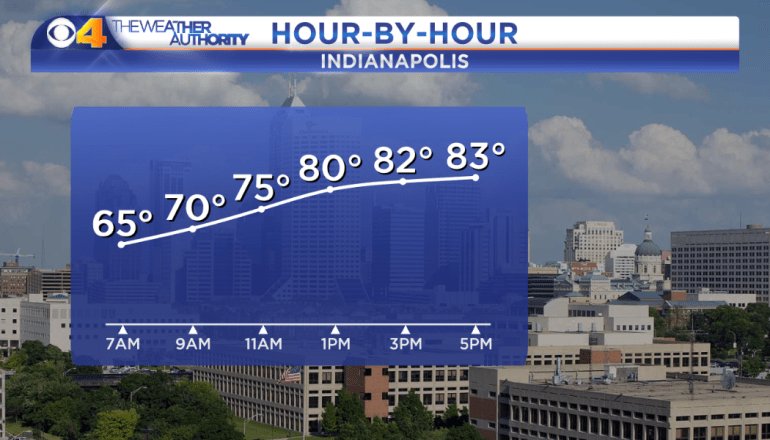 There remains some question as to the coverage of cloud cover over central Indiana Sunday.  Most computer models suggest there could be some low level moisture (below 5,000 feet) which could produce thicker clouds and a partly sunny day.  While one computer model suggests skies will be mostly sunny.  I am leaning in the favor of partly sunny skies for most of the day.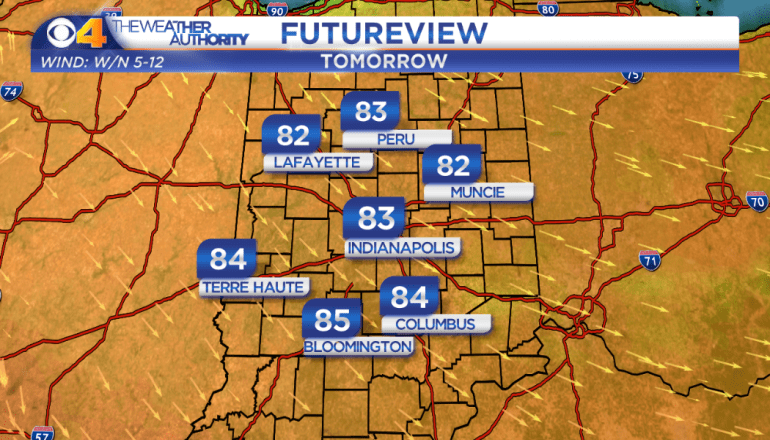 We do know temperatures will be warmer than Saturday.  Expect high temperatures to climb back to near normal levels Saturday afternoon.
BELOW NORMAL STREAK
Saturday will go in to the weather records as below normal when it comes to temperatures.  The high temperature was 75° after a 65° morning low.  The normal high temperature for the day is 84°.  The normal low temperature is 64°.
This is the third consecutive day with below normal temperatures for the capital city.  It is the first time Indianapolis has had three consecutive days below normal since late April (April 28-30).
RETURN OF THE HOT DOME
Heat is set to return by the end of the coming work week.  Long range computer models suggest high temperatures could hit their highest levels of the year (so far).  That would take the air temperature in to the middle to upper 90°s and heat indices in to the lower 100°s for the end of the week and in to the weekend.