This is an archived article and the information in the article may be outdated. Please look at the time stamp on the story to see when it was last updated.
Those traveling Sunday after the Thanksgiving holiday will want to pay close attention to the forecast as a weather system located in the northwest United States could have a big impact.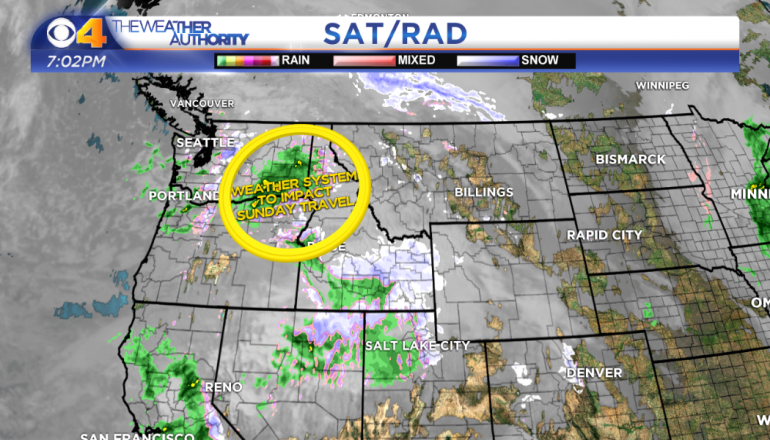 The storm will move in to the Rocky Mountains later Friday night.  Computer models project it exiting the mountain range by Saturday morning while developing an area of low pressure at the surface near the Oklahoma panhandle.
The low pressure area is then expected to move east through Oklahoma, Kansas, Missouri and Illinois before arriving in Indiana Sunday afternoon/evening.
Ahead of the low, temperatures will surge in to the upper 50°s to lower 60°s in Indiana and Illinois on gusty winds out of the southeast shifting to the south.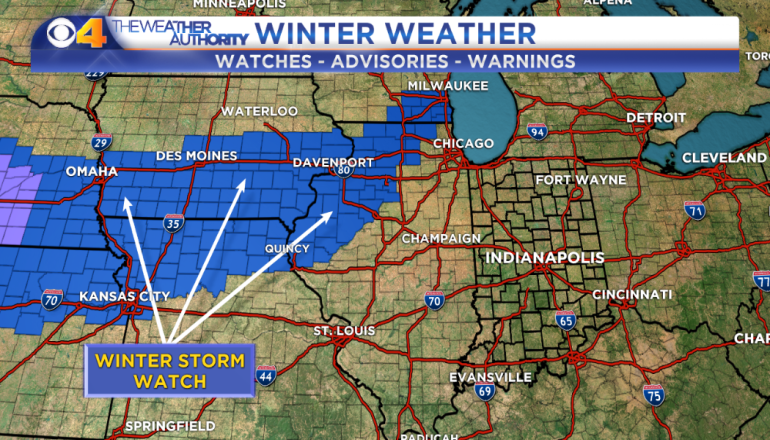 On the north and northwestern side of the storm, temperatures will be in a range capable of producing snow.  The National Weather Service has issued Winter Storm Watches for parts of the north-central Plains, Iowa, Missouri, Illinois and Wisconsin in anticipation of the storm.  Snow, which could fall heavily, and winds gusting 35+ mph will reduce visibility along interstates in those areas.
There still remains considerable uncertainty as to the storm's track and where bands of snow will accumulate.  It is amazing to see what computer models project storms to do prior to going through the Rocky Mountains, and then see what the models project after storms exit the mountains.  That is why you usually will not see me give a local snow forecast too far in advance.  I really need to see what is left of the storm once exiting the Rockies.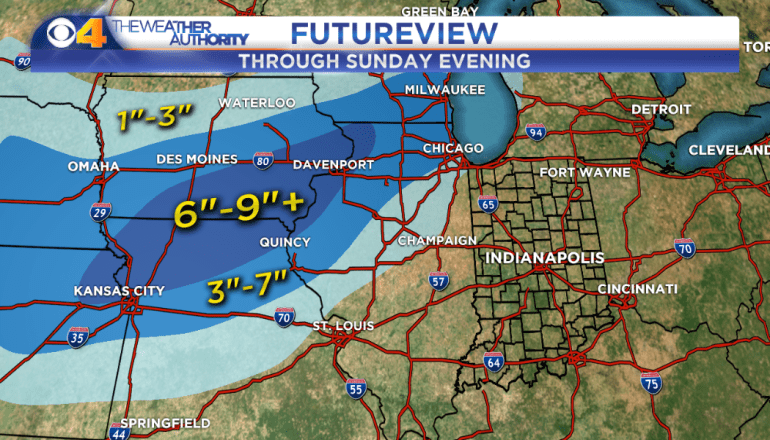 That being said, at this distance it does look like bands of accumulating snow will be possible starting late Saturday night (in the Plains) through Sunday evening.  Computer models suggest there could be a band of snow that produces 6″ to 9″ of snow from Missouri to Iowa to Illinois.  A few heavier snow bands are possible.
As previously mentioned, details on the track of the storm need to be worked out for the exact location of where snow will accumulate.
It should also be noted that there is a chance this could impact air travel in/out of Chicago's O'hare airport late Sunday afternoon through Sunday night.  Stay tuned!