This is an archived article and the information in the article may be outdated. Please look at the time stamp on the story to see when it was last updated.
Central Indiana has been locked in a wet weather pattern for the past few weeks and our Spring rainfall surplus is approaching six inches. The frequent rains have led to Flash Flood Warnings along all area waterways through the weekend.
The longest dry spell we've had this year is an eight day stretch back in February. Now, a new weather pattern will settle in this weekend and last through most of next week. We will have several days with little or no chance for rain through next Wednesday.
The first eleven days of May have been very wet.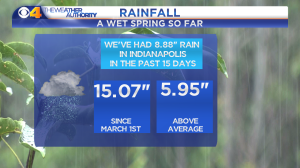 We've had almost nine inches of rain in the past 15 days.
We'll have a mix of clouds and sunshine on Friday.
We'll have sunny skies  Saturday.
Warmer weather settles in for Sunday.
HigHighs will be near 80 on Monday.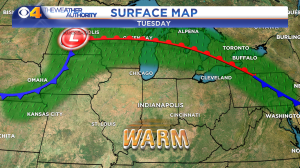 Highs will be in the 80s on Tuesday.
We will have dry weather for the next six days.