This is an archived article and the information in the article may be outdated. Please look at the time stamp on the story to see when it was last updated.
Cloud are increasing across central Indiana tonight.  There will be a chance for snow flurries through early Monday morning.
The big story for Monday will be an increase in temperatures.  It will take a little while, but we should see temperatures getting up to the freezing mark by afternoon.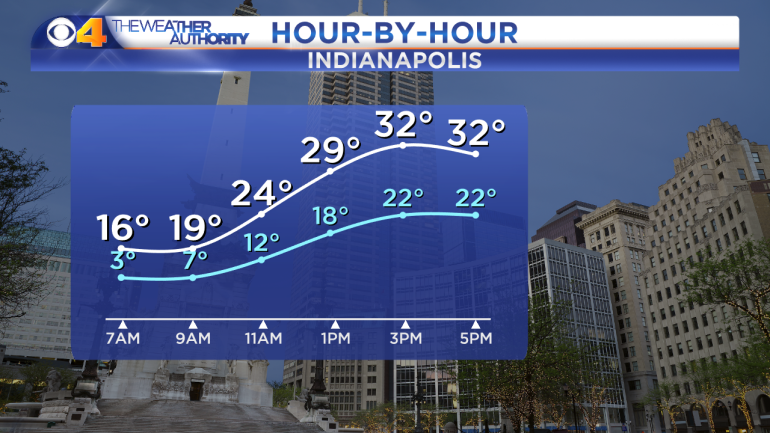 Winds will be brisk at 7-15mph throughout the day, so wind chills will go from the single digits to the teens through early afternoon.
Temperatures shouldn't drop much late Monday night in to Tuesday as a warm front lifts through central Indiana.  Ahead and along the warm front, there is a chance for a few drop of moisture and/or drizzle.  Temperatures will be near, if not slightly below, freezing in the northeastern part of the CBS4 viewing area (Muncie, Hartford City, Marion) which could lead to the potential of a little freezing drizzle.  While the chance doesn't look high, it is there.
END OF WEEK - SLICK CONDITIONS
Long range computer models continue to suggest a front stalls out near central Indiana for the end of the week/weekend.
Models show warm air aloft, a few thousand feet above the ground, riding up over cold air locked in at surface by northeasterly winds.
The warm air, running up and over the cold air, will be a good environment to bring moisture to the Midwest from the Gulf of Mexico on south/southwesterly winds.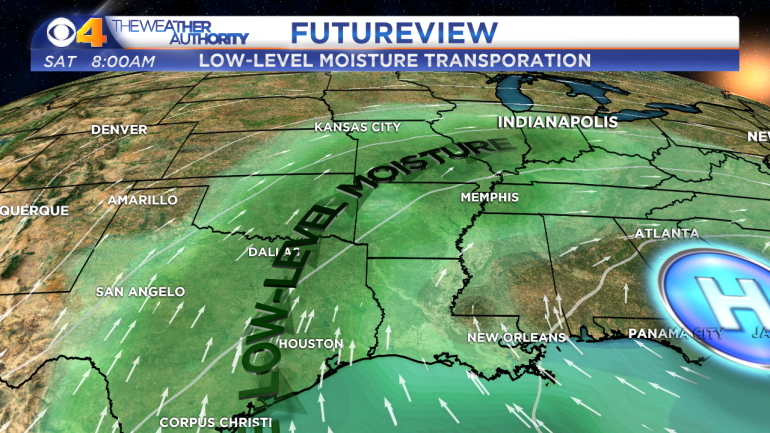 As moisture runs over the colder air at the surface, it will begin to freeze.  Exactly how thick the freezing layer will be key and is unknown at this range.  At this point, data points to sleet changing to freezing rain (ice) Friday in to Saturday.
Through the day Saturday, temperatures should begin to rise, a few degrees above freezing, causing the precipitation to be rain.  Sunday night temperatures are expected to drop back below freezing at the surface, so we could then see precipitation transitioning from rain back to freezing rain or sleet.
One of the concerns is the amount of precipitation being forecast for the Friday through Sunday time period.  One long range computer model suggests 1.95" of precipitation.  Another 1.54" of precipitation.  That is a decent amount for this type of setup which could lead to an accumulation of sleet and/or freezing rain (ice).
We will be able to iron out the details as we go through the week, but if you have plans Friday through Sunday, you should definitely keep an eye on the forecast this week.