This is an archived article and the information in the article may be outdated. Please look at the time stamp on the story to see when it was last updated.
After a wet Spring central Indiana could use a break from rainfall and right on cue a long stretch of dry weather  is on the way.
The average high temperatures this time of year is in the mid 60s and finally we'll get closer to normal Spring weather.
We'll have dry weather this weekend with highs near 60 degrees.
We'll have a chance for a few showers south of I-70 late Monday.
Our next best chance for rain and t-storms will arrive Tuesday night through Wednesday.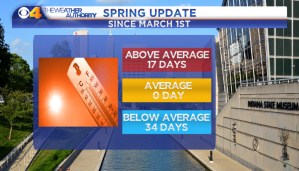 So far this has bee a cool Spring