Last month, from his glass-walled corner office inside the Footprint Center, new Suns owner Mat Ishbia was clear on how much risk he saw in going all in on Kevin Durant. "No risk," said Ishbia. "I don't look at it as a risk at all." After three games Durant was on the injured list following his slip on a wet spot on the court minutes before his home opener.
Durant will reportedly return Wednesday, at home against Minnesota. The Suns hope he will play Friday against Denver. And Sunday in Oklahoma City. In all of Phoenix's remaining seven games. At 40–35, the Suns occupy the fourth spot in the conference standings. But four teams are within two games of them. At this stage of the season, every game counts.
"Slim Reaper," Deandre Ayton told reporters, "is on the way."
The Suns are 4–6 since Durant's injury. Four of those games have been played without Durant and Ayton, who has been battling a hip injury. They have wins over Oklahoma City, Orlando and Utah. Losses have come to Sacramento, Golden State and Milwaukee. They have been middle of the pack offensively (with a rating of 117.6, 12th during that stretch, per NBA.com) and defensively (116.0, good for 17th).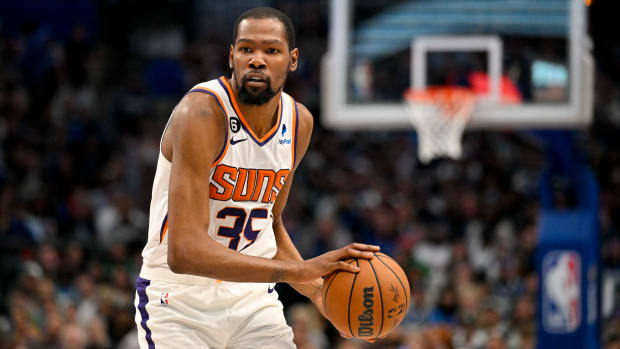 On that chilly February afternoon, Ishbia made the case that this season wasn't title or bust. Durant was in the first year of a four-year contract. Ayton and Devin Booker were just hitting their primes. Chris Paul was older but still capable. "This is not like, 'Oh, we're going to win today and we're not going to win [later],'" Ishbia says. "No, we're going to win again in '27 and '29 and '31. We're going to try to win all the time."
Perhaps. But the Suns play in a conference currently led by Denver, Memphis and Sacramento. In a league where Boston and Philadelphia are inconsistent. The most complete team is Milwaukee, a team with the fourth-highest point differential in its own conference.
This seems like the Suns' chance. If Durant is healthy. If Durant is Durant. The Suns got a taste of life with him. He averaged 26.7 points in those three games. He shot 69% from the floor. He connected on 54% of his threes.
Most importantly: Phoenix went 3–0.
Durant's presence turbocharged the Suns' offense. It freed up Booker, who averaged 36 points during that three-game stretch. It opened the floor up for Paul, who benefited from wide-open looks. Phoenix averaged 120 points in games with Durant, more than six above its season average.
"The one thing nobody talks about is how unselfish he is," said Suns coach Monty Williams recently. "In terms of making the right plays, he's got more experience than all of us. He understands that he doesn't have to inject himself—he just allows the game to come to him."
On paper, the Suns have a roster that can contend for years. But Durant is 34 with a history of bizarre injuries. Paul is a month shy of his 38th birthday and showing noticeable signs of decline—including one of the worst shooting percentages of his career. Phoenix's championship window may not be more than a couple of seasons. Maybe even shorter.
That's what makes this seven-game stretch so important. The Suns need to cling to the No. 4 seed, which at least would give them home court in the opening round. They need to continue to develop the chemistry between Durant and his teammates. They need to see how teams will approach defending the Durant-Booker tandem—leaving Paul alone on the perimeter was a noticeable strategy—and adjust accordingly.
Said Paul, "It will be good to see what we're going to look like."
It begins Wednesday. Phoenix mortgaged its future for Durant. It traded away an All-Star-caliber wing (Mikal Bridges) and a cache of first-round picks for a player with an expiration date. The Suns can downplay the risk. But the championship window is open—and may not stay that way for much longer.
"It's good timing," Booker said. "Playoffs are right around the corner. It's a good time to be full strength. We obviously have some kinks to work out. We can only do that by experience, playing with each other. Our first three games went really well. I'm excited to get back to that."