After a whirlwind first weekend of the Big Dance, just 16 teams remain in the hunt for the men's NCAA tournament title. But which players will decide who's still standing in Houston next weekend with a chance to cut down the nets? Here's a look at the most important player for each Sweet 16 team and what they need to do to keep their team in the mix for a championship.
---
Jahvon Quinerly, Alabama
When Alabama gets high-level point guard play, the Crimson Tide are clearly the nation's best team. So far this March, Quinerly has provided that. He was masterful against Maryland on Saturday and also played well in Alabama's dominant performance in the SEC title game vs. Texas A&M. Quinerly finally looks like himself after tearing his ACL in last year's NCAA tournament, and him at his best just takes Alabama to a different level. With Brandon Miller also scoring at a high clip, this team feels overwhelming.
Matt Bradley, San Diego State
San Diego State's stingy defense can keep the Aztecs in the game against top overall seed Alabama. The big question: Can San Diego State score enough to keep up? The answer may depend on how Bradley plays, given that he's the Aztecs' leading scorer and best tough-shot maker. Alabama's ball screen coverages give up a lot of midrange jumpers, and Bradley needs to make his fair share to keep SDSU within striking distance.
Ryan Kalkbrenner, Creighton
Kalkbrenner is statistically one of the most important players in the country. Creighton falls off a cliff on both ends of the floor when he sits, playing approximately 19 points per 100 possessions worse against top-100 teams with him out of the game. His ability to control the boards and protect the rim will be critical, especially in a potential Elite Eight game with Alabama's dynamic offense. Remember: Kalkbrenner missed Creighton's game against eventual champion Kansas last year due to a knee injury. With him healthy, who knows how far the Bluejays might have gone?
Tosan Evbuomwan, Princeton
A singular talent, Evbuomwan's passing ability and perimeter skill level create matchup problems for opposing defenses and have been critical in Princeton's run to the Sweet 16. A point forward at 6'8", the British big man ranks in the top 50 nationally in assist rate. Plus, he can score with either hand around the rim and has been crucial in Princeton winning the rebounding battle against both Arizona and Missouri.
Marcus Sasser, Houston
Sasser is one of the best guards in the country and an essential piece of Houston's national title ceiling. That's why the groin injury he suffered in the AAC tournament and then reaggravated in the first round against Northern Kentucky was so concerning. But the veteran guard scored 22 against Auburn despite second-half foul trouble, looking healthy and helping lead the Cougars to the second weekend. His shot-making is the engine of this offense, and Houston will need some big performances to get to the Final Four for a second time in three seasons.
Jordan Miller, Miami
Jim Larrañaga once again bemoaned the lack of national attention Miller gets after the Hurricanes beat Indiana convincingly Sunday night. Miller's versatile offensive game makes him one of the toughest covers left in the tournament, and he'll need a big day on the glass if the Hurricanes are going to keep up with Houston on the boards. Miami may be undersized, but Miller's ability to play bigger against more imposing opponents is a major reason it's still playing this late into March.
Dylan Disu, Texas
The one potential hole in the Longhorns' roster earlier this season was an interior presence, but Disu has stepped up to provide just that down the stretch. In the last eight games, Disu is averaging more than 16 points and seven rebounds and doing so efficiently, shooting 69% from the field and 86% at the line. If teams have to send help on Disu's post catches, it opens things up even more for Texas' dangerous stable of guards. The Longhorns don't need the 28 points they got from him against Penn State every night, but his emergence has been vital in making this team a genuine title contender.
Souley Boum, Xavier
For Xavier to beat a team as good as Texas, Boum needs to be the best guard on the floor. Boum, who played for Texas interim coach Rodney Terry at UTEP, has struggled some from the field of late, making just two of his last 17 three-point attempts. But at his best, Boum has been one of the most dynamic shot-making guards in the country, keying Xavier's rise into a Big East contender in Sean Miller's first season. He needs to make shots and manage the game well against the Longhorns' pressure defensively.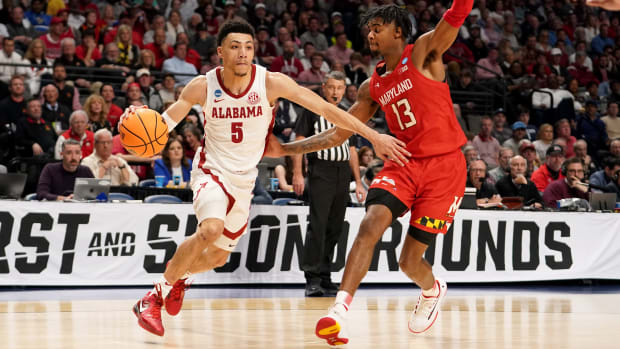 Jordan Hawkins, UConn
UConn is nearly unstoppable when it makes threes, and the leader of that charge is Hawkins. An illustration of his impact: Hawkins was held scoreless in both first halves against Iona and Saint Mary's, and UConn was outscored by a point across their two games. He scored a combined 25 in the second half, and the Huskies outscored their opponents by 40 across the two second halves. His ability to make shots off screens and hunt triples in transition is among the best in the sport, and UConn will need him to get out of the West Region.
Davonte "Devo" Davis, Arkansas
The Razorbacks wouldn't have upset Kansas without Davis, who poured in a season-high 25 points to add to his strong career track record in the Big Dance. Davis, at his best, puts relentless pressure on the rim thanks to his ability to drive the ball, and he supplanted star freshman Nick Smith against Kansas because of that downhill game. Arkansas's hopes of a third straight Elite Eight and potentially an even deeper run may rely on more big performances from Davis.
Jaime Jaquez Jr., UCLA
Jaquez Jr. is finishing his UCLA career on a high note, having scored 20 or more points eight times since Feb. 1. And with the Bruins hobbled by the loss of Jaylen Clark for the season and lingering injuries for David Singleton and Adem Bona, Jaquez's ability to consistently generate offense becomes even more critical for this team. His experience deep in this tournament (including 19 points against Gonzaga in the Final Four in 2021) will serve him well this weekend in Las Vegas.
Drew Timme, Gonzaga
This is likely Timme's last ride in college basketball, and the Bulldogs' big man desperately wants to go out a champion. So far, he has lived up to the expectations in this event, including a 28-point, eight-rebound masterpiece against TCU to help Gonzaga advance to its eighth straight Sweet 16. There's no doubt Timme will be tested in Las Vegas by some of the nation's most athletic bigs, but his wide array of post moves allows him to score on the block regardless of the coverages defenses throw at him. He gives Gonzaga a chance to win in pretty much any game he plays in.
Olivier Nkamhoua, Tennessee
Nkamhoua had perhaps the finest game of his career in the second round against Duke, matching his career high with 27 points and knocking down three triples to help the Vols extend their lead. Particularly with point guard Zakai Zeigler out, Tennessee is short on offensive weapons. Nkamhoua reliably stretching the floor and providing inside-out scoring punch changes the complexion of the Vols and makes them a tough out in this East Region.
Johnell Davis, Florida Atlantic
The 33-win Owls are no fluke, but their four-guard style is a very different brand of basketball than the one Sweet 16 foe Tennessee plays. It's so different that coach Dusty May quipped Sunday that his team would be studying the rules of Australian rugby before a matchup with the physical Volunteers. Davis is the potential mismatch, playing as a nominal power forward but possessing a quickness edge on whoever Tennessee sticks on him and plenty of scoring pop offensively. The big question with Davis is consistency: He's had 13 games with 15 or more points and 10 in single digits. He needs a big night for the Owls' Cinderella run to continue.
Markquis Nowell, Kansas State
It's only fitting that Nowell, the undersized New York City native, gets his big chance in the spotlight at Madison Square Garden. He was dynamite in the Wildcats' win over Kentucky, hitting several deep threes and finishing with 27 points and nine assists in the game. Teams have struggled to keep Nowell out of the paint all season long, and his ability to set up his teammates is a huge reason Kansas State is on this improbable run from being picked last in its conference in the preseason to the Sweet 16.
Tyson Walker, Michigan State
The Spartans' offense is heavily predicated on making tough midrange shots, and Walker has made plenty of them this season to lift Michigan State into the second weekend. He had 23 points Sunday against Marquette without making a three. The Spartans are 9–3 when he scores 15 or more points and 12–9 when he doesn't. A Final Four is well within reach in the wide-open East, but Walker will need to continue his strong play for the Spartans to get there.