This is an archived article and the information in the article may be outdated. Please look at the time stamp on the story to see when it was last updated.
INDIANAPOLIS, Ind. – The bunch that inspired a frigid procession through Downtown Feb. 5, 2007, after delivering the Lombardi Trophy to the Circle City returns this weekend.
In recognition of the 10th anniversary of the Indianapolis Colts' 29-17 win over the Chicago Bears in Super Bowl XLI after the 2006 season, the team will honor its world champions at halftime of Sunday's game with the Tennessee Titans at Lucas Oil Stadium. More than 40 players and coaches have RSVP'd they'll attend.
In the days leading up to the reunion, some prominent figures share memories of the organization's first world championship in three decades.
PEYTON MANNING: The rain
I still just think about playing in my first Super Bowl. I went to bed about 11 o'clock that night before and actually woke up at 11 a.m. We had nothing really organized in the morning as far as meetings. The hay was in the barn by that point. We just had a pre-game meal sometime early that afternoon then head to the stadium. I woke up at 11 a.m.; slept 12 hours, which was a good sign.
I remember waking up and just opening up those curtains and seeing gray skies and rain coming down. I remember sort of thinking, "I didn't know it was allowed or even possible for it to rain during Super Bowls." But it sure looked it was there to stay.
At least I knew about it starting at 11 a.m. on game day. But I did have peace of mind. I know Jeff Saturday has been quoted on this, but he and I had certainly taken thousands and thousands of snaps together. But we also used to practice the wet-ball drill. We would take snaps before practice every day. Every single day in practice he and I would take snaps. Coach would call out a play and I'd call the snap count and he and I would take the snaps. Just practicing before practice started, and that doesn't include the snaps we got during practice.
Occasionally – I don't know, maybe once every four or five weeks – we'd do the wet-ball drill. This went back to college when coach (David) Cutcliffe used to always do this at Tennessee. Jeff would be over the ball and I'd be under center and we'd have an equipment guy, Frog (Sean Sullivan) or Brian Seabrooks, who we called T, would take a Gatorade squeeze bottle and spray water all over the football while Jeff had his hands on it. That would give a semblance of playing in the rain. Then Jeff would snap it. You always try to keep your hands a little closer together, be sure they didn't separate, when the ball was wet. Just try to stay under center and maybe keep your hands in there a little longer when it was wet.
It was a conscious effort to be sure that you got the snap. We used to practice it and it used to annoy Jeff because he'd be all soaking wet. His pants would be all wet and practice hadn't even started.
But it sure paid off in that Super Bowl because he and I had zero exchange problems. We were under center quite a bit in that game, certainly in the shotgun as well. But had zero exchange problems. If I recall, Chicago had one or two exchange problems as far as quarterback-to-center. I know there a decent amount of fumbles in the game (a total of six), but there were no problems for me and Jeff quarterback-to-center.
You never know when those drills are going to pay off, and they certainly did that day. Jeff and I laugh a lot about that now. That drill was certainly worth it even though it was kind of an irritant to him at the time.
Rain, sunshine, does not matter. Winning a Super Bowl is sweeter than sweet. No rain can affect that. Purple rain, any kind of rain. Prince singing "Purple Rain'' in the rain was pretty fitting at halftime, God rest his soul. It was a special night and it'll be great to celebrate it at our 10-year Super Bowl reunion.
It's hard to believe it's been 10 years. Jim Irsay has been just great. He has sent every player plane tickets to the game. Gonna have a little Saturday night reception and then something at halftime.
Classic Jim Irsay. Doing it right and taking care of all the players, helping them get there. Sounds like we're going to have a great turnout and really looking forward to it.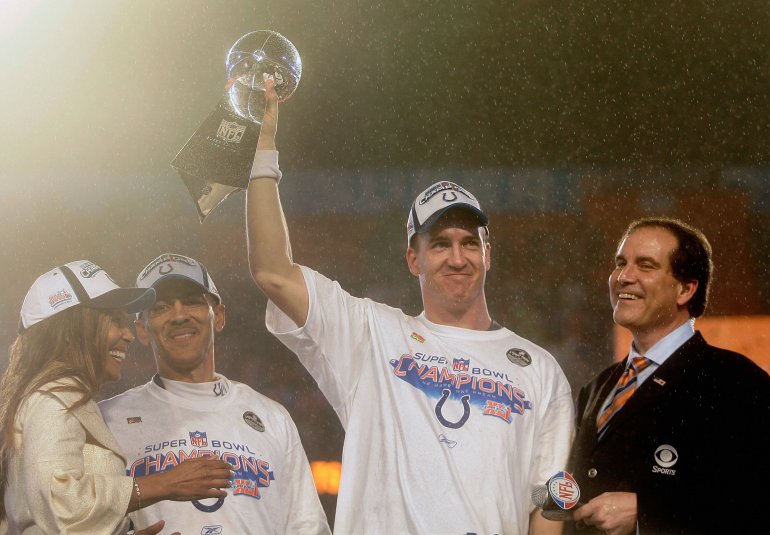 The rest of the story:
The wet win over the Bears was the epitome of a team effort. Running backs Joseph Addai and Dominic Rhodes combined to rush for 190 yards and one touchdown, and added 74 yards on 11 receptions. Rookie cornerback Kelvin Hayden intercepted a Rex Grossman pass in the fourth quarter and returned it 56 yards for an interception for the game-sealing touchdown. The Bob Sanders-led defense limited the Bears to 265 yards and generated five takeaways.
But the spotlight was brightest on Manning. He was named the game's MVP after passing for 247 yards, including a 53-yard TD to Reggie Wayne. It ended the criticism that he was a regular-season stat machine who couldn't win the big one.
You can follow Mike Chappell on Twitter at @mchappell51