This is an archived article and the information in the article may be outdated. Please look at the time stamp on the story to see when it was last updated.
INDIANAPOLIS, Ind. – The Indianapolis Colts introduced their new general manager Monday afternoon.
Irsay selected Ballard, the former director of football operations with the Kansas City Chiefs, to replace ousted GM Ryan Grigson, who was fired on Jan. 21.
The 47-year-old Ballard has 16 years of NFL experience. He emerged as Irsay's choice after the Colts owner interviewed five other candidates for the job: Jimmy Raye III, the Colts' vice president of football operations; George Paton, Minnesota's assistant general manager; Trent Kirchner and Scott Fitterer, co-directors of player personnel with the Seattle Seahawks; and Eliot Wolf, the director of football operations with the Green Bay Packers.
Ballard said he was "jacked" to get to work for the Colts.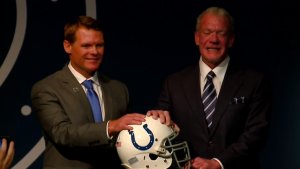 "My vision for the Colts is simple," he said. "Work together to build a winning culture and work toward a championship."
He said Indianapolis would be the perfect place to raise his five children, and indicated he's ready to make mistakes and learn from them.
"I may not be ready to be a GM, he said." I'm sure I'll make mistakes. When I do, I'll own them. I'll never put the blame off."
Irsay announced Sunday that he'd chosen Ballard after bringing him in for a second interview. Ballard spent the last four years with the Chiefs. Before that, he was with the Chicago Bears for 12 seasons. Ballard said he had interviewed for a few positions, but obviously wasn't hired.
During Ballard's time in Kansas City, the Chiefs compiled a 43-21 record and reached the playoffs in three out of four seasons. He's had a hand in bringing several top-tier players to the roster, including tight end Travis Kelce, cornerback Marcus Peters and receiver/kick returner Tyreek Hill. All three players are Pro Bowlers.
When firing Grigson, Irsay said Colts coach Chuck Pagano will stay with the team for the 2017 season, and then be evaluated by the new GM going forward.
Ballard lauded Pagano as a great coach and said he couldn't wait to get to work with him.