Impress the foodies in your life with these 25 thoughtful gifts
Gift-giving doesn't have to fill you with anxiety, especially when you know exactly what your recipient loves. If they are always recommending new places to eat, find enjoyment in navigating complex recipes or have an entire cabinet dedicated to spices, they're probably a foodie.
From a sous vide precision cooker to old-fashioned glassware, shopping for the food-obsessed and discovering new kitchen gadgets or cookbooks is exciting. Whether it's for the taster or the doer, show appreciation for the foodie in your life this holiday season.
Best drinkware, wine and beer accessories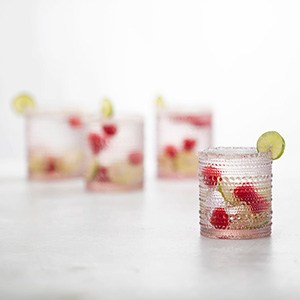 Fortessa , D&V Jupiter Double Old-Fashioned Glasses
The perfect double old-fashioned glass that adds timeless elegance to your table.
Sold by Amazon
Hosting just got a lot more fun, thanks to these old-fashioned cocktail glasses. According to the brand, the design is inspired by the Parisian flea market, giving it a timeless elegance. The beads not only add a handcrafted aesthetic, but also create a tactile detail. It comes with a set of six glasses in your choice of color, including pink, green and blue. Whether for everyday use or special occasions, these chic glasses are perfect for the food-obsessed person in your life.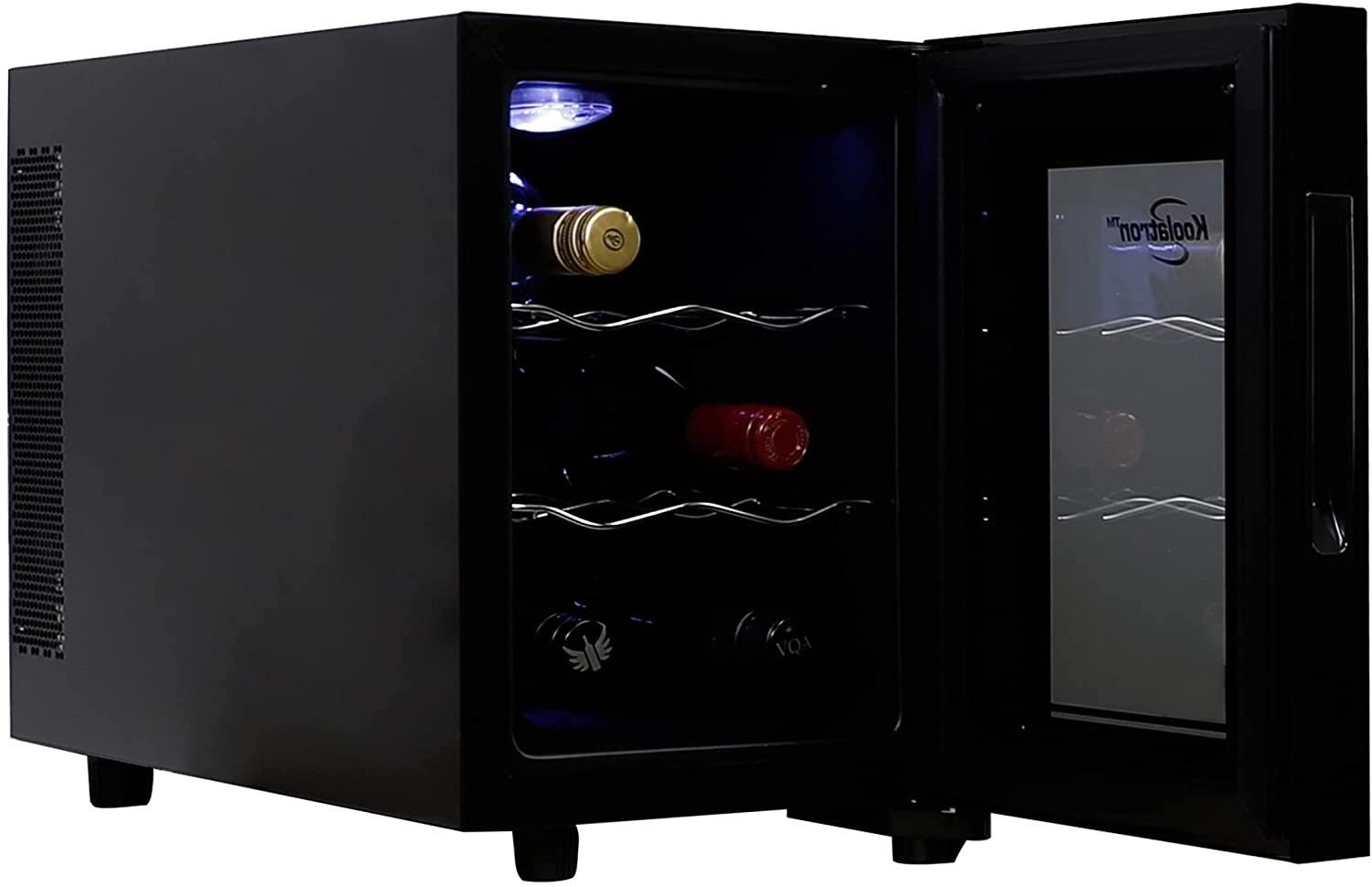 Koolatron, 6-Bottle Wine Cooler
The reinforced door, easy setup and cooling factors did well during our trials.
Sold by Amazon
You don't have to love wine to enjoy this dedicated cooler. Those who love to host dinner parties or find the perfect pairing for each meal need a way to keep wine at the ideal temperature. Since it's freestanding, it can fit on a bar counter, as well as in a small condo or apartment. Sun can cause wine to deteriorate and age too quickly, which is why this cooler features a protective door with double-paned mirrored glass.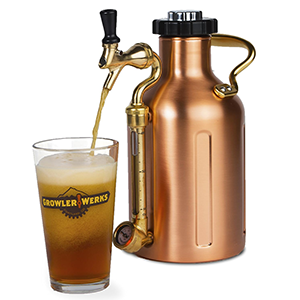 GrowlerWerks , uKeg Carbonated Growler
Lightweight, easy to use and well-constructed.
Sold by Amazon
Keep your draft beer carbonated for weeks with this innovative growler. Plus, it keeps beverages cold all day and is portable to let you toast with friends wherever you go. The custom tap features a locking dispenser and an interchangeable handle for complete control and easy pouring. Plus, the sight glass shows the contents, so you always know how much is left. It also comes with two carbon dioxide cartridges that are budget-friendly to replace.
Best kitchen appliances and cookware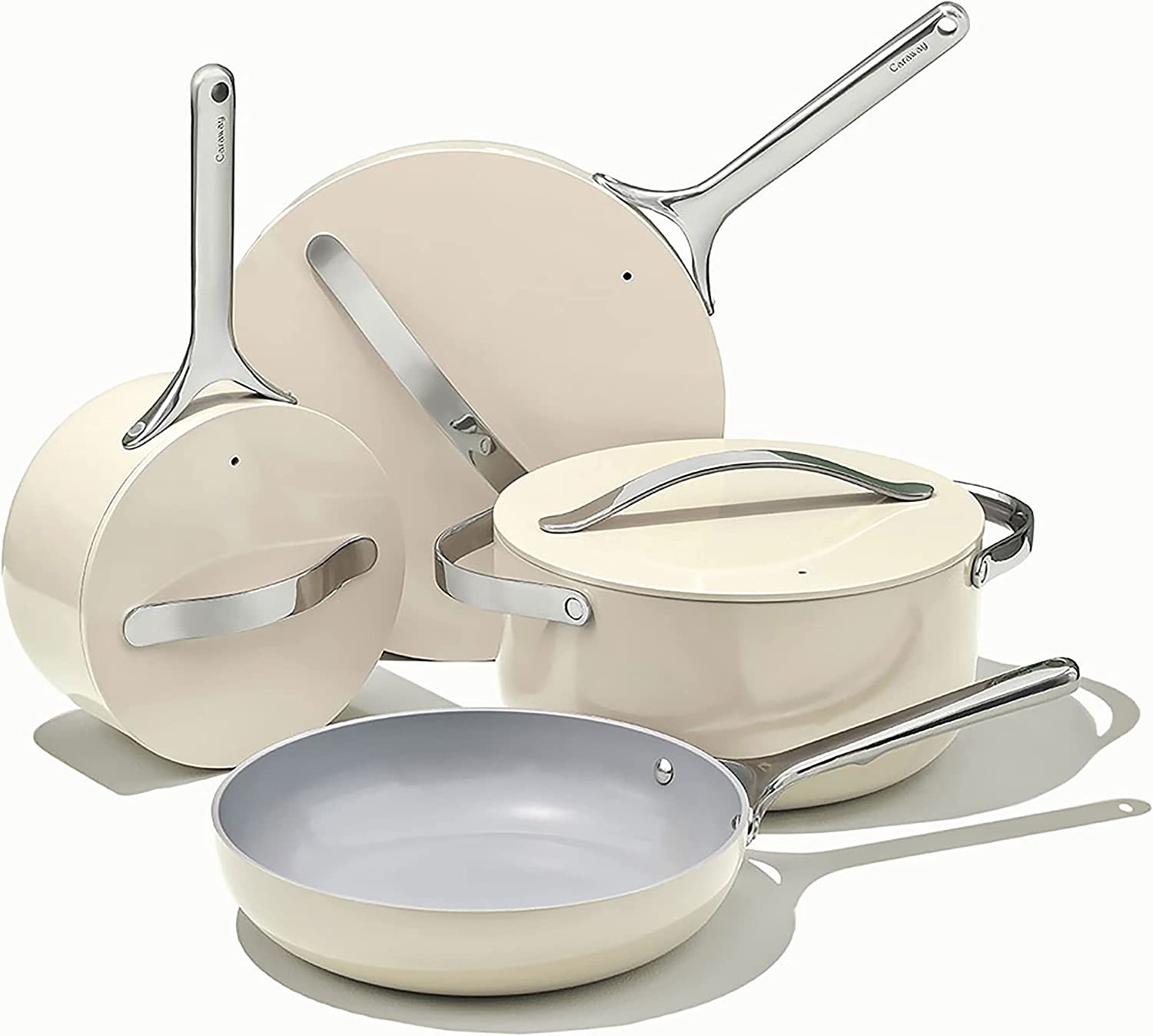 Caraway, Nonstick Ceramic Cookware Set
With a beautiful design and easy-to-clean material, this pick earns our expert's praise.
Sold by Amazon
Caraway's cookware set makes the perfect gift! Cookware from Caraway is beautiful, low-maintenance, and easy to clean. Plus, these nonstick cookware sets feature even-heat distribution and nontoxic ceramic coating. The eco-friendly packaging and sleek storage features are bonuses unique to the Caraway brand. The set comes in an array of aesthetically pleasing colors, which makes the pots and pans pretty enough to leave out on your stovetop even when you're not cooking.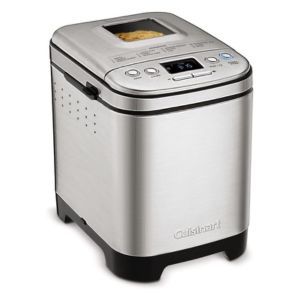 Cuisinart, Bread Maker Machine
A compact machine with streamlined looks and notable features brought to you by a top brand in kitchen appliances.
Sold by Amazon
While there's nothing wrong with the grocery store, some food is better and cheaper when it's made at home, and bread is at the top of that list. Whether they're a home cook who loves baking or someone with dietary restrictions, this bread maker is a must-have. The 12 preprogrammed settings make it fully automatic and foolproof to use, and it lets you choose your ideal crust shade and loaf size. As a bonus, the compact design sits comfortably on a counter.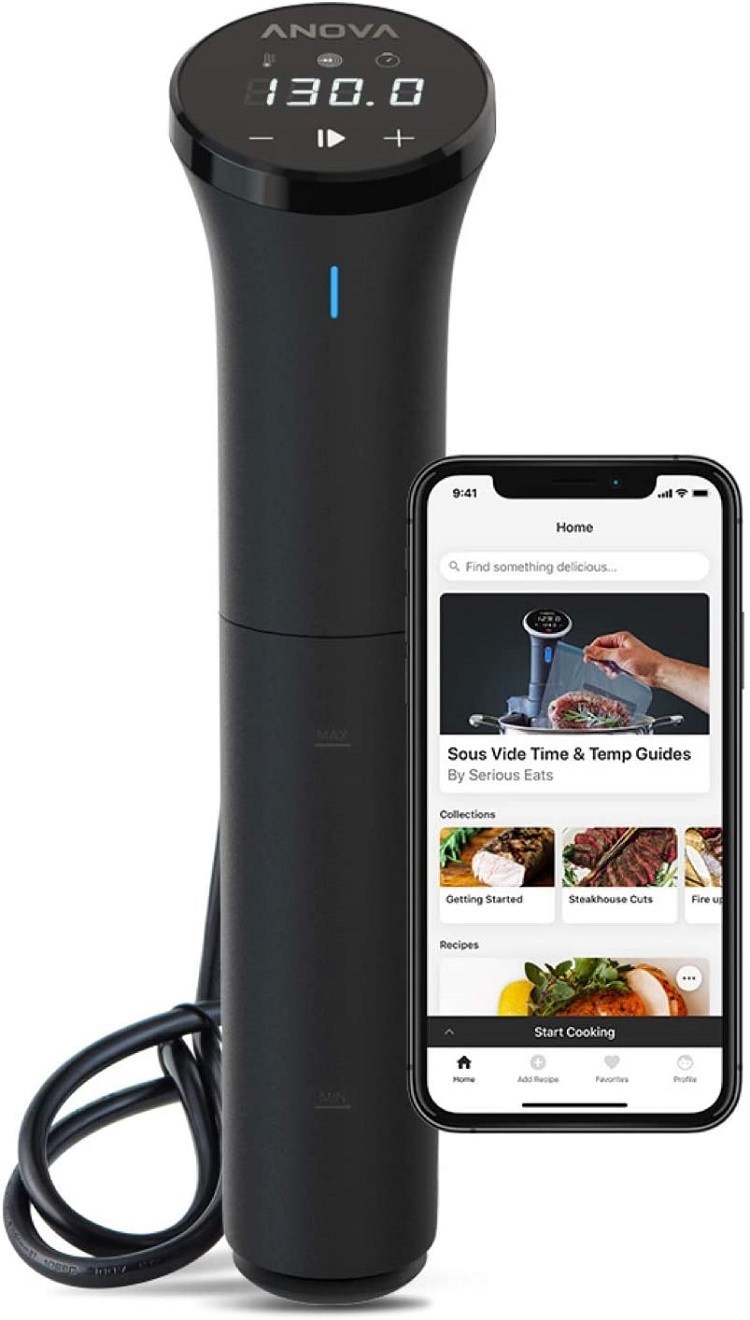 Anova, Nano Sous Vide Precision Cooker
If you want to try this form of cooking, there is no better place to start than with this product.
Sold by Amazon
Never worry about overcooking or undercooking your food again when using this sous vide precision cooker. By circulating water at the exact temperature required for your meal, such as fish, chicken or vegetables, every item will always be cooked to perfection. It effortlessly attaches to any stockpot or container and takes up the same amount of space as a ladle or a whisk to keep drawers uncluttered. Plus, it features Bluetooth to connect to the app that monitors the time and temperature.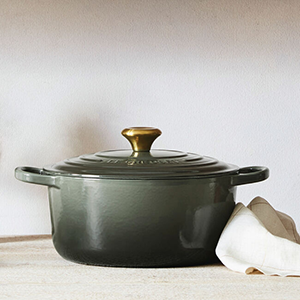 An easy-to-clean Dutch oven from a popular, trusted brand.
Sold by Amazon
Le Creuset is an iconic brand known around the world by home cooks and professional chefs alike for its durable pieces that stand the test of time. One of its most popular items is the Dutch oven, a versatile kitchen tool capable of almost anything, from baking to slow cooking to roasting. The enameled cast iron is designed for excellent heat retention that locks in flavor and moisture for the best results every time.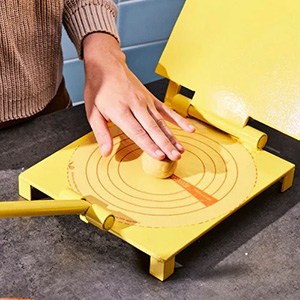 Masienda , Doña Rosa Tortilla Press
A hefty tortilla press that's excellent at making tortillas of any size and thickness.
Sold by Amazon
Cooking experts have dubbed this the best tortilla press, mainly due to its hefty size, which won't move around on your countertop and can make tortillas up to 6.5 inches in diameter. Its tight calibration also makes it possible to churn out a range of thicknesses. If the foodie in your life appreciates color, they'll love the option of choosing between azul, sassy pink, elote and several neutral colors. Don't forget about the included custom reusable liners, complete with a tortilla-sizing ruler.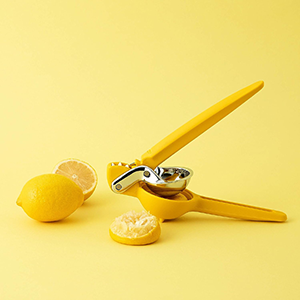 Chef'n, FreshForce Citrus Juicer
The ergonomic handle of this juicer lets users manually squeeze any citrus fruit comfortably.
Sold by Amazon
While squeezing citrus is necessary in a variety of recipes, this dual-gear juicer increases pressing power to help reduce hand fatigue and produce 20% more juice than other tools. From margaritas to homemade lemonade, this tool is a valuable addition to any kitchen that will get a ton of use. It's also easy to clean by placing it on the top rack of the dishwasher.
Best for food preparation
Hast, Edition Series Japanese Santoku Knife
If you're an "I use one knife for everything" person, this is the knife you want.
Sold by Amazon
Did you know a sharp knife is actually safer to use than its dull counterparts? If the food-obsessed person in your life loves to cook, make sure they have the best, which is this lightweight and durable Japanese Santoku knife. The blade is shorter with a flatter edge, making it better for precise cuts or achieving thin protein slices. Since it's versatile enough to handle a ton of kitchen jobs, it will also reduce clutter.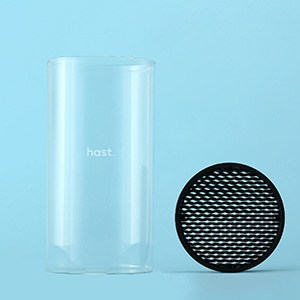 Hast, Tempered Glass Knife Block
A stylish way to display your knife collection.
Sold by Amazon
If the foodie in your life has gorgeous knives they show off any chance they get, gift them this tempered glass knife block. Instead of hiding them in a drawer, this clear block displays knives for all to see and discuss. It holds up to seven knives and is ultra-hygenic, thanks to being dishwasher-safe. For those conscious about the environment, this glass knife block is also packaged entirely in paper. Plus, the company offers a 30-day money-back guarantee.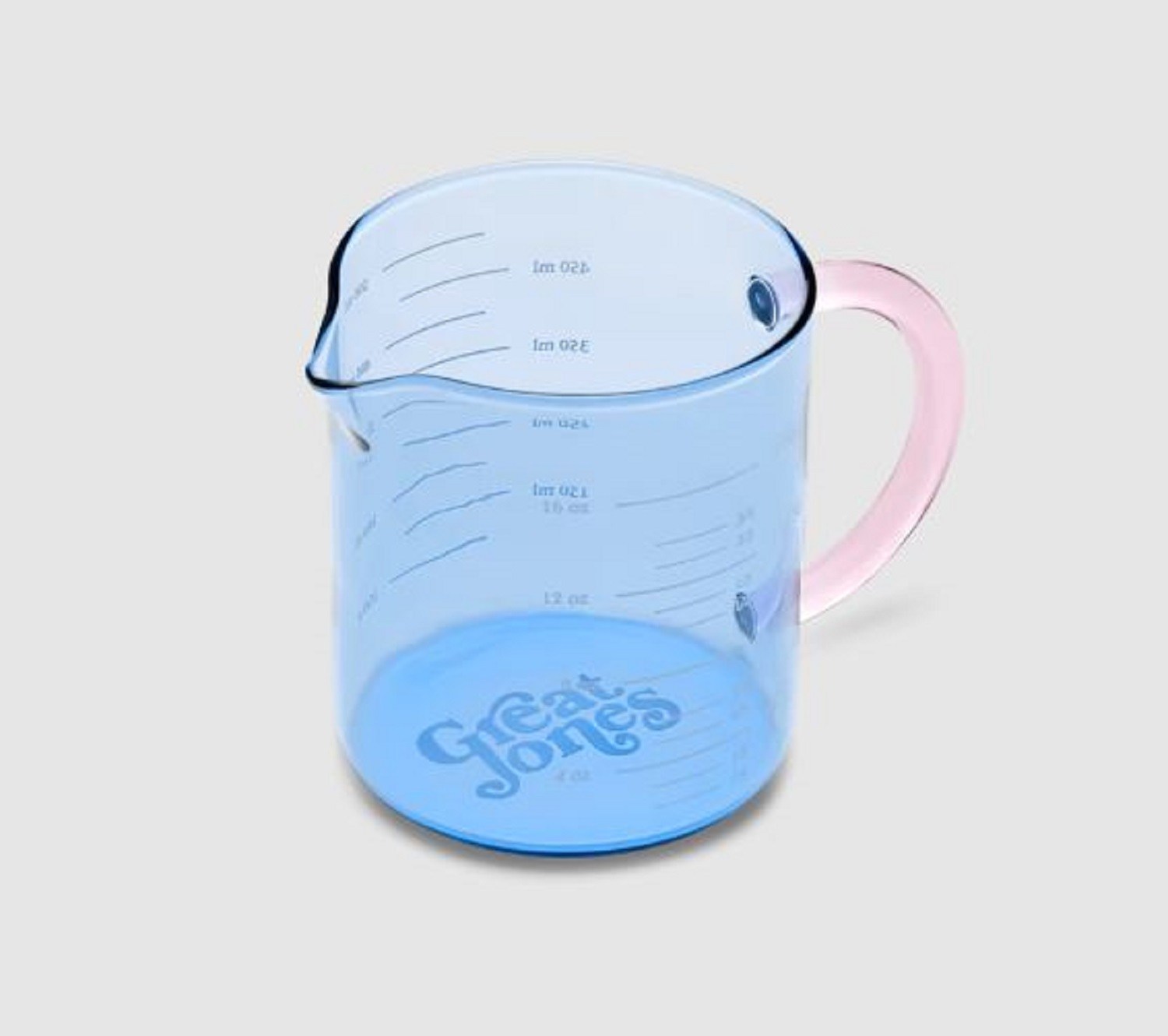 Great Jones, Beyond Measure 2-Cup
Colorful, functional and it has easy-to-read measurement lines.
Sold by Amazon
Replace those boring measuring cups with this colorful, sturdy glass option. It's microwave- and dishwasher-safe, so it can effortlessly handle prep, serving and cleanup without a fuss. And with its beautiful color blocking, it'll be a talking point at any dinner party. Choose from a 2-cup, 4-cup or duo set, all of which feature clearly printed measurements in ounces, cups and milliliters to reduce mental math. The precision-pour spout also ensures there won't be another mess to clean up.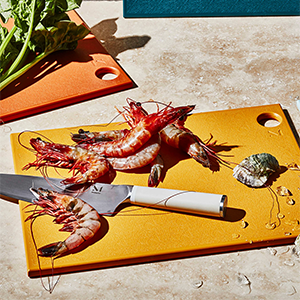 material, reBoard Cutting Board
A colorful cutting board made from kitchen plastic scraps and renewable sugarcane.
Sold by Amazon
For foodies who are also eco-conscious, consider this sustainable cutting board designed entirely with repurposed plastic scraps and renewable sugarcane. While the kitchen industry is known for being wasteful, this company ensures this cutting board is responsibly made and gives 50% of profits to a just cause. Not only is it dishwasher-safe, it also comes in several fun colors, including sand, coral and tide.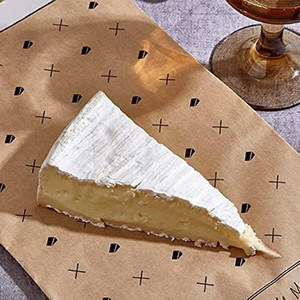 Formaticum , Cheese Storage Bags
These professional-grade bags keep your cheese from spoiling.
Sold by Amazon
Cheese can spoil quickly when placed in sandwich baggies or plastic bags made with nonporous material. Instead, these storage bags allow oxygen to flow freely, maintaining the freshness and flavor of your favorite cheese. The material is designed to create a cave-like environment that prevents moisture from escaping. If the foodie in your life is tired of seeing their brie, camembert or mozzarella dry out and spoil, they need these professional-grade wax paper bags.
Best sauces and seasonings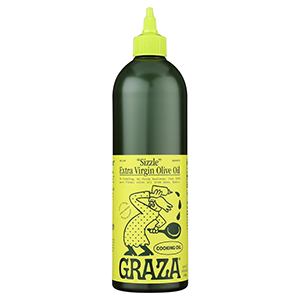 Graza, "Sizzle" Extra Virgin Olive Oil
Convenient, squeezable extra virgin olive oil with a mellow flavor.
Sold by Amazon
While the average bottle of extra virgin olive oil in the grocery store is blended from old, low-quality oil, this brand is never blended and uses 100% Picual olives grown in Spain. The olives are picked during peak season to ensure they're mature and juicy, which produces more oil. The mellow flavor and high smoke point give it the name "sizzle" and also make it perfect for roasting, searing or pan-frying. Regardless of the dish, quality extra-virgin olive oil is the key.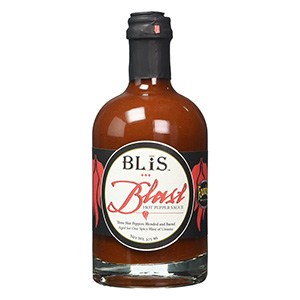 Chili- and barrel-aged hot sauce with a distinct flavor.
Sold by Amazon
Whether your friend loves Buffalo wings or bloody marys, hot sauce is a necessity. So, why not give them the best? This hot sauce is made with a unique blend of peppers aged for up to a year in seasoned oak barrels that used to house Kentucky bourbon. The secret blend of premium chili peppers includes chipotle, arbol and cayenne. Any foodie will love the complex taste with hints of chocolate, maple, wood and spice.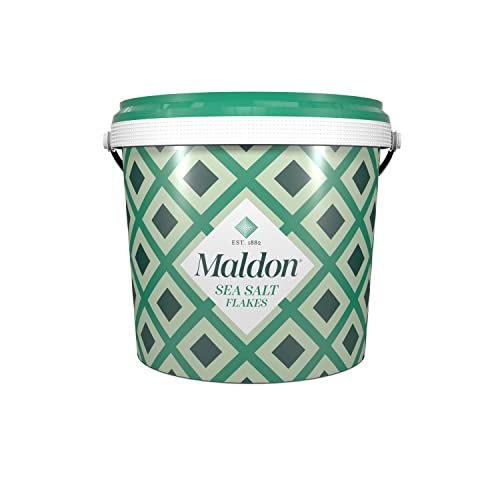 These pyramid-shaped salt flakes are perfect for topping dishes.
Sold by Amazon
This gourmet salt has been made the same way since 1882, using traditional artisan methods from the English coastal town of Maldon. One generation after the next continues to hand-harvest the naturally formed pyramid-shaped flakes, resulting in a soft-yet-crunchy texture with a mild intensity. Whether you're rimming the glass of a cocktail or adding the finishing touches to a dish, this is the best-quality salt any food afficionado will want.
More gifts for foodies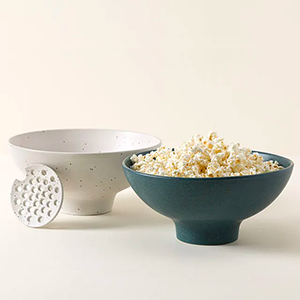 Uncommon Goods , The Popcorn Bowl with Kernel Sifter
Filters out un-popped popcorn kernels, so you don't choke or break a tooth.
Sold by Amazon
Does anyone else hate reaching into a bowl of popcorn only to come out with a handful of kernels? This innovative bowl features a colander-inspired bottom to filter out the tooth-breaking kernels, so never again does the food lover in your life have to worry about getting a mouthful of them. And when the popcorn is gone, just lift out the colander disk and effortlessly dispose of everything trapped in the secret compartment. As a bonus, the bowl is designed with durable stoneware heavy enough to withstand accidental spills.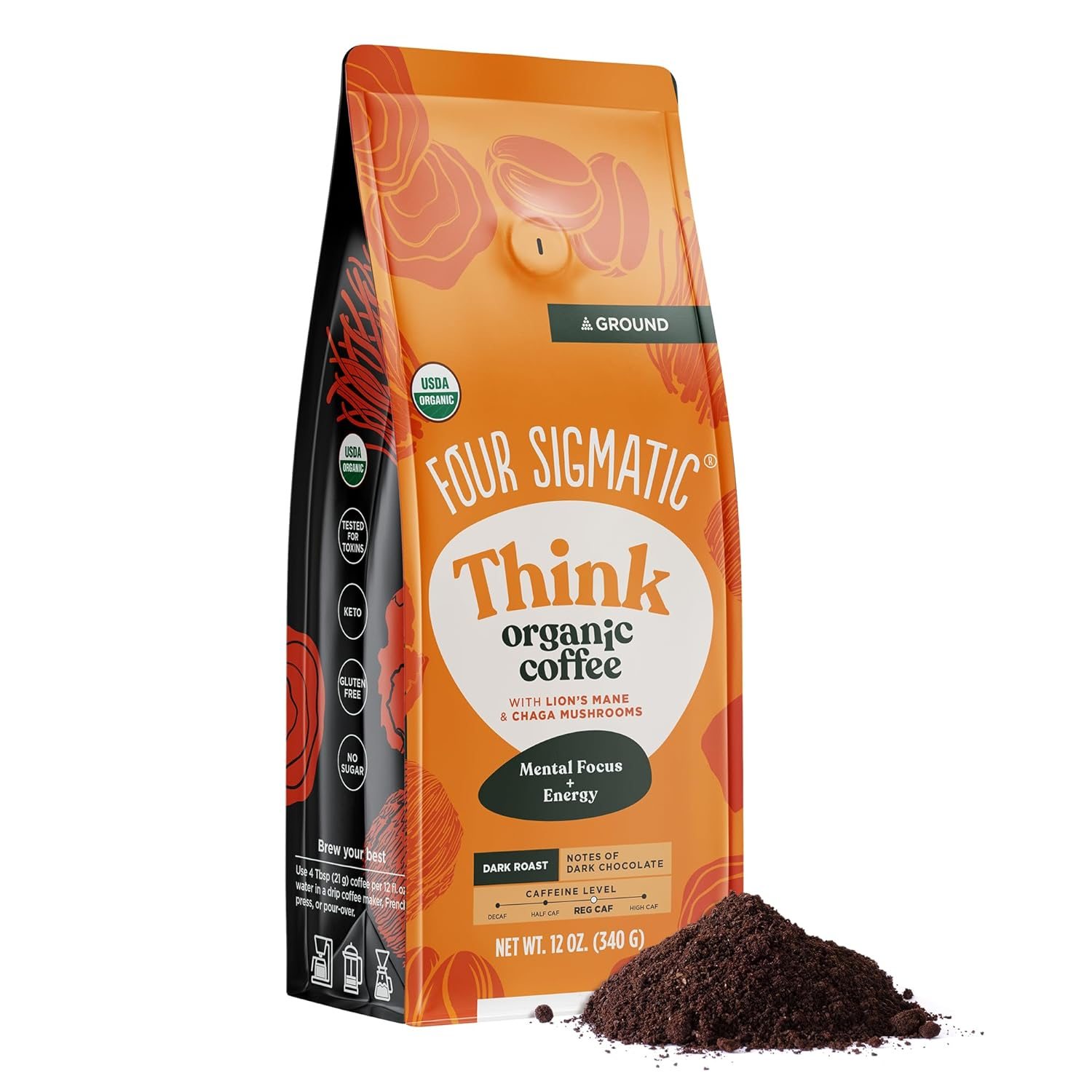 Four Sigmatic, Mushroom Ground Coffee
With a variety of flavors utilizing different mushrooms, this is an excellent choice.
Sold by Amazon
While most people are powered by coffee, it has its downsides, such as jitters or the eventual crash. With this unique blend of organic fair-trade coffee and organic lion's mane mushrooms, you get the rich taste and increased focus without the adverse side effects. According to the company, one scoop a day enhances mental focus, provides a boost of energy and supports long-term positive moods. Each cup also contains 250 milligrams of wild-harvested Chaga mushrooms, one of the most antioxidant-dense foods on the planet with immune-supporting effects.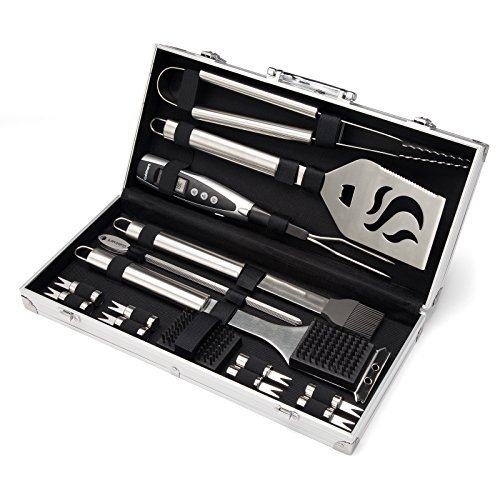 For anyone who fancies themselves as the master of grilling.
Sold by Amazon
This 20-piece grill set comes with everything a foodie could ever need to whip up a meal on the grill, including a stainless steel spatula, silicone basting brush, cleaning brush with additional brush head, tongs, skewers and more. The included digital temperature fork features a built-in alarm and recommended preset temperatures to ensure nothing gets overcooked ever again. Plus, the spatula is designed with a serrated edge to make it effortless to cut foods, as well as a built-in bottle opener.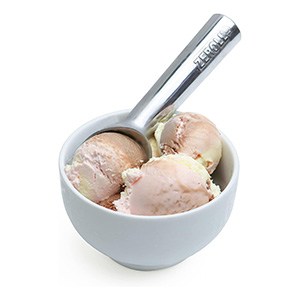 Zeroll, Original Ice Cream Scoop
You'll love how easily ice cream comes off this scoop, but note that it requires special care.
Sold by Amazon
Anyone who has tried to scoop rock-hard ice cream with a spoon knows the difficulty. That's why this dedicated ice cream scooper is the perfect gift for anyone, especially those with a sweet tooth. It features a unique heat-conductive liquid in the handle, activated by the warmth of your hand. This warmth helps carve out plump, round scoops of ice cream. And it will look good for years to come, thanks to the aluminum alloy that resists oxidation and corrosion.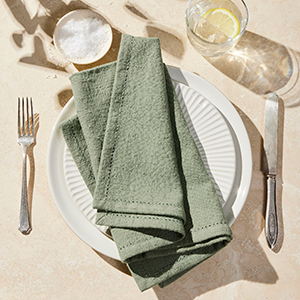 Food52, Five Two Everyday Soft Cotton Cloth Napkins
Elevate your table with these cloth napkins that are soft, sustainable and machine-washable.
Sold by Amazon
Ditch the single-use paper napkins and gift these machine-washable cloth napkins. Not only do they bring sustainability to every table, but they also elevate the feel of any gathering. They're designed with a special enzyme wash that ensures they already feel broken in and soft the moment you get them. Since these napkins come in a variety of hues, including eucalyptus, rhubarb and paprika, they're good for any occasion and can match any décor scheme.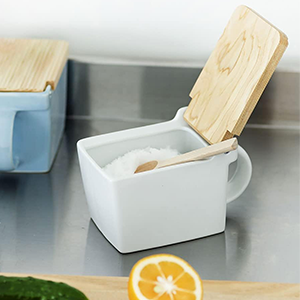 ZERO JAPAN , BEE HOUSE SALTBOX
Nobody wants soggy salt. This box keeps your salt moisture-free and ready for cooking.
Sold by Amazon
Say goodbye to clumping seasoning, thanks to this high-quality Japanese saltbox. Whether it's your favorite gourmet salt or sugar, this spacious container accommodates up to 2 cups and keeps it free of moisture. They're made in Japan, in an area known for its fine porcelain and ceramic manufacturing. Thoughtful material is also a priority, so you'll find that the box is free of lead and cadmium, with a lid made of scraps of hinoki wood. Plus, it's easy to hand-wash or wipe with a damp cloth.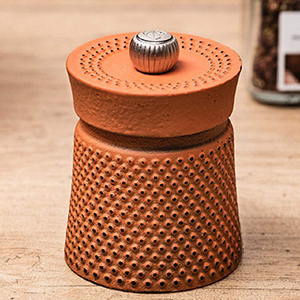 Peugeot , Bali FONTE Cast Iron Pepper Mill
Keeps your pepper fresh and makes it easy to grind.
Sold by Amazon
Fresh pepper with maximum flavor is only a crack away. Since the peppercorns are cut right before seasoning your dish, they stay fresh longer than crushed pepper. This Peugeot grinder is prefilled with tongue-tingling Sichuan pepper, so you don't have to go out and buy your own. It also offers grind adjustment control by turning the knob clockwise for finer grinds and counterclockwise for coarser grinds.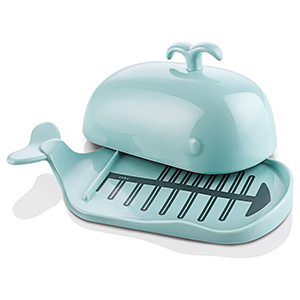 Make a splash with this adorable addition to your dinner table.
Sold by Amazon
For foodie friends with a fun side, this whale butter dish might make the perfect splash. While it seems like a cute piece, each part offers a unique feature toward the overall function. For example, the whale spray is a handle to avoid dropping the lid, and the tail helps you get a firm grasp on the dish. It also features measurement lines for recipes and a raised line to keep the butter in place. This adorable butter dish is bound to be the talking point at any gathering.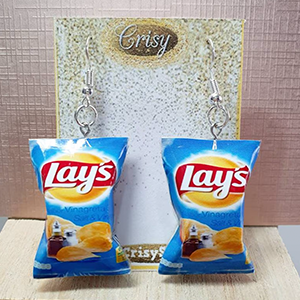 CrisyMiniatures, Lay's Chips Hanging Earrings
A salty accessory for the sassy snacker.
Sold by Amazon
Help your friend show the world their love for food with these adorable earrings inspired by the "Lay's Original" bags. You can also choose to get other flavors, including salt and vinegar or barbeque. Whether you're a potato chip fanatic or love all things food-related, these earrings are the perfect fashion accessory.
Want to shop the best products at the best prices? Check out Daily Deals from BestReviews.
Sign up here to receive the BestReviews weekly newsletter for useful advice on new products and noteworthy deals.
Bre Richey writes for BestReviews. BestReviews has helped millions of consumers simplify their purchasing decisions, saving them time and money.
Copyright 2023 BestReviews, a Nexstar company. All rights reserved.