It's time Stanley gave warm beverages some love
If you've ever used an insulated water bottle to keep your daily water intake icy or used a thermos to keep your luncheon soup on a simmer, you get the gist of how Stanely's new insulated mug works. However, it's got one major difference. It doesn't actually seal closed. Instead, it's completely open with an optional "lid" that keeps things out while letting you continue sipping. That's what makes it a dream for coffee and other hot drink fans; you can sip away to your heart's content without losing any precious heat or having to fiddle with lids.
Shop this article: Stanley Stay-Hot Camp Mug, Stanley IceFlow Fast Flow Bottle and Stanley Quencher H2.0 FlowState Tumbler
Everything you need to know about the new Stanley Stay-Hot Camp Mug
Stanley is a much-respected brand with consistently high-quality goods. That makes it easy to recommend its items without having to convince, but just in case the name and reputation aren't good enough, here's what you need to know about the Stay-Hot Camp Mug.
Effectiveness
The most pressing question likely on your mind is, "How long does it actually keep my drink hot?" The answer: over two hours. That's plenty of time for you to sip your way through most of your drink. Then, once it's cooled slightly, you can chug the rest of it, give the mug a rinse and make a fresh cup.
If you ever want to shake things up and use it for cold drinks, know that it can keep those liquids at your preferred temperature for up to six hours without ice or a whopping 25 hours with ice.
Size
The Stanley Stay-Hot Camp Mug only comes in two sizes: 12 and 24 ounces. If you're always on the go and don't have easy access to fresh liquids, the 24-ounce is best. If you only plan on using it around the house or office, getting the 12-ounce would mean more frequent opportunities to get a truly fresh cup.
Body construction
A big reason to love the Stay-Hot Camp Mug is that its main body is made of 18/8 stainless steel. That means it's built for durability, and can take more than a few drops and other beatings without any effect on its performance. It might look like it took those beatings, though, so try not to enter it into any fight clubs.
Press-Fit Tritan Drink-Thru Lid
The lid that comes with the Stay-Hot Camp Mug is special enough to have its own name, and it deserves it for three reasons.
Easy to use: The Press-Fit Tritan Drink-Thru Lid has a ring of material that makes it easy to wedge into the top of the mug. It has a little tab that stays out of the way that also makes it equally easy to remove.
Splash prevention without sipping limitation: It works as any good lid does, keeping nasty things, such as flies and other critters, out while improving insulation performance. However, it has a little slot that's open that lets you sip your drink unimpeded.
Easily positioned: The Press-Fit Tritan Drink-Thru Lid can be inserted at any position, meaning you can situate the slim opening at the optimal position for how you typically hold your mug.
Color
The Stanley Stay-Hot Camp Mug comes in 11 colors: Charcoal Glow, Cream Gloss, Hammertone Green, Hammertone Lake, Hammertone Silver, Limestone, Maple, Matte Black, Nightfall, Polar and Rose Quartz Glow.
Cost
Finally, the cost: The 12-ounce Stanley Stay-Hot Camp Mug costs $23, while the 24-ounce mug costs $28.
Best Stanley drinkware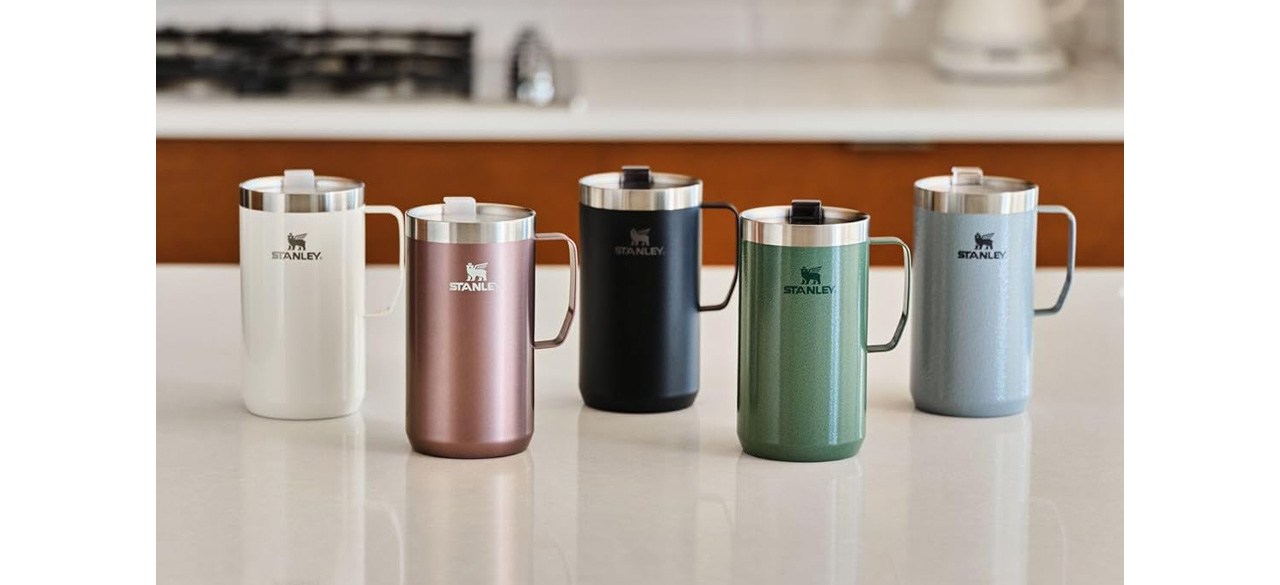 The mug of the hour. Both it and its lid are dishwasher-safe. Plus, the large handle leaves plenty of room for those with large hands without being difficult to grip for those with small hands.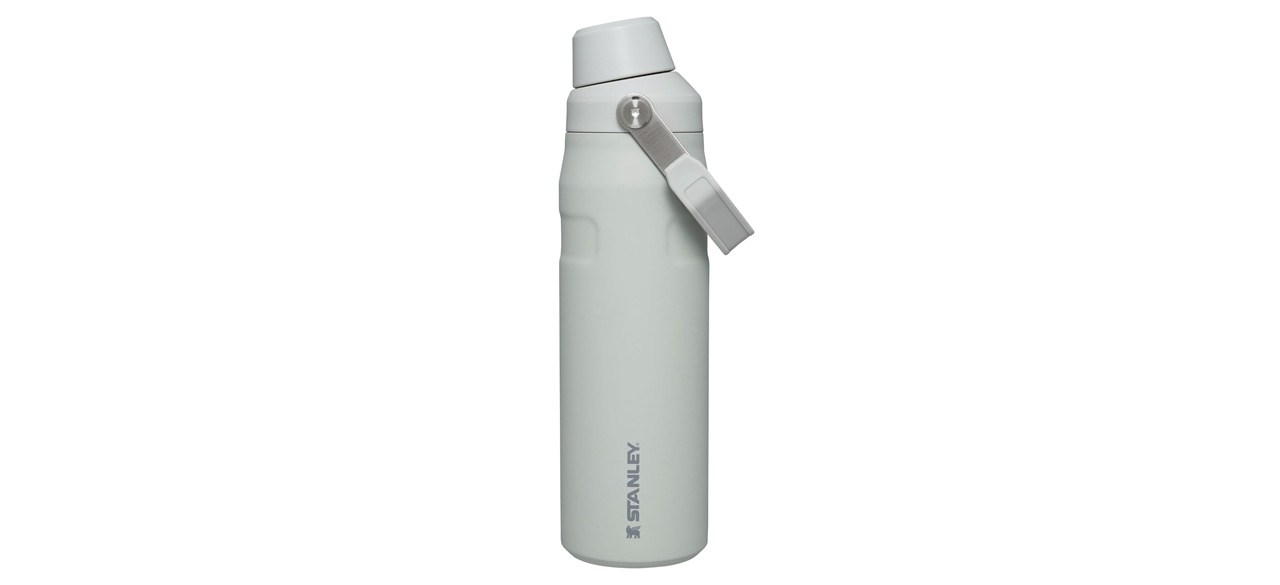 Stanley IceFlow Fast Flow Bottle
This water bottle is built for those who quickly guzzle their water and then just as quickly refill it. The main mouthpiece screws off entirely so you can easily add ice and water, then a smaller cap on the mouthpiece opens up for you to get your drink.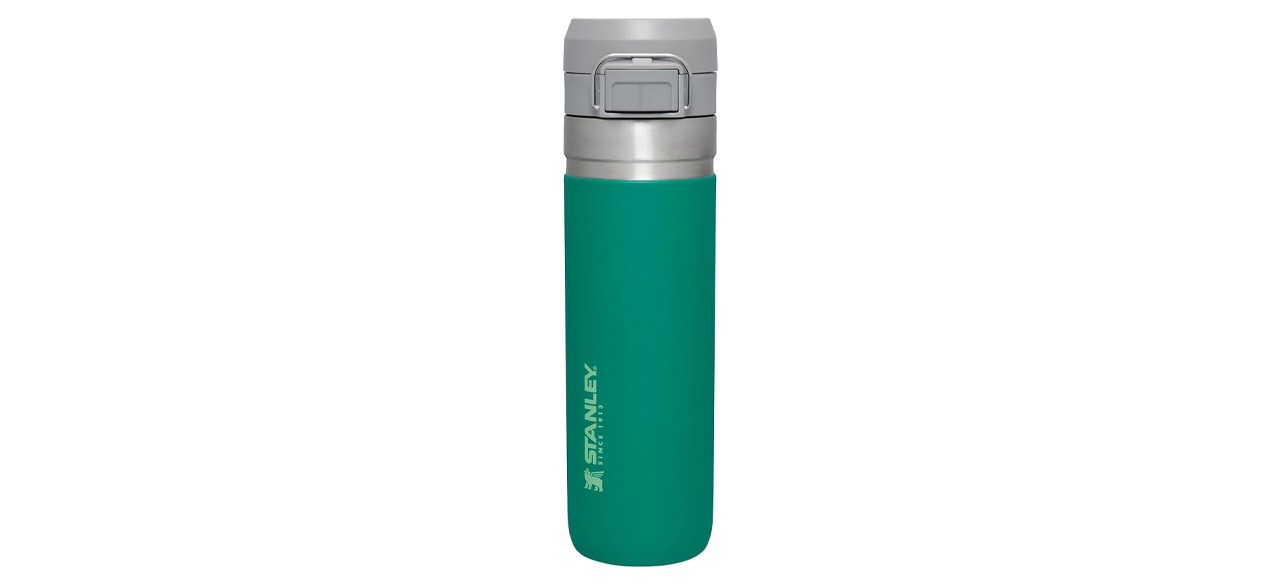 Stanley GO The Quick Flip GO Bottle
This is one of Stanley's older water bottles, though it's no less quality. Its biggest boon is that it's thin enough to fit in cup holders. It also doesn't hurt that the lid is on a hinge, so you can open and close it easily with one hand while driving.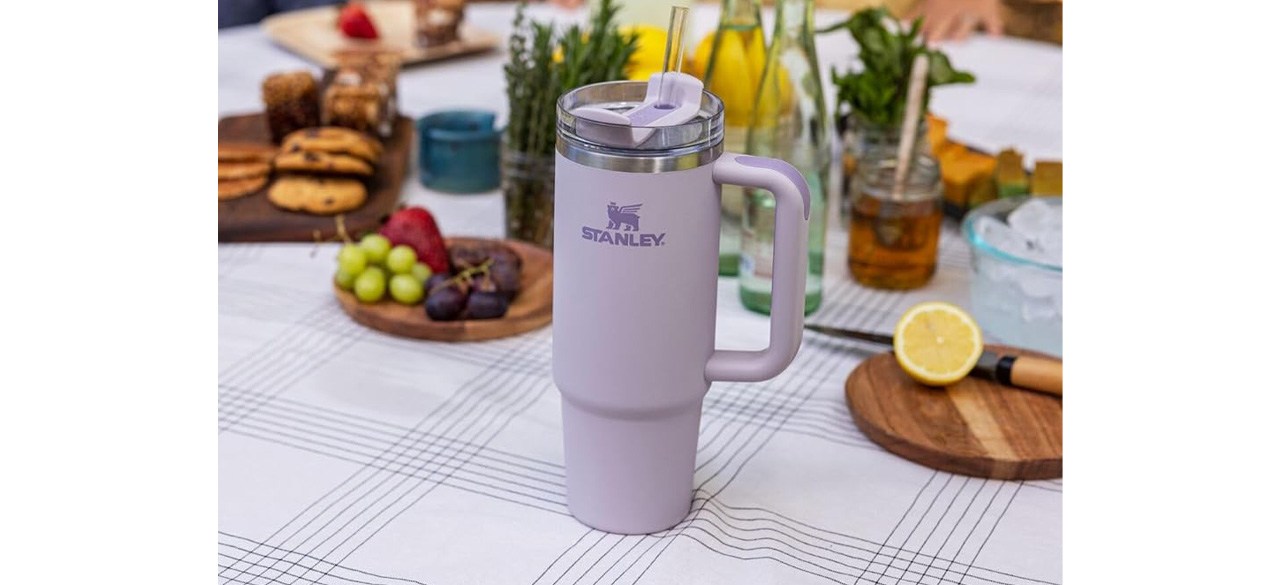 Stanley Quencher H2.0 FlowState Tumbler
This is one of Stanley's largest personal-sized drink holders at a maximum size of 64 ounces. It's a great fit for those who consider the "eight cups of water a day" concept as a bare minimum. It also comes in 20 colors.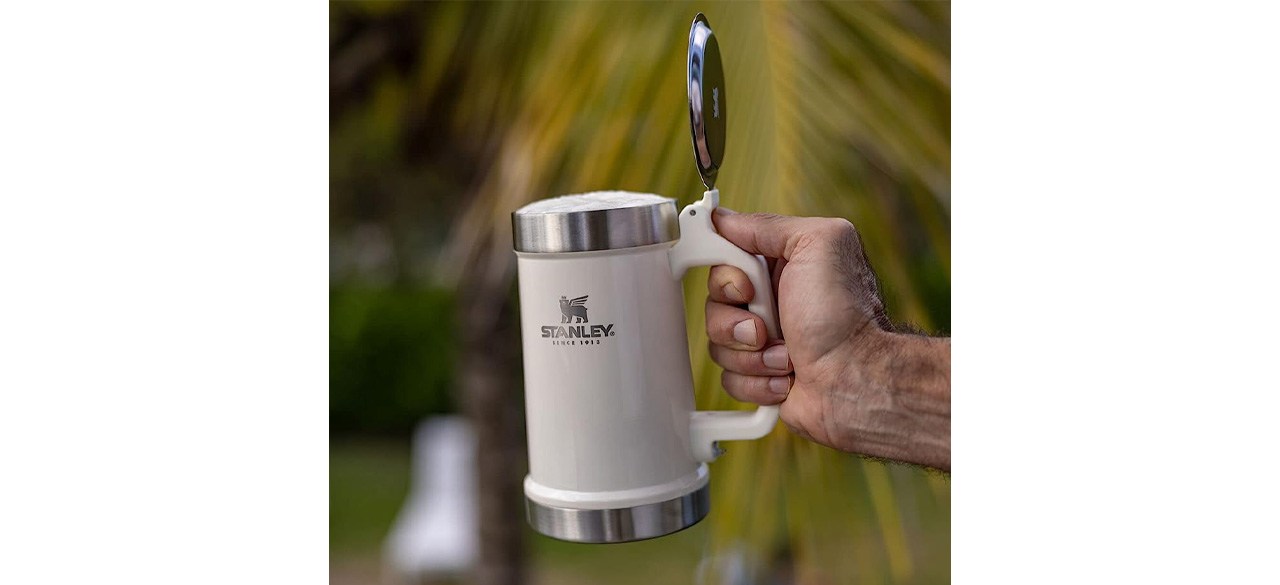 There's no better way to enjoy a beer than in a cold mug. This stein keeps itself and your beer cold for up to nine hours. Its lid is on a hinge as is traditional, plus it has a little bottle opener on the bottom so you can easily get into your next one.
Want to shop the best products at the best prices? Check out Daily Deals from BestReviews.
Sign up here to receive the BestReviews weekly newsletter for useful advice on new products and noteworthy deals.
Jordan C Woika writes for BestReviews. BestReviews has helped millions of consumers simplify their purchasing decisions, saving them time and money.
Copyright 2023 BestReviews, a Nexstar company. All rights reserved.