This is an archived article and the information in the article may be outdated. Please look at the time stamp on the story to see when it was last updated.
INDIANAPOLIS, Ind. —  A student-led organization will host its second annual peace walk next month to raise awareness of youth violence in Indianapolis.
The organization, We LIVE Indy, Inc., stands for "Linked to Intercept Violence Everywhere" and launched last year with more than 400 participants.
After losing a friend and teammate, Brandon Warren created the organization with the help of dozens of his classmates. Now, the group has chapters throughout the city.
"The sad part of it all is that I've become numb to this thing," said Warren. "You become numb and sort of used to it. I feel like this community of young people is becoming too used to seeing homicides happening within our own city."
This year's walk signifies the anniversary of the first peace walk by the movement.
Weeks after Warren lost his friend, Dijon Anderson, last May, he launched the movement to stand against youth violence.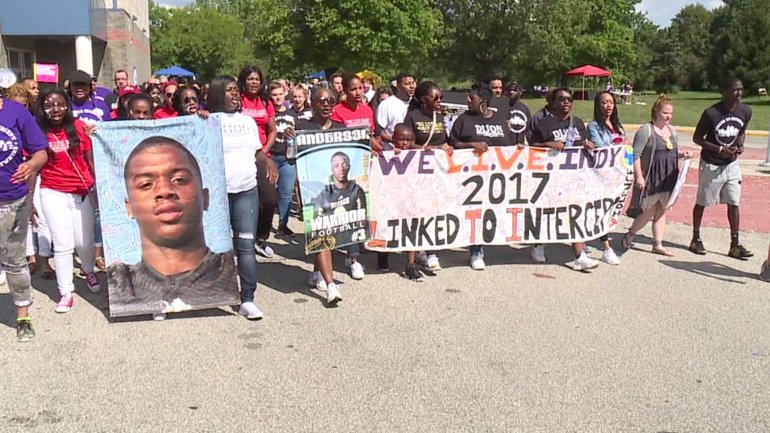 "Every day, it seems like I'm losing another classmate or another peer," said Warren. "We preach how this is such a dangerous city, but nothing's going to change if we don't speak up on it."
This year's walk will start at Washington Park and will conclude with a community celebration.
The peace walk is almost here!!! Make sure you're there to walk with us. You don't want to miss out . pic.twitter.com/GpdtFhZctG

— We LIVE (@WeLIVEIndy) July 25, 2018
"We're giving them this opportunity to come out and march, find things they can do in their local communities, and ways they can help us end violence in our city."
Warren recently graduated from Warren Central High School and has committed to play football at Indiana State, where he will start school next week.
WHAT: We LIVE Indy Annual Peace Walk Community Day
WHERE: Washington Park: 30th and Dearborn
WHEN: Aug. 11, 11 a.m. – 3 p.m.