This is an archived article and the information in the article may be outdated. Please look at the time stamp on the story to see when it was last updated.
UPDATE:
Indiana State Police located a red truck seen just after the fatal crash. They have ruled that particular truck out as the hit-and-run vehicle in the case.
Anyone with information should call Crime Stoppers at 317-262-TIPS. (8477).
PREVIOUS STORY:
INDIANAPOLIS, Ind. – Police are still searching for the driver who hit and killed a 53-year-old crane operator who was pulled over on the shoulder of I-465 to fix a mechanical issue.
"I saw a truck swerve over then swerve back and by the time he swerved back the guy was flipping in the air and was on the ground," said eyewitness Emily Pavey.
The tragedy is something that Pavey said she will never forget. She was driving home around 8:15 a.m. Tuesday morning when she witnesses a dark red Ford F-150 truck off of the road and hit and kill 53-year-old Jeffery Smith. Smith was parked on the side of the road and was standing on a ladder on the side of his truck which was pulled over on the shoulder with mechanical issues.
"He was in the air and the truck was swerving back onto the road," said Pavey.
Police say Smith's truck was seven feet away from the lane of traffic, the crane was far over into the grass, and the trucks flashers were on.
"It was completely silent actually, there was no screaming, no tire sounds nothing," said Pavey.
There were no sounds because the driver did not stop, even with extensive front end damage. Witnesses say traveling more than 85 mph eastbound on I-465.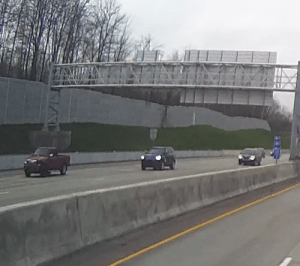 "I did not know if I should follow the guy or not and he was in the right lane and I needed to stop and get out before anybody else hit him," said Pavey.
State police have released a photo from a trooper's dash cam that they believe shows the suspect's red truck.
Jeffrey Smith, a beloved husband, dad of two girls, and a grandfather lived in Rushville. He worked at R.H. Marlin Inc. on the south side for more than 20 years. The company says Smith was a talented and skilled crane operator. Witnesses say he was with his co-workers when he was hit and killed.
"The guy that he was riding with you could tell that they had a really good connection, that they have been friends for a long time," said Pavey.
Now, his family is waiting for police to bring justice to the 53-year-old man, who will not be coming home tonight after work.
"How could you not stop?" asked Pavey.
As the Smith family asks for prayers, police are asking for the public's help in locating the driver of the Ford F-150. If you have information call ISP or Crime Stoppers at (317) 262-TIPS.