This is an archived article and the information in the article may be outdated. Please look at the time stamp on the story to see when it was last updated.
INDIANAPOLIS—If you don't know where you are when you call 911, it may take longer than it should for help to come.
While most people can answer a dispatcher's first question asking for the location of their emergency, some people don't know or can't say.
Our CBS4 Problem Solvers investigation shows your cellphone carrier and where you are, may make the process more challenging that it should be.
"When people call into 911, they expect 911 to know exactly where they're at," said Ricardo Martinez, communications director for INdigital, which designed and built Indiana's 911 system.
In the age of Uber, Four Square and other apps that can pinpoint where you are down to the street corner, Martinez says it's a 21st century assumption that first responders can easily find you because you're using a smartphone.
That assumption, Martinez says, is wrong.
"I would expect that as well, but being on both sides, I know it doesn't exactly work that way," said Martinez.
Or rather, it doesn't work that way anymore.
"Eighty percent of calls that come in to 911 are made by cell phones," said Martinez. "There are not many people that have landline phones."
When you call from a landline, the address is already in the 911 call center's system. Dispatchers can send help to you right away. Turns out your cell phone carrier has to do some math to figure out where you are.
"You're getting this information from the towers and you're getting this triangulation," said Martinez. "And you're able to pinpoint where that caller is at in the area by a certain amount of meters."
Right now, that information can only be gathered by a phone's wireless carrier and then transmitted to a dispatch center. Without the carrier's transmission, a 911 operator has no information at all, other than what you are able to tell them.
The director of the Hamilton County Public Safety Communications Center, Michael Snowden, helped CBS4 find out how and why the calculations aren't always working out.
We made three calls on three different carriers—Verizon, T-Mobile and AT&T—from two different locations.
During the first test, a Verizon phone showed dispatch we were about a quarter mile from where we actually stood. What's happening is dispatch receiving what's called "Phase 1" information from, which is just the address of the tower your tower's signal went to.
With a re-bid, where the dispatcher asked Verizon again to try to find us, Verizon hit the nail on the head, but it took nearly 35 seconds from the time the dispatcher picked up the call.
Snowden says sometimes, it can take even longer than that.
"Sometimes we have to rebid more than once," said Snowden. "Every time that happens, that's adding two to four seconds to the call. Two to four seconds may not seem like a long time, but when you are in a life-threatening situation, it can be a long time."
Martinez, who is a former dispatcher, echoed that sentiment, saying the delay in getting an accurate location is also frustrating for dispatchers trying to get help to people as quickly as possible.
"Those are precious seconds that are being taken from you, trying to find out where this person is at," said Martinez. "And the radius could be enormous where it's coming from."
AT&T first showed we were at the tower on the 911 center's property before also getting my location correct 30 seconds later.
T-Mobile had a different and more significant problem.
"Hang on one moment, I currently show this as a 911 phone, so it is not giving me a location," dispatcher Chandra McKinney told us when she tried to find our location.
Like the others, my correct address does pop up the second time, but my phone first comes up as a "911 phone."
On the dispatcher's end, there's no location at all, the carrier shows up as AT&T – not T-Mobile – and my phone number is the cell tower's number. That means it comes up with a 911 area code.
Snowden explained what's happening in the simplest way possible.
"It's trying to hit its own tower or any tower that that tower may be affiliated with," said Snowden.
This happens because carriers are constantly working to expand coverage and often do so by making deals so callers can piggyback off a different tower, if their carrier doesn't have one nearby.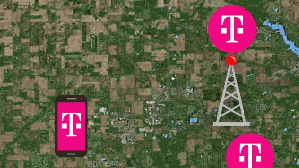 This more often happens with T-Mobile calls and AT&T towers, because of the companies' nationwide agreement.
That works well for most regular calls, just not for 911. If you have to hang up in this scenario and couldn't call 911 back, dispatch can't call you back either.
"Under those circumstances, where we're getting the number for the tower and the tower location, you are correct," said Snowden. "We would not be able to find you based on that."
In rural areas, there are fewer cell towers for your phone to even connect to.
"In a more rural area, you've got  maybe one tower or you could be in an area where there's not really that many towers around, so you're trying to get the best or you're not even going to get through," said Snowden.
Just five miles away from the communications center, but far more rural, all three carriers had even less success getting the right address to the dispatcher right off the bat.
As soon as I called, AT&T showed me one mile away from where I stood. That's worse than either AT&T or Verizon did during the city test, but still better than either Verizon or T-Mobile performed in the rural test. There, each first placed me six miles away in different locations.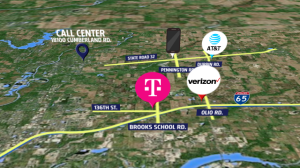 Their second efforts did math AT&T's, but again, it took 30 seconds to get the correct information from the time I called.
There's an even greater and more delayed challenge than the carriers accurately locating you in a rural area. In urban areas like downtown Indy, Indiana's state 911 board director Barry Ritter says the process is more complicated.
"If you are in rural Indiana, standing in the middle of a field and we're within that 50-300 meter range, you're going to be easy to find," said Ritter. "You come into an urban setting and you're in downtown Indianapolis and you're inside of a building, the longitude and latitude does not provide a lot of useful information to us."
Simply put, dispatchers can only see which building you're in. They can't see which floor you're on or which room you're in.
Dispatchers say they haven't seen accuracy results get much better in this regard.
Martinez and the rest of the staff at INdigital work with the carriers to fix serious problems where information isn't coming in at all. Either the carrier voluntarily solves the issue or INdigital goes to the FCC, the regulatory body, to help push them.
"We can go to them and say, hey you need to do a little better, you know, try to get a better location for us, but we can't enforce that," said Martinez.
But problems like indoor location inaccuracy, which is widespread throughout the industry, can't be fixed right now.
The issue is that the tools your phone typically uses in "emergency mode" to figure out where you are—sending a signal to its cell tower or using your phone's GPS—don't work as well inside buildings.
They're especially bad if your phone isn't in top-notch shape.
"If you have an older phone with a nearly dead battery and you're in the middle of a building, we're not going to pinpoint you very accurately," said Snowden.
The FCC estimates that if improvements to location accuracy help first responders get to you just one minute faster, 10,000 lives a year could be saved.
The agency is already asking carriers to pin down calls to an area of half a football field or better at least 50 percent of the time by next year.
Carriers are also working on a database of wireless access points that would help better locate you inside. This method would use your connection to WiFi to get a better dispatchable location, but it's a slow process.
"We have not seen greater location accuracy being put into play yet," said Snowden.
While some states have poor location accuracy results because of out-of-date technology, technology experts, dispatch center directors and even wireless carriers all agree that's not the case in Indiana.
According to the Wireless Association, which represents carriers, INdigital built one of the best, if not, the best, statewide 911 systems in the country.
All counties can easily transfer calls between each other, with border counties able to transfer calls into other states. Plus, Indiana is the largest state with text for 911—ability to send and receive SMS messages from dispatch centers—available in every one of its counties.
With all those qualifications, that leaves Hoosiers and their first responders waiting for carriers to step up with the ultimate solution.
"The carriers aren't giving us the information and there's nothing I can do differently," said Snowden. "There's no amount of money I can spend. There's no amount of people I can hire. There's nothing we can do."
What he does do though, is remind people to be aware of their surroundings, so that if they do call 911 and they're able to say where they are, they can. Your best bet, in an emergency, is to not have to rely on the carriers' technology at all.