This is an archived article and the information in the article may be outdated. Please look at the time stamp on the story to see when it was last updated.
COLUMBUS, Ind. -- A year after CBS4 Problem Solvers began working on a Columbus woman's case, a group of contractors and volunteers came together to start rebuilding her home.
Carolyn Jolley waited two years to move back into her home after issues with a Carmel-based contractor. Despite repeated promises by Tom Brown, the owner of Global Restoration -- also known as Global Builders -- Jolley's home was never completed. In late September, Brown filed for bankruptcy, leaving additional customers frustrated and trying to recoup lost money.
Since the bankruptcy, with the help of contractor Howard Bilsky and Lowe's Hardware in Columbus, CBS4 Problem Solvers has been there as people volunteered their time to get Jolley's home completed.
"When people hear about Ms. Jolley's story, it brings people together," Bilsky said.
Lowe's stepped in at CBS4's request, donating close to $3,000 for supplies and providing Jolley with an additional $3,000 toward appliance purchases.
"This past weekend I didn't go to the laundromat, and I don't have to because now I've got my own washer and dryer," Jolley said in mid-November.
Managers at Lowe's also enlisted the help of Kevin Johnson and his team at Thrive Alliance, a non-profit that focuses on the aging and disabled. Johnson, the group's Director of Housing, called in some of his subcontractors for help.
"We feel that when these type of situations come up, it's just a good thing for contractors to pull together and let people see that, you know, there is integrity in the industry," Johnson said.
Plumbers with G & J Services, along with an electrician from Huston Electric, donated their time to inspect and repair major issues with the work that had already been done on Jolley's home.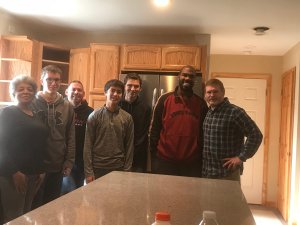 Bilsky also worked with a group of teenagers from Lighthouse Christian Academy, who helped move boxes out of Jolley's basement and clean out her garage for winter.
Thanks to the work of all the volunteers, Jolley's kitchen was completed just in time for Thanksgiving.
"This will be the first time for ... almost three years since I would be able if I want to cook a turkey for Thanksgiving," Jolley said.
A spokesperson for Lowe's, Maureen Wallace, sent CBS4 this statement:
"Our Lowe's team loves nothing more than when red vests can roll up our sleeves and make a difference in the communities we serve! Lowe's believes every person deserves access to a safe and comfortable home, and on behalf of the entire Lowe's family: Welcome home, Ms. Jolley!"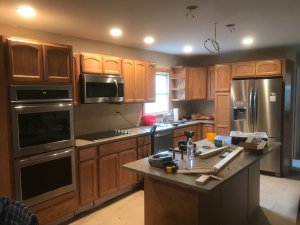 Bilsky said he is committed to finishing Jolley's entire house, which includes additional projects beyond what has already been completed.
"I'm going to stay on until the last day," Bilsky said. "I just attribute it all to God myself, just people coming together out of the kindness of their heart to help her."
It's more than a gift to Jolley: it's a light at the end of the tunnel. With more than $150,000 in insurance money gone, she said that she wouldn't be able to afford to pay for repairs herself, and couldn't thank the volunteers enough for their help.
"There's not enough words to tell them how good I feel about them blessing me this way, because they didn't have to," Jolley said.
Jolley started a fundraising page for additional repairs. You can donate to her directly at the link here or contact CBS4 Problem Solvers' Jill Glavan at jglavan@cbs4indy.com if you'd like to help.
If you want CBS4 Problem Solvers to consider your case, contact us at 317-677-1544 or ProblemSolvers@cbs4indy.com.